1
sayfadaki
1
sayfası •
Paylaş
•

SUZANNE VEGA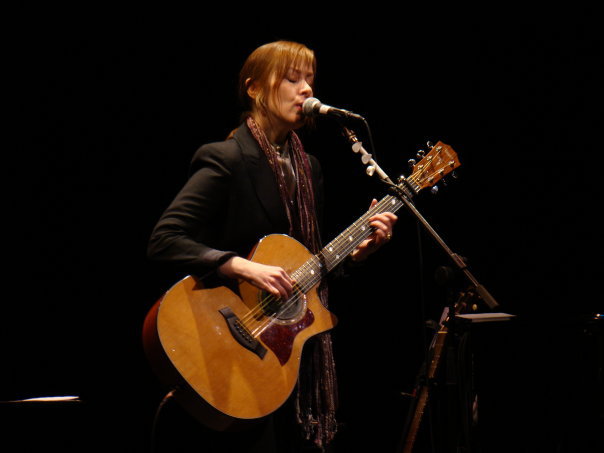 Suzanne Vega in 2010
Background information
Birth name: Suzanne Nadine Peck
Born: July 11, 1959 (1959-07-11) (age 51) Santa Monica, California, United States
Origin: New York City, New York, United States
Genres: Alternative rock, Folk rock
Occupations: Singer, songwriter, record producer
Instruments: vocals, guitar
Years active 1982–present
Labels A&M
Blue Note
Website: SuzanneVega.com
Suzanne Nadine Vega (born July 11, 1959) is an American songwriter and singer known for her eclectic folk-inspired music.
Two of Vega's songs (both from her second album Solitude Standing, 1987) reached the top 10 of various international chart listings: "Luka" and "Tom's Diner". The latter was originally an a cappella version on Vega's album, which was then remade in 1990 as a dance track produced by the British dance production team DNA.
Biograph
y
Suzanne Vega was born July 11, 1959 in Santa Monica, California. Her mother, Pat Vega, is a computer systems analyst of German-Swedish heritage. Her father, Richard Peck, is of Scottish-English-Irish extraction. They divorced soon after her birth. Her stepfather, Ed Vega, also known as Edgardo Vega Yunque, was a writer and teacher from Puerto Rico.
When Suzanne was two and a half, the family moved to New York City. She grew up in Spanish Harlem and the Upper West Side. At the age of nine she began to write poetry; she wrote her first song at age fourteen. Later she attended New York's prestigious High School of Performing Arts (now called LaGuardia High School). There she studied modern dance and graduated in 1977.
While majoring in English literature at Barnard College, she performed in small venues in Greenwich Village, where she was a regular contributor to Jack Hardy's Monday night songwriters' group at the Cornelia Street Cafe and had some of her first songs published on Fast Folk anthology albums. In 1984, she received a major label recording contract, making her one of the first Fast Folk artists to break out on a major label.
Vega's self-titled debut album was released in 1985 and was well-received by critics in the U.S.; it reached platinum status in the United Kingdom. Produced by Lenny Kaye and Steve Addabbo, the songs feature Vega's acoustic guitar in straightforward arrangements. A video was released for the album's song "Marlene on the Wall", which went into MTV and VH1's rotations. During this period Vega also wrote lyrics for two songs on Songs from Liquid Days by composer Philip Glass.
Her next effort, Solitude Standing (1987), garnered critical and commercial success including two hit singles: "Tom's Diner" and "Luka", the latter of which was an international success. "Luka" is written about, and from the point of view of, an abused child—at the time an uncommon subject for a pop hit. While continuing a focus on Vega's acoustic guitar, the music is more strongly pop-oriented and features fuller arrangements. The a cappella "Tom's Diner" was later a hit again, remixed by two British dance producers under the name DNA, in 1990. The track was originally a bootleg, until Vega allowed DNA to release through her record company, and it became her all-time biggest hit.
Tom's Diner
In the morning
At the diner
On the corner
I am waiting
At the counter
For the man
To pour the coffee
And he fills it
Only halfway
And before
I even argue
He is looking
Out the window
At somebody
Coming in
"It is always
Nice to see you"
Says the man
Behind the counter
To the woman
Who has come in
She is shaking
Her umbrella
And I look
The other way
As they are kissing
Their hellos
I'm pretending
Not to see them
Instead
I pour the milk
I open
Up the paper
There's a story
Of an actor
Who had died
While he was drinking
It was no one
I had heard of
And I'm turning
To the horoscope
And looking
For the funnies
When I'm feeling
Someone watching me
And so
I raise my head
There's a woman
On the outside
Looking inside
Does she see me?
No she does not
Really see me
Cause she sees
Her own reflection
And I'm trying
Not to notice
That she's hitching
Up her skirt
And while she's
Straightening her stockings
Her hair
Has gotten wet
Oh, this rain
It will continue
Through the morning
As I'm listening
To the bells
Of the cathedral
I am thinking
Of your voice...
And of the midnight picnic
Once upon a time
Before the rain began...
I finish up my coffee
It's time to catch the train
Tom's Restaurant, after which the song Tom's Diner was named Suzanne Vega's song "Tom's Diner" was used as the reference track in an early trial of the MP3 compression system, earning her the distinction of being the Mother of the MP3. It was chosen because her a cappella vocal with relatively little reverberation was used as the model for Karlheinz Brandenburg's compression algorithm. Brandenburg heard "Tom's Diner" on a radio playing the song. He was excited and at first convinced it would be "nearly impossible to compress this warm a cappella voice."
"Tom's Diner" takes place in Tom's Restaurant at 112th Street and Broadway in New York City. Exterior shots of the same restaurant appear in the television sitcom Seinfeld as Monk's, which is the eatery where Jerry, George, Elaine, and Kramer hang out. The DNA remix of the track was so popular that it inspired many cover versions—the best of which were eventually collected by Vega on an album titled Tom's Album. A variant of this version was the inspiration of a remixed version of Julee Cruise's "Rocking back inside My Heart". Nick at Nite did a remake of the song in the mid-1990s for a commercial advertising I Dream of Jeannie, in which the chorus is set to the theme from the show. The remixed version of "Tom's Diner" was later sampled by hip hop artist Nikki D in her hit single titled "Daddy's Little Girl", the title track of her debut album. Rapper Tupac Shakur sampled the track in "Dopefiend's Diner".
Luka
"Luka" was covered by The Lemonheads on the 1989 album Lick, shortly before the band was signed by Atlantic Records, and was a minor college-airplay hit. On a 1987 Swedish television special, Vega said this about the song "Luka":
" A few years ago, I used to see this group of children playing in front of my building, and there was one of them, whose name was Luka, who seemed a little bit distinctive from the other children. I always remembered his name, and I always remembered his face, and I didn't know much about him, but he just seemed set apart from these other children that I would see playing. And his character is what I based the song Luka on. In the song, the boy Luka is an abused child — in real life I don't think he was. I think he was just different.[8] "
Also, in an ASCAP interview, she responded to a question about "Luka":
" Interviewer: When you can touch so many people with songs like "Luka", it must be pretty rewarding.
Vega: Yeah. It's an amazing feeling. Especially since that particular song is a very special song. It's a song about child abuse, so therefore it does touch a lot of people in a different way than if it were, say, a love song or some other kind of song.
"
1990s
Vega's third album, Days of Open Hand (1990) continued in the style of her first two albums.
In 1992 she released the album 99.9F°. It consists of a mixture of folk music, dance beats and industrial music.
Her fifth album, Nine Objects of Desire, was released in 1996. The music varies between a frugal, simple style and the industrial production of 99.9F°. This album contains "Caramel", featured in the movie The Truth About Cats & Dogs and, later, the trailer for the movie Closer. A song not included on that album, "Woman on the Tier", was featured on the soundtrack of the movie Dead Man Walking.
In 1997 she took a singing part on the concept album Heaven and Hell, a musical interpretation of the Seven deadly sins by her colleague Joe Jackson, with whom she had already collaborated in 1986 on "Left of Center" from the Pretty in Pink soundtrack (with Vega singing and Jackson playing piano).
2000s
September 2001 saw the release of a new album, Songs In Red and Gray. Three songs deal with Vega's divorce from first husband Mitchell Froom.
At the memorial concert for her brother Tim Vega in December 2002, she began as the long-term subject of a direct cinema documentary, Some Journey, by director Christopher Seufert of Mooncusser Films. This has not been completed.
In 2003, the twenty-one-song greatest hits compilation Retrospective: The Best of Suzanne Vega was released. (The UK version of Retrospective included an eight-song bonus CD as well as a DVD containing twelve songs.) In the same year she was invited by Grammy Award-winning jazz guitarist Bill Frisell, to play at the Century of Song concerts at the famed RuhrTriennale in Germany.
In 2003, she hosted the American Public Media radio series American Mavericks, about 20th century American composers, which received the prestigious Peabody Award for Excellence in Broadcasting.
On August 3, 2006, Vega became the first major recording artist to perform live in the Internet-based virtual world, Second Life. The event was hosted by John Hockenberry of public radio's The Infinite Mind.
On September 17, 2006, she performed in Central Park, as part of a benefit concert for The Save Darfur Coalition. During the concert she highlighted her support for Amnesty International, of which she has been a member since 1988.
In early October 2006, Vega took part in the Academia Film Olomouc (AFO) in Olomouc, the Czech Republic, the oldest festival of documentary films in Europe, in which she appeared as a main guest. She was invited there as the subject of the documentary film by director Christopher Seufert, that had a test screening at the festival. At the end of the festival she performed her classical songs, and added one brand new piece called "New York Is a Woman".
Vega is also interviewed in the book Everything Is Just a Bet which was published in Czech in October 2006. The book contains twelve interview transcriptions from the talk show called Stage Talks that regularly runs in the Švandovo divadlo (Švandovo Theatre) in Prague. Vega introduced the book to the audience of the Švandovo divadlo (Švandovo Theatre), and together with some other Czech celebrities gave a signing session.
She signed a new recording contract with Blue Note Records in the spring of 2006, and released Beauty & Crime on July 17, 2007. The album was produced by Jimmy Hogarth, which won a Grammy for Best Engineered Album, Non-Classical. Her contract was not renewed and she was dropped in June 2008.
In 2007, Vega followed the lead of numerous other mainstream artists and released her track "Pornographer's Dream" as podsafe. The song spent two weeks at #1 during 2007 and finished as the #11 hit of the year on the PMC Top10's annual countdown. Vega joined the 10th annual Independent Music Awards judging panel to assist independent musicians' careers.She was also a judge for the 6th, 7th, 8th, and 9th Independent Music Awards.
A partial cover version of her song "Tom's Diner" is used to introduce the 2010 British movie 4.3.2.1, with its lyrics largely rewritten to echo the plot. This musical hybrid was released as "Keep Moving".
Vega is currently included in the Danger Mouse/Sparklehorse/David Lynch collaboration "Dark Night of the Soul". She wrote both melody and lyrics for her song, which is titled "The Man Who Played God", inspired by a biography of Pablo Picasso.
Personal life
On March 17, 1995 Vega married Mitchell Froom, a musician and a record producer. They have a daughter, Ruby Froom (born July 8, 1994). The band Soul Coughing's Ruby Vroom album was named after her, with Vega's approval, though she requested a slight change. Vega and Froom separated in 1998.
On February 11, 2006, Vega married Paul Mills, a lawyer and poet. They originally met each other at Folk City on West 4th Street when singer-songwriter Lucy Kaplansky, a friend of both, introduced them. In the words of her website, "The couple met at Folk City on West 4th Street in 1981. Mr. Mills proposed to Miss Vega in May, 1983, and she accepted his proposal on Christmas Day, 2005."
Su gibi sese sahip, ruhu arındıran yapısıyla Suzanne Vega 20 seneyi aşkındır hayatımızda. İyi bir hikaye anlatıcısı olan, sözleri dağılıp gitmeyen ve hasar bırakan bir şarkıcı. Vega'nın o çok güzel melodik yorumu ile şarkılar fazlasıyla tatmin edici. Son güzel sesli kadın şarkıcılarından biriyse üstelik bahsedilen kişi şarkılara yatmak daha kolay oluyor.

Eğer ki sana aşıksam
Sana ne bundan
Bende bıraktığın parmak izlerinin
Yarasını taşıyabilirim gül dövmesi gibi...

1980'lerin başında iyice ayyuka çıktı popüler müzik endüstrisinin evrensel cinsiyetçiliği. Kadın şarkıcıların albümlerini satmak, geniş kitlelerle buluşmak için birer seks simgesi olarak sunulmaktan başka çaresi yoktu. Video klipler de bunu destekliyordu, albüm kapakları da. Kadın şarkıcıların ne söylediğine pek kimsenin dikkat ettiği yoktu. Eğer "alternatif" ya da "bağımsız" müzisyen kategorisi içinde değilseniz, sizi kimse korumazdı. Birden fazla kadın müzisyenin birlikte çıktığı turnelere hiç bir sponsor para yatırmıyordu. Derken onlar çıktılar ortaya, Tracy Chapman, Suzanne Vega gibi kadınlar. Kanadalı meslektaşları Sarah McLachlan'ın projesi Lilith Festivali ile sponsorlara birden fazla kadın müzisyenlerin katıldığı turnelerin de büyük iş yapabileceğini, kitleleri stadyumlara çekebileceğini gösterdiler. Adını bir efsaneye göre Adem'in isyankar olan ilk karısı Lilith'ten alan turne, kadın müzisyenlerin sahnede ve stüdyoda kaderini değiştirdi. Suzanne Vega bu dönemin onurlu, başı dik müzisyenlerinden biri olarak takdir topladı. Folk rock ile pop sound'larını harmanladığı parçaları, üstün şarkı sözü yazarlığı ve yorumculuk gücü ile öne çıktı.

11 Temmuz 1959 Santa Monica, California doğumlu Suzanne Vega, 1980'lerin sonunda Marlene on The Wall, Luka, Tom's Diner gibi parçalarla tanındı. Luka'da çocuk istismarından söz ediyor, ailesinin fiziksel ve cinsel istismarına maruz kalan küçük bir çocuğun sesiyle komşularına-bize-dünyaya sesleniyordu. Vega, öteki şarkılarında da ağırlıklı olarak "kadın sesini" vurguluyordu.
1990'larda çıkardığı albümlerde biraz daha ticari düşünmeye yönelen şarkıcı, nitelik kaygısını hep korudu. İlginç yapımcıların yanı sıra, Phillip Glass gibi çığır açıcı müzisyenlerle işbirliklerine girişti. Bu arada bir evlilik yaşadı ve çocuk doğurdu. Son dönemde verdiği bir söyleşide, çocuk sahibi bir kadın olarak turnelerde çektiği zorlukları bir bir anlatıyordu. Üniversitede İngiliz Dili Edebiyatı okuyan Vega, eğitiminin yaşamı boyunca kendisine çok yararlı olduğu söylüyordu. Müziği yanı sıra, edebiyatla da çok yakındı. Geçtiğimiz yıllarda piyasaya sürülen şiir kitabı Passionate Eye, onun bu alanda da çok birikimli ve yetenekli olduğunu kanıtlıyor.
Vega, 1990'ları pek çok yardım projesine katılarak geçirdi. Çeşitli kadın etkinliklerinin yanı sıra, Uluslararası Af Örgütü'nün de yardım kampanyalarında görev aldı.
1999 yazında İstanbul'da da bir konser vermişti. Sahnede tek başınalığı ve samimiyeti ile ilgi çekiyordu. Elinde gitarı, melek sesiyle Açıkhava'yı dolduran dinleyicilerine seslendi. Güler yüzlü, mesafeli ve tek kelimeyle büyüleyiciydi.
Admin




Mesaj Sayısı

: 2411


Kayıt tarihi

: 01/04/08




---
Bu forumun müsaadesi var:
Bu forumdaki mesajlara cevap
veremezsiniz