1
sayfadaki
1
sayfası •
Paylaş
•

SUZANNE FARRELL
1988
Suzanne Farrell and George Balanchine in Don Quixote
Suzanne Farrell (born August 16, 1945) is an eminent 20th century ballerina and the founder of the Suzanne Farrell Ballet at the Kennedy Center in Washington, D.C.
She was born as Roberta Sue Ficker in Cincinnati, and received her early training at the Cincinnati Conservatory of Music. In 1961, she was selected to study at George Balanchine's School of American Ballet with a Ford Foundation scholarship; she started there in 1960, and joined the New York City Ballet (NYCB) in 1961.
Career
Early career at NYCB
Initially part of the corps de ballet at NYCB, Farrell soon moved on to dancing featured roles. The first roles created especially for her came in 1963, and in 1965 she was promoted to principal dancer. George Balanchine quickly fell in love with his "alabaster princess", and created many roles for her. In 1965 he created Don Quixote, thought to be a valentine to his newest "muse." In 1968 he cast her as the lead in the "Diamonds" section of his three-act plotless ballet "Jewels".
Balanchine was married to the polio-stricken former ballerina Tanaquil LeClerq, however, and Farrell was a Catholic. Though Balanchine divorced LeClerq to pursue Farrell, she instead married fellow dancer Paul Mejia.
When she married Mejia, another dancer in the company, in 1969, her bond with Balanchine suffered, and they left the New York City Ballet in 1970. [citation needed] After a spell in Europe, she eventually returned to Balanchine and the New York City Ballet in 1975, where her partnership with Balanchine lasted until his death in April 1983; his last works were solos for Farrell.
Career as a dance teacher
She had an unusually long performing career for a ballerina. After 28 years of an occupation which takes a tremendous physical toll on the body - began to come to an end in 1983. She started to develop arthritis in her right hip and despite two years of varied treatments, by 1985 (at the age of 40), her career on stage was almost over. She struggled for several years, but retired from performing in 1989.
She then moved on to passing on the ballets of Balanchine to the next generation of ballet dancers, working with famed companies around the world, such as those in Berlin and Vienna, as well as the Paris Opera Ballet, Kirov Ballet and the Bolshoi Ballet. In 1993, the New York City Ballet dismissed her from her teaching position with the company.
Career at the Kennedy Center
Main article: Suzanne Farrell Ballet
In 2000 Suzanne Farrell started her own company, the Suzanne Farrell Ballet, now a full-fledged company produced by the Kennedy Center.
Farrell's engagement with the Kennedy Center began in 1993 and 1994, when the Center offered two series of ballet master classes for students with Farrell. This series provided intermediate-to-advanced level ballet students, ages 13 to 17, an opportunity to study with one of the greatest ballerinas of the 20th century. Due to the uniqueness of Farrell's place in the ballet world and the quality of her teaching, the Kennedy Center expanded the program to a national level in 1995 in order to fulfill the Center's mission to enhance the arts education of America's young people. This three weeks long yearly initiative of intense study grew into a full-fledged program, Exploring Ballet with Suzanne Farrell.
In the fall of 1999, Farrell received critical acclaim for the successful Kennedy Center engagement and East Coast tour of Suzanne Farrell Stages the Masters of 20th Century Ballet. Following the Kennedy Center's debut, the newly named Suzanne Farrell Ballet, a group of professional dancers hand selected by Farrell, has since performed at the Kennedy Center during engagements in 2001 and 2002, been on an extensive East Coast tour, and returned to the Kennedy Center as part of the 2003-2004 Ballet Season following a 7-week national tour. Suzanne Farrell was selected as one of the five recipients of the 2005 Kennedy Center Honors, one of the highest honors for lifetime artistic achievement.
Media
Exploring Ballet with Suzanne Farrell is an initiative of the Kennedy Center Education Department and is made possible in part by the U.S. Department of Education and the Kennedy Center Corporate Fund. Additional support is provided by the Margaret Abell Powell Fund. Suzanne Farrell was prominently featured in Balanchine (2004) a documentary about the life of George Balanchine.
Awards
President George W. Bush and Laura Bush pose with the Kennedy Center honorees, from left to right, actress Julie Harris, actor Robert Redford, singer Tina Turner, ballet dancer Suzanne Farrell and singer Tony Bennett on December 4, 2005, during the reception in the Blue Room at the White House.
Farrell has received honorary degrees from Harvard, Yale, University of Notre Dame and Georgetown University, among others. She has also been a tenured professor of dance at Florida State University since 2000, and in 2003 she received the National Medal of Arts.
She was recently celebrated in 2005 at the Kennedy Center Honors as one of the most influential ballerinas of the 20th century, among such talents as Tina Turner and Robert Redford. She also was the 2005 recipient of the Capezio Dance Award.
Further reading and viewing
Suzanne Farrell, Toni Bentley, Holding on to the Air (Summit Books, New York, 1990)
Suzanne Farrell: Elusive Muse, a 1996 documentary film
Suzanne Farrell - Elusive Muse, (Directed by Anne Belle and Deborah Dickson 1990)
Quotes
"I'm thought of as a cool unemotional dancer but inside I'm most certainly not. As soon as I hear music something in me starts to vibrate."
"When you get on a stage you can do anything."
"When I first met Peter [Martins], I said to Mr. B, 'Well, at least he's tall.' I did not even think about how handsome he was. And he was very handsome."
"In my youth I have always been drawn to dance. It made me feel sexy and have confidence."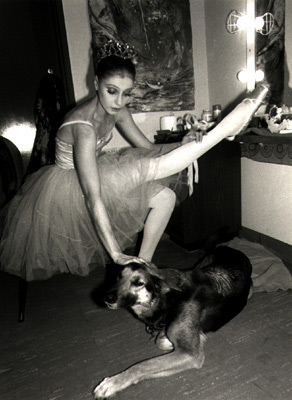 Admin




Mesaj Sayısı

: 2411


Kayıt tarihi

: 01/04/08




---
Bu forumun müsaadesi var:
Bu forumdaki mesajlara cevap
verebilirsiniz