1
sayfadaki
1
sayfası •
Paylaş
•

ANNE AKIKO MEYERS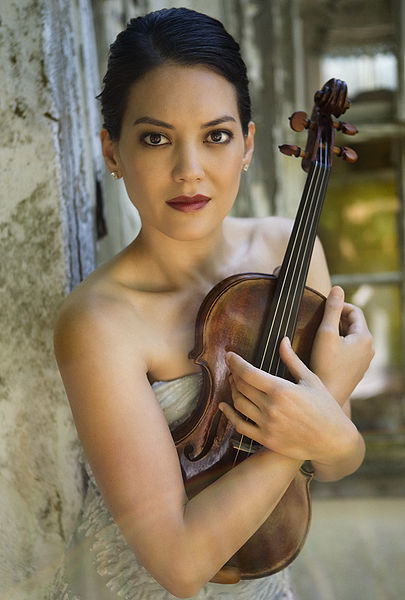 Anne Akiko Meyers holding violin in New York on 10 October 2009
Background information
Birth name: Anne Akiko Meyers
Born: May 15, 1970 (1970-05-15) (age 40) San Diego
Origin: New York City
Genres: classical
Occupations: Solo concert violinist
Instruments: Violin
Years active: 1985–present
Labels E1, Sony, RCA Red Seal, Avie
Website
www.anneakikomeyers.com
Anne Akiko Meyers (born May 15, 1970 in San Diego, California) is an American concert violinist. Meyers has toured and collaborated with a number of symphony orchestras and Il Divo, Chris Botti and Wynton Marsalis. Meyers tours with a 1730 Stradivarius violin called the 'Royal Spanish'.
Background
Meyers was born in San Diego, California. Raised in Southern California she studied with Shirley Helmick, and then went on to study with Alice and Eleonore Schoenfeld at the Colburn School of Performing Arts in Los Angeles, California. She then proceeded to study with Josef Gingold at Indiana University and Dorothy DeLay, Felix Galimir and Masao Kawasaki at the Juilliard School in New York City. Combining her junior and senior high school years and graduating early from the Juilliard School at the age of 20, she was touring the world and recorded exclusively for RCA Red Seal.
Early Career
Meyers began studying the violin at age 4 and debuted with an orchestra at age 7. She was featured twice on The Tonight Show Starring Johnny Carson and the Emmy Award Show at the age of 11. She also performed with the Los Angeles Philharmonic and made her debut with the New York Philharmonic at age 12, with Zubin Mehta conducting. At the age of 16 she signed with ICM Artists and began touring and recording. Her first album in London was at the Abbey Road Studios featuring the Barber and Bruch Concertos with the Royal Philharmonic Orchestra at the age of 18. Having signed an exclusive RCA Red Seal contract at 21 years of age, she went on to record a comprehensive discography. At 23, she was awarded the prestigious Avery Fisher Career Grant, the only artist to be the sole recipient of this annual award.
Professional Works
Meyers has been a regular guest at venues including Carnegie Hall, the Hollywood Bowl, Lincoln Center, Suntory Hall, Sydney Opera House and a soloist with orchestras such as BBC Scottish Symphony Orchestra, Boston Symphony, Deutsches Symphonie-Orchester Berlin, Budapest Festival Orchestra, London's Philharmonia Orchestra, Los Angeles Philharmonic, Orchestre de Paris, Minnesota Orchestra, Montreal Symphony, Moscow Philharmonic Orchestra, New York Philharmonic, Philadelphia Orchestra, Royal Concertgebouw Orchestra, Royal Philharmonic, Swedish Radio Orchestra, Sydney Symphony Orchestra, Tokyo's NHK Symphony Orchestra, Toronto Symphony, Vienna Symphony and the Warsaw Philharmonic.
An avid supporter of contemporary composers, she has premiered works by David Baker, John Corigliano, Nathan Currier, Roddy Ellias, Karl Amadeus Hartmann, Jennifer Higdon, Wynton Marsalis, Olivier Messiaen, Akira Miyoshi, Arvo Pärt, Manuel Maria Ponce, Somei Satoh, Teddy Shapiro, Joseph Schwantner, and Ezequiel Viñao. Recently, Meyers asked jazz legend, Wynton Marsalis to write cadenzas for her in Mozart's Violin Concerto in G Major, #3 which she premiered with the Utah Symphony.
Meyers has recorded music on the Avie Records, Camerata, Hyperion Records, Naxos Records, RCA Red Seal Records, RPO labels and Warner Classics Japan. Her debut disc, recorded at the age of 18, included the Samuel Barber "Violin Concerto" and the Max Bruch "Violin Concerto No.1" with Christopher Seaman and the Royal Philharmonic Concert Orchestra. RPO Records recorded the sonatas of Saint-Saëns and Fauré. Her RCA catalogue includes Lalo's "Symphonie Espagnole" and Bruch's "Scottish Fantasy" with Jesus Lopez-Cobos and the Royal Philharmonic; the Franck and Strauss sonatas; the Felix Mendelssohn "Concerto in E minor" and a selection of other works with Andrew Litton and the Philharmonia Orchestra and Prokofiev Violin Concertos with the Frankfurt Radio Symphony under Dmitri Kitajenko. Sonata albums include "Salut d'Amour" featuring many encore pieces with classic Japanese folksongs and an album featuring works by Copland, Ives, Piston, and David Baker with pianist André-Michel Schub.
She recorded works by Debussy, Messiaen, Ravel, Satoh and Takemitsu for Avie Records. Two works written expressly for Meyers include a live performance of the Somei Satoh Violin Concerto with Tetsuji Honna and the Tokyo Metropolitan Symphony Orchestra on the Camerata label and 'Angelfire' by Pulitzer-prize winning composer Joseph Schwantner with Andrew Litton and the Dallas Symphony Orchestra on Hyperion Records. Naxos Records also released a performance of Jennifer Higdon's piano trio, featuring Meyers, live from the Bravo! Vail Valley Music Festival and she recorded the Bruch Concerto live with the Orchestra Ensemble Kanawaza with Maestro Iwaki on Warner Classics Japan.
'Smile', was released in 2009 on E1 Entertainment with Akira Eguchi. It features pieces by Harold Arlen, Charlie Chaplin, Olivier Messiaen, Michio Miyagi, Arvo Pärt, Piazzolla, Schubert, and Rentaro Taki.
In September 2010, 'The Seasons, Dreams' will be released and feature works by Beethoven, Wagner, Schnittke, Debussy, Vernon Duke with a pianist and harpist on E1 Entertainment.
Meyers was the special guest violinist as part of Il Divo's Christmas Tour 2009 and toured with Chris Botti in 2010.

---
Bu forumun müsaadesi var:
Bu forumdaki mesajlara cevap
veremezsiniz