1
sayfadaki
1
sayfası •
Paylaş
•

Ulyana Vyacheslavovna Lopatkina (Russian: Ульяна Вячеславовна Лопаткина, born October 23, 1973, Kerch, Crimea, Ukrainian SSR, USSR) is principal dancer at the Kirov Ballet/Mariinsky Theatre in St Petersburg. She studied at the Vaganova Academy with Natalia Dudinskaya. Upon graduation Lopatkina joined the Kirov/Mariinsky Theatre Ballet in 1991, and was promoted to principal dancer in 1995. Lopatkina is married to Vladimir Kornev, architect and writer, and has one daughter (Masha, born 2002).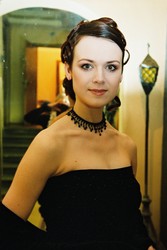 Although Russian, Ulyana (Uliana) Lopatkina was born and lived in the Ukraine until she was 10 years old. Her parents worked on the Ukraine's Black Sea coast in the Kerch shipyards. Lopatkina's father was 'horrified" Lopatkina says to think of her leaving home at such a young age, but her mother was aware of the long term advantage the sacrifice would create.

Awards
Lopatkina was the prizewinner at the International Vaganova-prix Competition (St Petersburg, 1991). Golden Sofit (1995), the Golden Mask (1997), Prix Benois de la Danse (1997), the Baltika prize (1997 and 2001), the Evening Standard (1998), State Prize of Russia (1999), Honoured Artist of Russia (2000), People's Artist of Russia (2006).
Best performances and repertoire
Lopatkina excels in classic and dramatic roles. She is a perfect example of the Russian school (Kirov) with willowy limbs, steely strength and a classical purity of line, as well as instinctive musicality.
Childhood and early training
Her repertoire includes: Giselle (Giselle, Myrtha), Le Corsaire (Medora), La Bayadère (Nikia), Grand pas from Paquita, The Sleeping Beauty (Lilac Fairy), Swan Lake (Odette-Odile), Raymonda (Raymonda, Clemans), The Swan, Schéhérazade (Zobeide), The Fountain of Bakhchisarai (Zarema), The Legend of Love (Mekhmeneh Bahnu), Leningrad Symphony (The Girl), Pas de quatre (Маria Taglioni), Serenade, Piano Concerto No. 2 (Ballet Imperial), Symphony in C(2nd Movement), La Valse, Jewels (Diamonds), In the Night, The Nutcracker (highlights: Teacher and Pupil), Le Jeune Homme et la Mort, Goya-Divertissement, Le Baiser de la Fee (Fairy), Le Poeme de l´Extase, In the Middle.
Daily life
Lopatkina revealed details about her daily life in an interview to The Sunday Times in 2005. She wakes up between 9am to 10am and drinks a glass of grapefruit juice or a cup of tea for breakfast. When not in a hurry, she also eats oatmeal or a buckwheat porridge. Rehearsals start after 11am. At the Kirov she first attends a class with other dancers and after that has a personal rehearsal with Ninel Kurgapkina. After a break, she has more rehearsals or helps teaching younger dancers. Lopatkina often skips lunch.
She likes painting and reading, but after having a daughter her free time is mostly dedicated to taking care of her. Lopatkina still gets nervous before making a stage entrance. After performing she can eat a kilo of grapes or drink a liter of grapefruit juice. She washes in cold water and sometimes has a massage and a banya (a kind of Turkish bath). Lopatkina never sleeps before 1am or 2am and drinks Russian kefir with a biscuit before going to bed.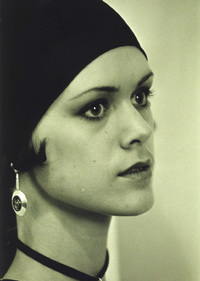 As a child, Lopatkina was bandy-legged and quite fat, she hardly thought of becoming a famous ballerina.
Lopatkina is among world's tallest major ballerinas: she is 5 ft 9 in (175 cm) and wears shoes size 10.5 US (8 UK).
Lopatkina uses two pairs of shoes in each performance. The shoes are specially made because of her foot size.
She likes simple and comfortable clothes, often wears black. She complains about buying clothes in stores: the sleeves are ridiculously short.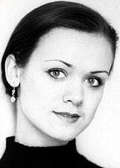 Filmography and photo gallery
Lopatkina's Filmography. MSN Movies (retrieved December 30, 2007)
Lopatkina - Photo Gallery at
www.ballerinagallery.com
(retrieved December 30, 2007)[b]
Admin




Mesaj Sayısı

: 2411


Kayıt tarihi

: 01/04/08




---
Bu forumun müsaadesi var:
Bu forumdaki mesajlara cevap
verebilirsiniz