1
sayfadaki
1
sayfası •
Paylaş
•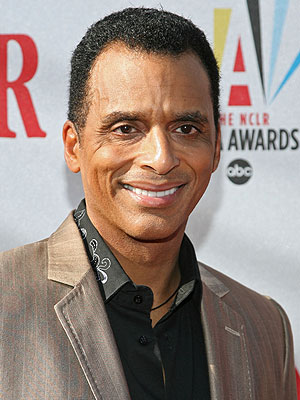 Website:
www.JonSecada.com
Background Information
Birth name Juan Francisco Secada Martínez
Born: October 4, 1962 (1962-10-04) (age 48) Havana, Cuba
Origin: Miami , Florida, USA
Genres: Latin Pop, Latin Music, Pop
Occupations: Singer-songwriter
Instruments: Vocals
Years active: 1991–present
Labels SBK, EMI
Jon Secada (born Juan Francisco Secada Martínez on October 4, 1962) is a Cuban-American singer and songwriter. Secada was born in Havana, Cuba, and raised in Hialeah, Florida. He has won two Grammy Awards and sold 20 million albums since his English-language debut album in 1992. His music fuses funk, soul, pop and Latin percussion. Secada also has worked as a songwriter for Gloria Estefan, Jennifer Lopez, Ricky Martin, Mandy Moore and other performers.
Early Years
Secada immigrated with his parents to the United States at the age of nine. While attending school, his family managed a coffee shop. As a teen, Secada discovered his gift for music. In the culturally diverse city of Miami, Secada was exposed to salsa and merengue. Secada also became interested in R&B and pop music performed by Barry Manilow, Marvin Gaye, Billy Joel, Elton John and Stevie Wonder.
Secada graduated from South Florida's Hialeah High School in 1979 and then enrolled at Miami Dade community college then transferred to the University of Miami. During college, he became an accomplished jazz musician and was inducted into the Iron Arrow Honor Society. He completed a Bachelor's degree in Music and then earned a Master's degree in Jazz Vocal Performance.
Collaboration with Gloria Estefan
In the late 1980s, Gloria Estefan hired Secada as a background singer. He also started composing music for Estefan, including some of her best-known ballads. Among other songs, Secada co-wrote and sang background on "Coming Out of the Dark" Gloria's number one hit from her 1991 album Into the Light. During Estefan's "Coming Out of the Dark" tour, Secada was given the life-changing opportunity of taking over the stage and performing solo. The song was "Always Something" which would be featured later on his debut album. It launched his career as a solo performer.
Solo Career
In 1991, Secada legally changed his first name from Juan to Jon. The following year, Secada released his self-titled debut album Jon Secada (SBK/EMI), which sold over six million copies worldwide and being certified triple platinum in the U.S., where it reached No. 15 among the Billboard 200 albums chart.
Secada scored a No. 5 Pop hit (and a No. 5 UK hit) with his Gold single "Just Another Day", and three more top 30 hits, "Angel" (No. 18 Pop, No. 23 UK), "I'm Free" (No. 27 Pop, No. 50 UK), "Do You Believe in Us?" (No. 13 Pop, No. 30 UK), and "Do You Really Want Me" (No. 30 UK) received national radio play. The Spanish-language version of Secada's solo album, Otro Día Más Sin Verte (EMI-Latin), became the Number One Latin album of 1992 and earned Secada his first Grammy Award for "Best Latin Pop Album".
In 1994 by Secada's second album, Heart, Soul & a Voice (EMI) featured members of The Miami Sound Machine and guests Arturo Sandoval (trumpeter) and Betty Wright (background vocals). The album went Platinum in the US. One of its singles had a top ten Pop hit "If You Go" and a Top 30 hit "Mental Picture", which was used in the soundtrack for the film "The Specialist". His third album on EMI, Amor, was released in 1995 and earned Secada his second Grammy for "Best Latin Pop Performance".
Secada co-wrote the song "Bella," the Spanish version of "She's All I Ever Had" for Ricky Martin's 1999 Multi-platinum self-titled album. He also co-wrote and co-produced the song "Baila" for Jennifer Lopez, which appeared on her 1999 multi-platinum album, On the 6. He worked with teen singing sensation Mandy Moore on two of her tracks, "One Sided Love" and "It Only Took a Minute" from her self-titled multi-platinum album. In 2001 he was a backing vocalist on Enrique Iglesias's album multi-platinum Escape on the tracks "Don't turn off the Lights" and "Love 4 Fun".
Secada has performed with opera legend Luciano Pavarotti and recorded a duet with Frank Sinatra on "The Best Is Yet to Come" from Sinatra's Duets II album.
In 1995, Secada starred on Broadway's hit musical Grease, where he acted in the lead role of "Danny Zuko". Broadway called upon Secada once again in 2003, where he played the Emcee role in Sam Mendes' acclaimed version of Cabaret. In the fall of 2004, Secada also starred as "Joseph" in Andrew Lloyd Webber and Tim Rice's theatrical hit Joseph and the Amazing Technicolor Dreamcoat.
Nov 30, 2007: Jon participated in the Walt Disney World Christmas Day Parade which was taped inside the Magic Kingdom at Disney World Orlando, Florida.
Charity
Apart from his dedication to music, Secada has devoted himself to assisting charitable organizations. He has a lifelong commitment to community service and charity endeavors. He has been active with causes to help children, including education, AIDS research, and child abuse. His commitment to education and helping others lead him to create the Jon Secada Music Scholarship at the University of Miami, his alma mater.
He has been instrumental in raising funds in Washington, D.C. for the national effort "Keeping Music in Schools." He is a supporter of many initiatives including the Pediatric AIDS Unit at Miami's Jackson Memorial Hospital, the Lifebeat Concert to benefit AIDS, Amigos Together for Kids, Make-A-Wish Foundation, the Boys and Girls Club, among other charitable organizations.
In addition, Secada has been active in the Hurricane Relief Efforts. His song, "The Last Goodbye," is a tribute song dedicated to the families of the victims of the September 11, 2001, terrorist attacks. This song, along with three other versions including an all-star version in Spanish with the participation of over 100 Hispanic Artists around the world, was released as a single, with all proceeds going to the victims' families. Currently, the single has raised some $250,000 for victims' families.
Public Service
Secada was appointed by President George W. Bush to serve on the President's Advisory Commission on Educational Excellence for Hispanic Americans. The committee is charged with creating a multi-year action plan aimed at closing the educational achievement gap between Hispanic students and their peers.
Personal
Secada's first marriage to Jo Pat Cafaro ended in divorce in 1993. On February 22, 1997, he married Maritere Vilar (b. 1972). They have two children, Mikaela and Jon Henri.
Discography
Albums
Jon Secada (1992)
Otro Día Más Sin Verte (1992)
Heart, Soul & a Voice (1994)
Si Te Vas (1994)
Amor (1995)
Secada [English] (1997)
Secada [Spanish] (1997)
Better Part of Me (2000)
The Gift (2001)
Amanecer (2002)
Same Dream (2005)
A Christmas Fiesta [English] (2007)
Una Fiesta Navidena [Spanish] (2007)
Expressions (2009)
Classics [English] (2010)
Clasicos [Spanish] (2010)
Admin




Mesaj Sayısı

: 2411


Kayıt tarihi

: 01/04/08



Küba doğumlu söz yazarı ve şarkıcı Jon Secada, Miami Üniversitesi Caz Vokal Performansı bölümünü bitirdikten sonra kariyerine besteci olarak devam etti. Diva Gloria Estefan ile tanışması ile müzik kariyerine yepyeni bir soluk getirdi. Gloria Estefan'ın Into the Light gibi birçok Platin Plak ödülü alan albümündeki hit şarkı Coming out of the Dark ve diğer 5 şarkının bestecisi Secada,1992'de çıkardığı ilk albümü ile dünya çapında 6 milyon satarak En iyi Latin Albümü ünvanı ile ilk Grammy Ödülünü kazandı.

1995'te çıkardığı üçüncü albümü Amor ile En İyi Latin Pop Performansı dalında ikinci Grammy ödülünü aldı. Jon Secada müzik kariyeri boyunca dünya çapında 20 milyondan fazla albüm satan nadir sanatçılardan biri oldu. Jennifer Lopez, Ricky Martin gibi dünyaca ünlü sanatçılara besteler verdi. Luciano Pavarotti ile yaptığı duet çok satanlar arasında yer aldı. Sinatra's Duets II albümünde The Best is Yet to Come şarkısındaki Frank Sinatra ile düeti de unutulmazlar arasında.

Kariyerinin başından beri tiyatroya da ilgi duyan Jon Secada 1995 yılında Broadway'in efsane Grease müzikalinde başrol karakteri Danny Zuko rolünde oynadı. Ayrıca 4 yıldır American Idol'un Latin versiyonunda Yargıç rolünü oynamaktadır. Bunların dışında da Pocahontas filminin final şarkısı If I Never Knew You da yine Secada'ta ait.
Twitter'da 850.000 takipçisi olan Secada'nın son albümü Expressions, caz standartlarının yorumları ve Secada hitlerinin caz yorumlarıyla bizi geçmişten bugüne müzikal bir yolculuğa çıkarıyor. Dünya çapında büyük bir başarı olarak nitelenen Expressions albümünün turnesi kapsamında İzmir ve İstanbul'dan sonra 23 Mayıs 2010 tarihinde Ankara'da konser verdi. Latin müziğinin romantik prensine piyanoda Jon Rose, davuldan Jack Ciano, gitarda Lindsey Blair ve basta Javier Carrion eşlik etti.

Admin




Mesaj Sayısı

: 2411


Kayıt tarihi

: 01/04/08




---
Bu forumun müsaadesi var:
Bu forumdaki mesajlara cevap
veremezsiniz