1
sayfadaki
1
sayfası •
Paylaş
•

Walter Wilhelm Gieseking (5 November 1895 – 26 October 1956) was a French-born German pianist and composer.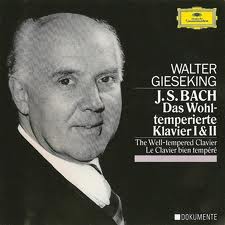 Biography
Born in Lyon, France, the son of a German doctor and lepidopterist, Gieseking first started playing the piano at the age of four, but without formal instruction. His family travelled frequently and he was privately schooled.
From 1911 to early 1916 he studied at the conservatorium in Hanover. There his mentor was the director Karl Leimer, with whom he later co-authored a piano method. He made his first appearance in 1915, but was conscripted in 1916 and spent the remainder of World War I as a regimental bandsman. His first London piano recital took place in 1923, and as a result he acquired a reputation as an exceptional performer.
During World War II Gieseking continued to reside in Germany, while continuing his career in Europe. Because he performed in Nazi-occupied countries such as France, he was later accused of having collaborated with the Nazi Party. Like many German artists, Gieseking was blacklisted during the initial post-war period. By January 1947, however, he had been cleared by the U.S. Military Government and was able to resume his career. Nevertheless, his initial U.S. return, scheduled for January 1949, was cancelled owing to the protest of a number of organizations such as the Anti-Defamation League and the American Veterans Committee. Although there had been other protests (in Australia and Peru for example), his 1949 American tour was the only group of concerts actually cancelled because of the outcry. He continued to play in a great many other countries, and in 1953 he returned to the States. His concert at Carnegie Hall was sold out and well received, and Gieseking was more popular than ever.
Because of his gifts — he had a natural technique, perfect pitch, and an abnormally acute faculty for memorisation — Gieseking was able to master unfamiliar repertoire (however difficult) with relatively little practice. As taught in the Gieseking-Leimer method, he usually studied new pieces away from the piano. Consequently, it became well publicised that he often committed new works to memory while traveling by train, ship, or plane. Sometimes, according to Harold C. Schonberg's book The Great Pianists (1963), he could learn an entire concerto by heart in one day.
Gieseking had a very wide repertoire, ranging from various pieces by Bach and the core works by Beethoven through to the concertos of Rachmaninoff (the composer was impressed with his traversal of the Third)[citation needed] and more modern works by the likes of Busoni, Hindemith, Schoenberg, and the lesser-known Italian Petrassi. He gave the premiere of the Piano Concerto by Pfitzner in 1923. Today, though, he is primarily remembered as one of the greatest interpreters of two French composers in particular: Claude Debussy and Maurice Ravel.
His recording of the complete solo piano works of Debussy was the first such undertaking and has been re-released on CD, as have his traversals of the complete solo piano works of Mozart and Ravel. Gieseking's historic 1944 performance of Beethoven's "Emperor" Concerto, in which anti-aircraft fire is audible, is one of the earliest stereo recordings. His last recording project was the complete cycle of Beethoven's Piano Sonatas. Gieseking suddenly fell ill in London, however, during a recording of Beethoven's Piano Sonata No. 15 for HMV. He had completed the first three movements and, the following day, was due to record the fourth. He died a few days later due to post-operative complications. HMV released the unfinished recording, and since then broadcast recordings of Gieseking playing all of Beethoven's Piano Sonatas (with the exception of Op. 54) have been issued. Although some of his readings - particularly the live ones - can at times be erratic and marred by wrong notes, when Gieseking was in form he exhibited superb technical equipment. The subtle shadings of his playing, at its finest, seemed extraordinary in so physically huge a man.
Running parallel to Gieseking's performing activity was his much lesser known work as a composer. Even in his own lifetime his original creations were hardly known, and he made no attempt to give them publicity. A few of them have, nevertheless, been recorded on CD in recent years.
Baronia brevicornis of the Coll. Gieseking, Museum Wiesbaden, GermanyAs Gieseking's father had earned a living as a lepidopterist, Gieseking, too, devoted much time to the collecting of butterflies and moths throughout his life. His private collection is deposited in the Natural History Collection of the Museum Wiesbaden.

Walter Wilhelm Gieseking plays Achille-Claude Debussy's Fantaisie for Piano and Orchestra (1889) with the Royal Concertgebouw Orchestra under the direction of Willem Mengelberg. Recorded on 6 October 1938.





---
Bu forumun müsaadesi var:
Bu forumdaki mesajlara cevap
veremezsiniz