1
sayfadaki
1
sayfası •
Paylaş
•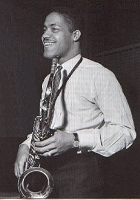 Clifford Laconia Jordan (September 2, 1931, Chicago - March 27, 1993, Manhattan) was a jazz saxophone player. While in Chicago, he performed with Max Roach, Sonny Stitt, and some rhythm and blues groups. He moved to New York City in 1957, after which he recorded three albums for Blue Note. He also recorded with Horace Silver, J.J. Johnson, Kenny Dorham, and Max Roach. He was part of the Charles Mingus Sextet, with Eric Dolphy, during its 1964 European tour. Jordan toured Africa with Randy Weston, and performed in Paris while living in Belgium. In later years, he led his own groups, performed with Cedar Walton's quartet, and led a big band.
Jordan was married to Shirley Jordan, a designer and former owner of Clothing Manufacturing Corporation in New York.
Discography
(This section requires expansion.)
As leader
1957: Blowing in from Chicago (with John Gilmore, Horace Silver, Curly Russell, Art Blakey) Blue Note Records
1960: Spellbound Clifford Jordan (tenor saxophone), Cedar Walton (piano), Spanky DeBrest, Albert "Tootie" Heath
1961: Starting Time
1965: These Are My Roots: Clifford Jordan Plays Led Belly
1972: In the World (with Wynton Kelly, Richard Davis, Wilbur Ware, Don Cherry, Kenny Dorham, Julian Priester, Ed Blackwell, Albert Heath, Roy Haynes) Strata-East
1973: Glass Bead Games (with Stanley Cowell, Bill Lee, Cedar Walton, Sam Jones) Strata-East
1975: The Highest Mountain
1991: Down Through the Years: Live at Condon's New York - The Clifford Jordan Big Band[1]
Bee Hive Records
Dr. Chicago (with Jaki Byard, Red Rodney, Vernel Fournier)
Manhattan Project (Dizzy Reece with Roy Haynes, Art Davis, Charles Davis, Albert Dailey)
Hyde Park After Dark (with Victor Sproles, Von Freeman, Cy Touff)
] As sideman
With Paul Chambers
The Paul Chambers Quintet
With Eric Dolphy
Iron Man
With Andrew Hill
Shades (1986)
With J. J. Johnson
J.J. Inc.
With Charles Mingus
Astral Weeks
With Lee Morgan
Expoobident (1960)
With Max Roach
It's Time (1962)
Admin




Mesaj Sayısı

: 2411


Kayıt tarihi

: 01/04/08




---
Bu forumun müsaadesi var:
Bu forumdaki mesajlara cevap
veremezsiniz