1
sayfadaki
1
sayfası •
Paylaş
•

JULIA KENT
Julia Kent is a Canadian cellist, best known as an original member of all-cello group Rasputina. She left Rasputina in 1999 and has played cello with a variety of artists and ensembles since then, most notably Antony and the Johnsons. She released her first solo album, Delay, in 2007.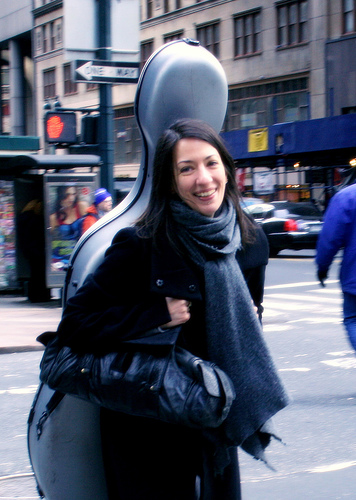 http://www.juliakent.com/
http://www.myspace.com/julia_kent
After years of playing cello with a myriad of artists and ensembles, Julia Kent holed up in her Lower East Side apartment to make a solo record inspired by touring and the disjunctions of travel. Incorporating multitracked cello, omnichord, and field recordings from airports around the world, her "lovely, melancholy," compositions, full of "aching romanticism ... rich melodicism, and detailed arrangements," make up Delay, her solo debut, released by Shayo Records in Europe and Important Records in North America.
photo: Sylvie Biscioni"Cinematographic, her music seduces at the same time by its deepness and its lightness." (Benzine Magazine)
"Often melancholy, also luminous ... it gives us a little tour of the world..." (Musique Chroniques)
"a great album in an already great music tradition of albums inspired by airports..." (Vital Weekly)
"An abundant warmth and persistence belies this music, making most songs feel like a soundtrack in themselves." (Aurgasm)
"With her debut album Julia Kent creates her own world, into which one can not only dive repeatedly, but can also make one's own journey." (Der Standard)
"...will lull your mind into a beautiful place." (Press Play, Record)
"incredibly emotive, up-close and personal cello performances. It's great to hear someone who's been previously relegated to supporting roles making such a complex and satisfying body of recordings for her debut solo album." (Boomkat)
"honesty and powerful emotional stasis ... inspiredly simple yet the farthest thing possible from simplistic." (Lloyd Dykk, The Vancouver Sun)
"If there's one artist that blew me away: Julia Kent with her debut album Delay." (Ranh, Ranh!)
"Cellist Julia Kent's set, in which she sampled and played over herself, was a thing of miniature beauty...' (The Wire)
Julia Kent was born in Vancouver, Canada, studied cello at Indiana University, Bloomington, and lives in New York. She was an original member of cello-rock band Rasputina, who released two records on Columbia and toured throughout North America. After leaving Rasputina she joined Antony and the Johnsons, playing on and contributing string arrangements to the group's Mercury Prize-winning record I Am a Bird Now, and touring Europe, North America, Australia, and Brazil, including shows at Carnegie Hall and the Royal Albert Hall and numerous television appearances. In addition to her ongoing participation in Antony and the Johnsons, she has performed and/or recorded with many other artists and ensembles, including the Angels of Light, Ben Weaver, Burnt Sugar, Leona Naess, Teddy Thompson, Devendra Banhart, Donovan, Larsen, William Parker, and Angela McCluskey.. As a solo artist, she has performed at the Donau Festival in Austria, the LEM festival in Barcelona, and at venues throughout Europe and the U.S.
Admin




Mesaj Sayısı

: 2411


Kayıt tarihi

: 01/04/08




---
Bu forumun müsaadesi var:
Bu forumdaki mesajlara cevap
veremezsiniz