1
sayfadaki
1
sayfası •
Paylaş
•

KAREN CARPENTER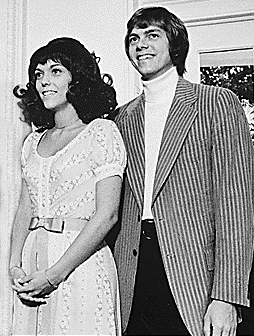 Karen and Richard Carpenter at the White House on August 1, 1972.
Background information
Birth name Karen Anne Carpenter
Born March 2, 1950(1950-03-02)
New Haven, Connecticut, USA
Origin Los Angeles, California, USA
Died February 4, 1983 (aged 32)
Downey, California, USA
Genres Pop
Instruments Vocals, Drums, Percussion
Years active 1965–1983
Labels A&M
Associated acts The Carpenters
Richard Carpenter
Website Richard and Karen Carpenter
Notable instruments
Ludwig Drums
Karen Anne Carpenter (March 2, 1950 – February 4, 1983) was an American singer and drummer. She and her brother, Richard, formed the 1970s duo The Carpenters. Her drumming skills were considerable, but it is for her vocal performances that she is best remembered.
She suffered from anorexia nervosa, a little known disease at the time, and died at the age of 32 from heart failure, later attributed to complications related to her illness.
Early life
Carpenter was born in New Haven, Connecticut, to Agnes Reuwer Tatum and Harold Bertram Carpenter. When she was young, she used to enjoy playing baseball with other children on the street. On the TV program, This Is Your Life, Carpenter stated that she liked pitching. In the early 1970s, she went on to play as the pitcher on the Carpenters' official softball team.
Karen's brother, Richard, had developed an interest in music at an early age, becoming a piano prodigy. Karen showed less interest in music as a young child. The family moved in June 1963 to the Los Angeles suburb of Downey.
When Karen entered Downey High School, she joined the school band. The conductor (who had previously taught her older brother) gave her the glockenspiel, an instrument she disliked. After admiring the performance of a friend named Frankie Chavez, she asked the conductor if she could play the drums instead.[6] Drumming came naturally to Carpenter, and she practiced for several hours a day. She and Richard made their first recordings in 1965 and 1966. The following year, Karen began dieting. Under a doctor's guidance Karen, who stood 5'5' and weighed 145 pounds, went on the Stillman Diet. She rigorously ate lean foods, drank 8 glasses of water a day, and avoided fatty foods. Eventually, Karen dropped to 120 pounds. She would stay at 120 pounds until 1974.
Music career
From 1965 to 1968, Karen, her brother Richard and his college friend Wes Jacobs, a bassist and tuba player, formed The Richard Carpenter Trio. The band played jazz at numerous nightclubs, and also appeared on a TV talent show called Your All American College Show.
Karen, Richard, and other musicians, including Gary Sims and John Bettis, also performed as an ensemble known as Spectrum. Spectrum focused on a harmonious, vocal sound, and recorded many demo tapes in the garage studio of friend and bassist Joe Osborn. Many of those tapes were rejected. According to former Carpenters member John Bettis, those rejections "took their toll.''
Finally, in April 1969 A&M Records signed the Carpenters to a recording contract. Karen Carpenter sang most of the songs on the band's first album, "Offering" (later retitled Ticket to Ride). The issued single (later the title track), which was a cover of a Beatles song, became their first single: it reached #54 on the Billboard Hot 100 Charts. Their next album, 1970's Close to You, featured two massive hit singles: "(They Long to Be) Close to You" and "We've Only Just Begun." They peaked at #1 and #2, respectively, on the Hot 100.
Karen Carpenter started out as both the group's drummer and lead singer, and she originally sang all her vocals from behind the drum set. Eventually, she was persuaded to stand at the microphone to sing the band's hits while another musician played the drums, although she still did some drumming. (Former Mouseketeer Cubby O'Brien served as the band's other drummer for many years.)
After the release of Now & Then in 1973, the albums tended to have Karen singing more and drumming less. Karen rarely selected the songs she would sing, and often felt she had very little control over her life. She dieted obsessively and developed anorexia nervosa. At the same time, her brother Richard developed an addiction to Quaaludes.
The Carpenters frequently cancelled tour dates, and they stopped touring altogether after their September 4, 1978 concert at the MGM Grand in Las Vegas. In 1981, after the release of the Made in America album (which turned out to be their last) the Carpenters returned to the stage and did some tour dates, including their final live performance in Brazil.
As a drummer
Karen's drumming was praised by fellow drummers Hal Blaine, Cubby O'Brien, Buddy Rich and Modern Drummer magazine. Many people are unaware that Karen had an impeccable ability to play the drums, in part because the public wanted a singing Karen Carpenter, rather than a drumming Karen Carpenter However, according to Richard Carpenter in an interview, Karen always considered herself a "drummer who sang."
Carpenter started playing the drums in 1964. She was always enthusiastic about the drums, and taught herself how to play complicated drum lines with "exotic time signatures", according to Richard Carpenter.
Solo album
In 1979, Richard Carpenter took a year off to cure a dependency on quaaludes, and Karen decided to make a solo album with producer Phil Ramone. Her solo work was markedly different from usual Carpenters fare, consisting of adult-oriented and disco/dance-tempo material with more sexual lyrics and the use of Karen's higher vocal register.
The project met a tepid response from Richard and A&M executives in early 1980. The album was shelved by A&M CEO Herb Alpert, in spite of Quincy Jones' attempts to talk Alpert into releasing the record after some tracks had been remixed. A&M made the Carpenters pay $400,000 to cover the cost of recording Karen's unreleased solo album, which was to be charged against the duo's future royalties.
Carpenters fans got a taste of the album in 1989 when some of its tracks (as remixed by Richard) were mixed onto the album Lovelines, the final album of Carpenters' new unreleased material. Seven years later, in 1996, the entire album, featuring mixes approved by Karen before her death and one unmixed bonus track, was finally released.
Personal life
Karen lived with her parents until she was 26 years old. After the Carpenters became successful in the early 1970s, she and her brother bought two apartment buildings in Downey. Called "Close To You" and "Only Just Begun," both apartments can still be found at 8388 5th Street, Downey, California.
In 1976, Karen bought two Century City apartments, gutted them, and turned them into one condominium. Located at 2222 Avenue of the Stars, the doorbell chimed the first six notes of "We've Only Just Begun". As a housewarming gift, her mother gave her a collection of leather-bound classic works of literature. Karen collected Disney memorabilia, loved to play softball and baseball, and listed Petula Clark, Olivia Newton-John and Dionne Warwick among her closest friends.
Karen dated a number of well-known men including Mike Curb, Tony Danza, Mark Harmon, Steve Martin and Alan Osmond. The songwriter Tom Bahler wrote the song "She's Out of My Life" (which eventually became a hit single for Michael Jackson) after she broke up with him because she discovered that he had fathered a child with a married woman.
After a whirlwind romance, Karen married real estate developer Thomas James Burris on August 31, 1980 at the Beverly Hills Hotel in the Crystal Room. Burris, a divorcee with an 18-year old son, was nine years older than she was. A new song performed by Karen at the ceremony, "Because We Are In Love," was released in 1981. The couple went to Bora Bora for their honeymoon. Karen called her family from the island and described it as "Boring Boring." The marriage was not a happy one, and the couple filed for divorce in November 1981.
Final months
The song "Now", recorded in April 1982, was the last song Karen Carpenter recorded. She recorded it after a two-week intermission in her therapy with psychotherapist Steven Levenkron in New York City for her anorexia. The sight of Karen upon her return to California in April shook Richard and his parents, since she had lost a considerable amount of weight since beginning her therapy with Steven Levenkron.
In September 1982, Karen's treatment——which had never convinced her family as being an effective method——took a sinister turn of events when Karen called her psyschotherapist to tell him she felt dizzy and that her heart was beating irregularly. Karen was admitted to Lenox Hill Hospital in New York and hooked up to an intravenous drip, which would be the cause of her much debated 30 pound weight gain in eight weeks. Richard recalled visiting her in the hospital, saying "Karen, this is crap. Don't you understand? This is crap! You're going about this all the wrong way, this guy isn't getting anything accomplished, because you're in a hospital now!"
Karen returned to California in November 1982, determined to reinvigorate her career, finalize her divorce and begin a new album with Richard. She had gained 30 pounds over a two-month stay in New York, and the sudden weight gain (much of which was the result of intravenous feeding) further strained her heart, which was already weak from years of crash dieting. During her illness, Karen also took thyroid replacement medication (in order to speed up her metabolism) and laxatives.
On December 17, 1982, Karen made her last public appearance in the "multi-purpose" room of the Buckley School in Sherman Oaks, California singing for her godchildren and their classmates who attended the school. She sang Christmas carols for friends.
Shortly after the new year, Richard tried to get through to Karen that she was still sick, saying many years later "Karen had marvellous, big brown eyes. And there was just no life in them.'' Speaking of a meeting with his sister and Werner Wolfen, the Carpenters' financial advisor, two weeks prior to her death, Richard said:
Karen was hot as hell at me for even questioning how she looked. And I told her 'the only reason I'm bringing all of this up, and talking to people...is because I'm concerned and because I love you.' And am I glad I said that because within weeks, that was that. She was dead.
Death
On February 4, 1983, less than a month before her thirty-third birthday, Karen suffered heart failure at her parents' home in Downey, California. She was taken to Downey Community Hospital, where she was pronounced dead twenty minutes later. The LA coroner gave the cause of death as "heartbeat irregularities brought on by chemical imbalances associated with anorexia nervosa." Her divorce was scheduled to have been finalized that day.
The autopsy stated that Karen's death was the result of emetine cardiotoxicity due to anorexia nervosa. Under the anatomical summary, the first item was heart failure, with anorexia as second. The third finding was cachexia, which is extremely low weight and weakness and general body decline associated with chronic disease. Emetine cardiotoxicity implies that Karen abused ipecac syrup,[citation needed] an easily obtained emetic medicine that is only meant to be taken by persons who have accidentally swallowed poison. Agnes and Richard disputed this finding. Both have stated that they never found empty vials of ipecac in her apartment, and both have denied that there was any concrete evidence that Karen had been vomiting.Richard believes that Karen was not willing to do this because it could damage her vocal cords, relying on laxatives alone to maintain her low body weight.
Her funeral service took place on February 8, 1983, at the Downey United Methodist Church where the Rev. Charles Neal, an old family friend and their pastor in New Haven, officiated.[18] Carpenter, dressed in a rose colored suit, lay in an open white casket. Over a thousand mourners passed through to say goodbye, among them her friends Dorothy Hamill, Olivia Newton-John, Petula Clark, and Dionne Warwick. Carpenter's estranged husband Tom attended her funeral, where he took off his wedding ring and threw it into the casket.[10]
She was buried at the Forest Lawn Memorial Park in Cypress, California. In 2003, she was re-interred, next to her parents, in a mausoleum at the Pierce Brothers Valley Oaks Memorial Park in Westlake Village, California.
After death
Carpenter's death brought lasting media attention to anorexia nervosa and also to bulimia. In the years after Carpenter's death, there were a number of celebrities who decided to go public about their eating disorders, among them actress Tracey Gold, the Olsen Twins, and Diana, Princess of Wales. Medical centers and hospitals began receiving increased contacts from people with these disorders. The general public had little knowledge of anorexia nervosa and bulimia prior to Carpenter's death, making the condition difficult to identify and treat.
Her family started the "Karen A. Carpenter Memorial Foundation," which raised money for research on anorexia nervosa and eating disorders. Today the name of the organization has been changed to the "Carpenter Family Foundation." In addition to eating disorders, the foundation now funds the arts, entertainment and education.
Carpenters' star at the Hollywood Walk of Fame.On October 12, 1983, the Carpenters received a star on the Hollywood Walk of Fame. It is located at 6931 Hollywood Blvd., a few yards from the Kodak Theater.[20] Richard, Harold and Agnes Carpenter attended the inauguration, as did many fans.
In 1987, movie director Todd Haynes used songs by Richard and Karen in his movie Superstar: The Karen Carpenter Story. In the movie, Haynes portrayed the Carpenters with Barbie dolls, rather than live actors. The movie was later pulled from distribution after Richard Carpenter won a court case involving song royalties; Haynes had not obtained legal permission to use The Carpenters' recordings.
On January 1, 1989, the similarly-titled made-for-TV movie The Karen Carpenter Story aired on CBS with Cynthia Gibb in the title role. Gibb lip-synced the songs to Carpenter's recorded voice. Both films use the song "This Masquerade" in the background while showing Karen's marriage to Burris.
Lists containing Karen Carpenter
1975 - In Playboy's annual opinion poll, its readers voted Karen Carpenter the Best Rock Drummer of the year.
1999 - VH1 ranked Karen Carpenter at #29 on their list of the 100 Greatest Women of Rock and Roll.
2008 - Rolling Stone Magazine ranked Karen Carpenter number 94 on their list of the 100 Greatest Singers of All Time.
Discography
Main article: The Carpenters discography
Main article: List of songs by The Carpenters
Studio albums
Offering (later reissued as 'Ticket To Ride') (1969)
Close to You (1970)
Carpenters (1971)
A Song for You (1972)
Now & Then (1973)
The Singles: 1969-1973 (1973)
Horizon (1975)
A Kind of Hush (1976)
Passage (1977)
Christmas Portrait (1978)
The Singles: 1974-1978 (1978)
Made in America (1981)
Voice of the Heart (1983)
An Old-Fashioned Christmas (1984)
Lovelines (1989)
As Time Goes By (2003)
Solo albums
Karen Carpenter (1996)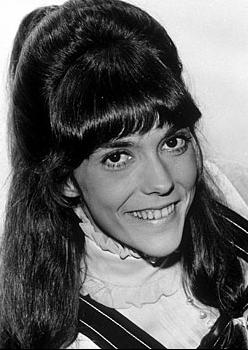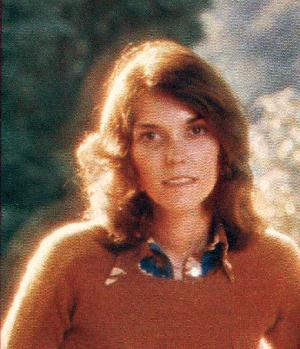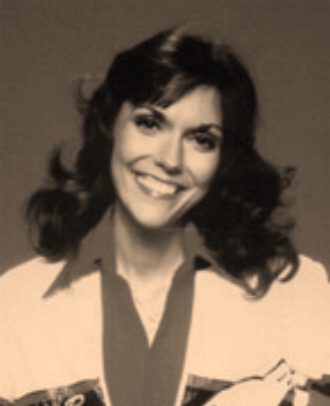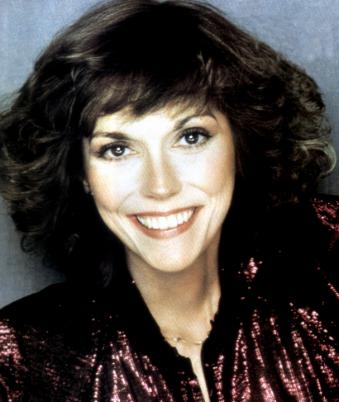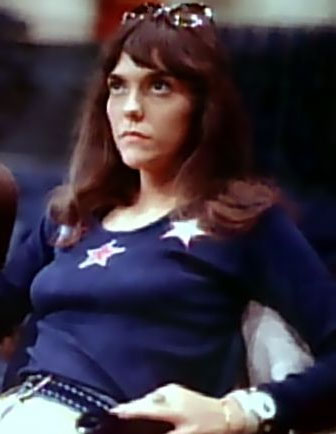 ---
Bu forumun müsaadesi var:
Bu forumdaki mesajlara cevap
veremezsiniz