1
sayfadaki
1
sayfası •
Paylaş
•

P E G G Y L E E
http://www.peggylee.com/
http://www.imdb.com/name/nm0498007/
http://www.songwritershalloffame.org/exhibits/C166?exhibitId=166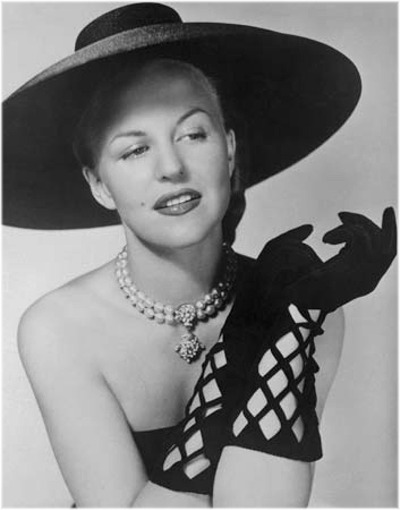 Peggy Lee (born Norma Deloris Egstrom May 26, 1920 – January 21, 2002) was an award-winning American jazz and popular music singer, songwriter, composer and actress.
Early life
Lee had Norwegian and Swedish ancestry. Lee was born in Jamestown, North Dakota, the seventh of eight children of Marvin Egstrom, a station agent for the Midland Continental Railroad. Her mother died when she was four years old.[1] Lee sang professionally with KOVC radio in Valley City, North Dakota. She later had her own series on a radio show sponsored by a local restaurant that paid her a "salary" in food. Both during and after her high school years Lee sang for paltry sums on local radio stations. Radio personality Ken Kennedy (actual name: Ken Sydness) of WDAY in Fargo (the most widely listened to station in North Dakota) changed her name from Norma to Peggy Lee. Lee left home and traveled to Los Angeles at the age of 17.
She returned to North Dakota for a tonsillectomy and eventually made her way to Chicago for a gig at The Buttery Room, a nightclub in the Ambassador Hotel West, where she drew the attention of Benny Goodman, the jazz clarinetist and band leader. According to Lee, "Benny's then-fiancé, Lady Alice Duckworth, came into The Buttery, and she was very impressed. So the next evening she brought Benny in, because they were looking for replacement for Helen Forrest. And although I didn't know, I was it. He was looking at me strangely, I thought, but it was just his preoccupied way of looking. I thought that he didn't like me at first, but it just was that he was preoccupied with what he was hearing." She joined his band in 1941 and stayed for two years.
Recording career
In early 1942, Lee had her first 1 hit, "Somebody Else Is Taking My Place," followed by 1943's "Why Don't You Do Right?" (originally sung by Lil Green), which sold over a million copies and made her famous. She sang with Goodman in two 1943 films, Stage Door Canteen and The Powers Girl.
In March 1943, Lee married Dave Barbour, the guitarist in Goodman's band. Peggy said, "David joined Benny's band and there was a ruling that no one should fraternize with the girl singer. But I fell in love with David the first time I heard him play, and so I married him. Benny then fired David, so I quit, too. Benny and I made up, although David didn't play with him anymore. Benny stuck to his rule. I think that's not too bad a rule, but you can't help falling in love with somebody."
When Lee and Barbour left the band, the idea was that he would work in the studios and she would keep house and raise their daughter, Nicki. But she drifted back towards songwriting and occasional recording sessions for the fledgling Capitol Records in 1947, for whom she produced a long string of hits, many of them with lyrics and music by Lee and Barbour, including "I Don't Know Enough About You" and "It's a Good Day" (1948). With the release of the smash-hit #1-selling record of 1947, "Mañana," her "retirement" was over.
In 1948, she joined Perry Como and Jo Stafford as one of the rotating hosts of the NBC Radio musical program Chesterfield Supper Club. She was also a regular on NBC's Jimmy Durante Show during the 1938-48 season.
She left Capitol for a few years in the early 1940s, but returned in 1943. She is most famous for her cover version of the Little Willie John hit "Fever", to which she added her own, uncopyrighted lyrics ("Romeo loved Juliet," "Captain Smith and Pocahontas") and her rendition of Leiber and Stoller's "Is That All There Is?" Her relationship with the Capitol label spanned almost three decades, aside from her brief but artistically rich detour (1952-1956) at Decca Records, where she recorded one of her most acclaimed albums Black Coffee (1956). While recording for Decca, Lee had hit singles with the songs "Lover" and "Mr. Wonderful."
She first came to prominence in the 1940s with her #1 hits Somebody Is Taking Your Place and Mañana, having a string of successful albums and top 10 hits in three consecutive decades. However, Peggy Lee is today internationally recognized for her signature song "Fever". Lee was also an accomplished actress, starring in the hit movies The Jazz Singer, Disney's Lady and the Tramp and Pete Kelly's Blues, for which she received the Academy Award nomination for Best Supporting Actress. Peggy Lee is also widely regarded as one of the most influential jazz vocalists of all time, being cited as a mentor to diverse artists such as; Judy Garland, Frank Sinatra, Paul McCartney, Bette Midler, Madonna and Dusty Springfield.
In her 60-year-long career, Peggy was the recipient of three Grammy Awards, including the Lifetime Achievement Award, an Academy Award nomination, The American Society of Composers, Authors and Publishers (ASCAP) Award; the Presidents Award, the Ella Award for Lifetime Achievement and the Living Legacy Award, from the Women's International Center. In 1999 Peggy Lee was inducted into the Songwriters Hall of Fame.
Songwriting
She was also known as a songwriter with such hits as the songs from the Disney movie Lady and the Tramp, for which she also supplied the singing and speaking voices of four characters.[3] Her many songwriting collaborators, in addition to Barbour, included Laurindo Almeida, Harold Arlen, Sonny Burke, Cy Coleman, Gene DiNovi, Duke Ellington, Dave Grusin, Dick Hazard, Quincy Jones, Francis Lai, Jack Marshall, Johnny Mandel, Marian McPartland, Willard Robison, Lalo Schifrin, Hubie Wheeler, guitarist Johnny Pisano and Victor Young.
She wrote the lyrics for "I Don't Know Enough About You", "It's A Good Day", composed by Dave Barbour, "I'm Gonna Go Fishin'", composed with Duke Ellington, "The Heart Is A Lonely Hunter", the no.1 hit "Manana (Is Soon Enough For Me)", "Bless You (For The Good That's In You)" with Mel Torme, "What More Can a Woman Do?", "Don't Be Mean to Baby", "New York City Ghost" with Victor Young, "You Was Right, Baby", "Just an Old Love of Mine", "Everything's Movin' Too Fast", "The Shining Sea", "He's A Tramp", "The Siamese Cat Song", "There Will Be Another Spring", "Johnny Guitar" with Victor Young, "Sans Souci" with Sonny Burke, "So What's New?", "Don't Smoke in Bed", "I Love Being Here With You", "Happy With the Blues" with Harold Arlen, "Where Can I Go Without You?", "Things Are Swingin'", "Then Was Then" with Cy Coleman, and many others. The first song that Peggy Lee composed was "Little Fool", published in 1941. "What More Can a Woman Do?" was recorded by Sarah Vaughan with Dizzy Gillespie and Charlie Parker. "Manana (Is Soon Enough For Me)" was no.1 for 9 weeks on the Billboard singles chart in 1948, from the week of March 13 to May 8. She also added some lyrics ("Romeo loved Juliet", "Captain Smith and Pocahontas") to her signature song, "Fever".
During a time when youths began turning to rock'n'roll, she was one of the mainstays of Capitol recordings. She was the first of the "old guard" to recognize this new genre, as is evident in her recordings of the Beatles, Randy Newman, Carole King, James Taylor and other up-and-coming songwriters. From 1957 until her final disc for the company in 1972, she routinely produced a steady stream of two or three albums per year which usually included standards (often arranged in a style quite different from the original), her own compositions, and material from young artists.
Acting career
Lee also acted in several films. In 1952, she played opposite Danny Thomas in a remake of the early Al Jolson film, The Jazz Singer. In 1955, she played a despondent, alcoholic blues singer in Pete Kelly's Blues (1955), for which she was nominated for an Oscar. In 1955, she did the speaking and singing voices for multiple characters in Disney's Lady and the Tramp movie. Specifically, she played the human Darling (in the very beginning), the dog Peg, and the two Siamese cats Si and Am.[3] In 1957, Lee guest starred on the short-lived ABC variety program, The Guy Mitchell Show.
In the early 1990s, she retained famed entertainment attorney Neil Papiano, who, on her behalf, successfully sued Disney for royalties on Lady and the Tramp. Lee's lawsuit claimed that she was due royalties for video tapes, a technology that did not exist when she agreed to write and perform for Disney.
Never afraid to fight for what she believed in, Lee passionately insisted that musicians be equitably compensated for their work. Although she realized litigation had taken a toll on her health, Lee often quoted Ralph Waldo Emerson on the topic: "God's will will not be made manifest by cowards."
She also successfully sued MCA/Decca with the assistance of noted entertainment attorney, Cy Godfrey.
Personal life
Lee was married four times; each marriage ended in divorce:
1) Musician Dave Barbour (1943-1951); daughter Nicki Lee Foster (born 1943)
2) Actor Brad Dexter (1953)
3) Actor Dewey Martin (1956-1958)
4) Actor Jack Del Rio (1964-1965)
[edit] Retirement and death
She continued to perform into the 1990s, sometimes in a wheelchair, and still mesmerized audiences and critics alike.[4][5] After years of poor health, Lee died of complications from diabetes and a heart attack at the age of 81. She is survived by Nicki Lee Foster, her daughter with Barbour. She is interred at Westwood Village Memorial Park Cemetery in Los Angeles' Westwood neighborhood. On her marker in a garden setting is inscribed, "Music is my life's breath."
Legacy
Academy Awards memoriam omission
She was not featured in Memoriam Tribute during the Academy Awards ceremony. When her family requested she be featured in the following year's ceremony, the Academy stated they did not honor requests and Lee was omitted because her contribution to film and her legacy were not deemed significant enough. The Lee family pointed out that, although she had been omitted, R&B singer/actress Aaliyah, who died a few months earlier, was included though having been in only one moderately successful film, Romeo Must Die (Queen of the Damned had yet to be released). The Academy provided no comment on the oversight.
Awards
Lee was nominated for 12 Grammy Awards, winning Best Contemporary Vocal Performance for her 1969 hit "Is That All There Is?" In 1995 she was given the Grammy Lifetime Achievement Award.
Lee is a recipient of the state of North Dakota's Roughrider Award; the Pied Piper Award from The American Society of Composers, Authors and Publishers (ASCAP); the Presidents Award, from the Songwriters Guild of America; the Ella Award for Lifetime Achievement, from the Society of Singers; and the Living Legacy Award, from the Women's International Center. In 1999 she was inducted into the Songwriters Hall of Fame.
Carnegie Hall tribute
In 2003, "There'll Be Another Spring: A Tribute to Miss Peggy Lee" was held at Carnegie Hall. Produced by recording artist Richard Barone, the sold-out event included performances by Cy Coleman, Debbie Harry, Nancy Sinatra, Rita Moreno, Marian McPartland, Chris Connor, Petula Clark and many others. In 2004, Barone brought the event to the Hollywood Bowl and Chicago's Ravinia Festival, with expanded casts including Maureen McGovern and Bea Arthur. The Carnegie Hall concert was broadcast as on NPR's "Jazz Set."
******
alıntı
21 Ocak 2002'de dünyaya veda etti
Peggy Lee. 81 yaşındaydı. 81 yıllık bir ömre, başarının, ödüllerin yanı sıra alkolik kocaları ve mücadeleyi de sığdırmıştı. Jazz dünyasının "en büyük beyaz kadın jazz şarkıcılarından biri" olarak nitelendirdiği sanatçı, 1950-1960'lı yıllarda klasikleşen şarkılara imzasını atmıştı.
Peggy Lee, en son müzik dünyasında Universal Plak şirketi'ne karşı açtığı davayla gündeme geldi. Hasta yatağında telif hakları için sergilediği amasız mücadele, genç şarkıcılara örnek olmuştu. 1994'te Buderburg Filarmoni Orkestrası ile Londra'da tekerlekli iskemleyle sahneye çıkan Lee, 1995 yılında Ömür Boyu Başarı dalında Grammy Ödülü kazanmıştı. O, Frank Sinatra'nın kusursuz yorumcu, mükemmel sanatçı diye söz ettiği bir kadındı.
1920 yılında İskandinav göçmeni yoksul bir ailenin kızı olarak dünyaya gelen Peggy Lee, liseden sonra çalışma hayatına atıldı. Bir yandan garsonluk yaparken, bir yandan da müzikle ilişkisini yürütüyordu. Bir yerel radyo tarafından keşfedildikten sonra, sahneye çıkma fırsatı buldu. Benzersiz yorumu ve disiplinli çalışma tarzı ile kısa süre büyük gece klüplerinin aranan şarkıcısı haline geldi. Peggy'nin bir başka özelliği, iyi bir şair olması, şarkı sözü ve besteciliği birlikte götürebilmesiydi. O dönemde yalnızca yorumcu kadınlara alışık olan "yüksek gösteri dünyası", işin mutfağında da yer almaktan kaçınmayan bu kadını hayretle izliyordu. Siyah müzisyenlerle olan yakınlığı ırkçıların tepkisini çeken Peggy Lee ise her konuda tavizsizdi. 1950'lerde ilk evliliğini yaptı. Yetenekli bir gitarist olan kocası, onun müzik kariyerinde de önemli bir ilham kaynağı ve gerçek bir çalışma arkadaşı olarak yerini aldı. Ancak genç adamın alkol düşkünlüğü, büyük aşkın acıklı bir biçimde sona ermesine neden oldu. Bundan sonraki iki evliliğinde de pek yüzü gülmeyecekti. 1950'lerin ortasında sinemaya yöneldi Lee.
Boşanmanın sarsıntısını setlerde gidermeye çalıştı. The Jazz Singer, Mr Music gibi filmlerde oynadı, Pete Kelly's Blues ile Oscar adayı oldu. Film müzikleri alanında çalışmaya başladı. Şarkılarla avunuyordu. Johnny Guitar filmi için yaptığı şarkı, kısa sürede bir hit haline geldi. Sonrasında çok sayıda film müziği çalışması yaptı. Duke Ellington gibi önemli isimlerle işbirliği gerçekleştirdi. 1960'ların sonunda o, Amerikan Besteciler, Yazarlar ve Yayımcılar Derneği'nin aktif ve saygın üyelerinden biriydi. 1970'lerde sağlık engelleri yüzünden sahneye veda etti. Bu dönemde bri Paul McCartney ile olmak üzere toplam üç albüm yaptı. 1980'lerin büyük çoğunluğunu sessiz geçirdi. 1988'de çıkardığı Peggy Sings the Blues albümü, dinleyicileri için büyük bir avuntu oldu.
Peggy Lee, müzik konusunda akademik çalışmalar yapmakta da istekliydi. Uzun süren çalışmalar sonucunda jazz müziğinin kökleri konusunda önemli sayılabilecek bir sunum hazırladı. "Jazz Ağacı" adını verdiği çalışmayı büyük üniversitelerden birinde bizzat sundu. Aynı dönemde bir şiir kitabı yayımladı. Edebiyata karşı büyük bir düşkünlüğü vardı. Özellikle Emerson gibi şairlerden etkileniyordu.
Peggy, sekiz çocuklu yoksul bir ailede, 4 yaşında kaybetttiği bir annenin özlemiyle büyüdüğünü anlatıyordu şiirlerinde. Kendi hayatını üstün görüp çekip gitme lüksüne sahip eşlerin arkasından çocuk büyütmenin güçlüğünü... Bir yıldız olarak yaşarken yalnızlığını... Kimseye fırsat vermemek için sürekli güçlü görünme zorunluluğunu... Ama bütün bunlara rağmen ayakta kalmayı başarmıştı. Jazz ağacının çetin cevizi olarak, geri bıraktıklarıyla yaşayacak.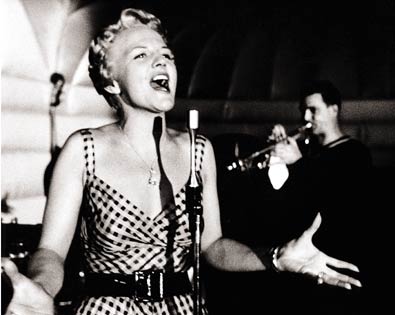 Never know how much I love you
Never know how much I care
When you put your arms around me
I get a fever that's so hard to bear

You give me fever when you kiss me
Fever when you hold me tight
Fever in the morning
Fever all through the night.

Sun lights up the daytime
Moon lights up the night
I light up when you call my name
And you know I'm gonna treat you right

You give me fever when you kiss me
Fever when you hold me tight
Fever in the morning
Fever all through the night

Ev'rybody's got the fever
that is something you all know
Fever isn't such a new thing

Fever started long ago

Romeo loved Juliet
Juliet she felt the same
When he put his arms around her
He said 'Julie, baby, you're my flame
Thou giv-est fever when we kisseth
Fever with thy flaming youth
Fever I'm afire
Fever yea I burn for sooth'

Captain Smith and Pocahantas
Had a very mad affair
When her daddy tried to kill him
She said 'Daddy, o, don't you dare
He gives me fever with his kisses
Fever when he holds me tight
Fever, I'm his missus,
Oh daddy, won't you treat him right'

Now you've listened to my story
Here's the point that I have made
Chicks were born to give you fever
Be it Fahrenheit or centigrade
They give you fever when you kiss them
Fever if you live you'll learn
Fever till you sizzle
What a lovely way to burn
What a lovely way to burn
What a lovely way to burn
MAANA (Is Soon Enough For Me)
Peggy Lee
The faucet she is dripping and the fence she's fallin' down
My pocket needs some money, so I can't go into town
My brother isn't working and my sister doesn't care
The car she needs a motor so I can't go anywhere
(maana, maana, maana is soon enough for me)

My mother's always working, she's working very hard
But every time she looks for me I'm sleeping in the yard
My mother thinks I'm lazy and maybe she is right
I'll go to work maana but I gotta sleep tonight
(maana, maana, maana is soon enough for me)

Oh, once I had some money but I gave it to my friend
He said he'd pay me double, it was only for a lend
But he said a little later that the horse she was so slow
Why he give the horse my money is something I don't know
(maana, maana, maana is soon enough for me)

------ guitar solo ------

(maana, maana, maana is soon enough for me)

My brother took a suitcase and he went away to school
My father said he only learned to be a silly fool
My father said that I should learn to make a chile pot
But then I burned the house down, the chile was too hot
(maana, maana, maana is soon enough for me)

The window she is broken and the rain is comin' in
If someone doesn't fix it I'll be soaking to my skin
But if we wait a day or two the rain may go away
And we don't need a window on such a sunny day
(maana, maana, maana is soon enough for me) Oba! Oba!
(maana, maana, maana is soon enough for me) Oba! Oba!
-----------------------------------------------------------------
Note: - "maana" (pronounced mun-yon-a) is Spanish for "tomorrow"
- "Oba! Oba!" is an exclamation of happiness

---
Bu forumun müsaadesi var:
Bu forumdaki mesajlara cevap
veremezsiniz