1
sayfadaki
1
sayfası •
Paylaş
•

ANNA VINNITSKAYA
http://www.annavinnitskaya.com/en/home
http://www.annavinnitskaya.com/en/info/news
Anna Vinnitskaya (born 4 August 1983) is a Russian pianist who won the 2007 Queen Elisabeth Music Competition.
Biography
Anna Vinnitskaya was born in Novorossiysk. She displayed musical talent from an early age, following her first piano lessons at age 6. From 1995 to 2001, she studied at the Rachmaninoff Conservatory in Rostov-on-Don with Sergei Ossipenko, after which she was admitted to the Hochschule für Musik und Theater in Hamburg, where she studied with Ralf Nattkemper and Evgeni Koroliov. As a soloist, she has played with major orchestras, including the Moscow Symphony Orchestra, the Dortmunder Philharmoniker, the Milan Symphony Orchestra and the Orquesta Sinfonica de Madrid, and has given recitals all around Europe.
She entered the competition circuit at age 13, winning first prize at the International Junoshenki competition. In 2000 she achieved a third place at the Monza Competition and two years later first place at the Jaèn Competition, where she also won the Audience Award. This was followed with a first prize at the Elise Meyer Competition in Hamburg in 2004, and the fourth prize in the Ferruccio Busoni International Competition in Bolzano in 2005.
On 2 June 2007, she won first prize in the Queen Elisabeth Music Competition in Brussels. After a memorable Gaspard de la nuit (Ravel) in the first rounds, she impressed the audience and jury in the final round with Beethoven's Sonata No.13 in E flat "Quasi una fantasia", Op. 27 No.1 ; the compulsory work La Luna y la Muerte by Miguel Gálvez-Taroncher; and the Piano Concerto No.2 by Sergei Prokofiev. Vinnitskaya was only the second woman in the history of the competition for piano to win the first prize, after Ekaterina Novitskaya in 1968.
Prizes
International Junoshenki competition – First prize (1995)
Monza Competition – Third prize (2000)
Jaèn Competition – First prize / Audience Award (2002)
Elise Meyer Competition (Hamburg) – First prize (2004)
International Ferrucio Busoni Competition (Bolzano) – Fourth prize (2005)
Queen Elisabeth Music Competition for Piano (Brussels) – First prize (2007)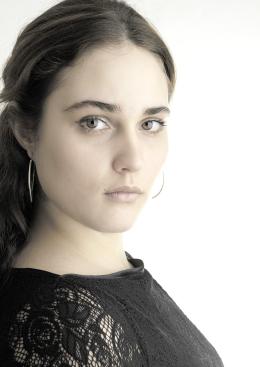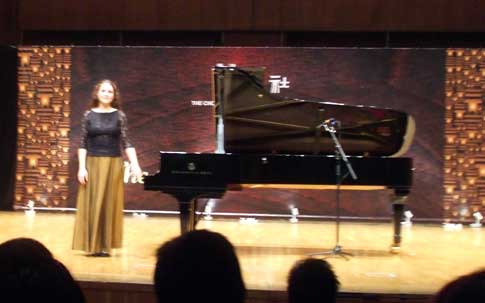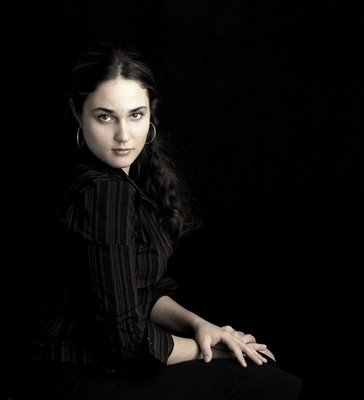 http://ciddimuzik.azbuz.com/videosHome.jsp#set:3000000002550303
All ReviewsReviews in EnglishPianist Anna Vinnitskaya, a laureate of a half-dozen major international competitions, made her North American debut in the Kennedy Center's Terrace Theater on Saturday afternoon, meeting high expectations with aplomb. This artist, at 25, is in the full flower of her musical and pianistic abilities. ...
Vinnitskaya is a true lioness at the keyboard, devouring the most difficult pages of music with adamantine force. She seemed almost to relish the technical thickets, never rushing, never banging, maintaining control of wildly different simultaneous textures (in the Gubaidulina Chaconne) and pacing long buildups with unswerving focus. In this literature, she has everything a top-level artist needs.
But the question of what Vinnitskaya would do in Bach, Mozart or Schubert hung in the air afterward. ... . In the contemplative F-sharp major section of the Liszt, the color and pacing were a little bland, almost as though her interest flagged when the technical challenges went away. But certainly, this was a most auspicious debut of a major talent.
Washington Post, 09/29/08
Hats Off, Gentlemen...
The 2007 first prize winner of the Queen Elisabeth International Music Competition put together a blockbuster program that overwhelmed the senses both by its virtuosity and its musicality.
That someone could find so much music in a program that consisted primarily of Medtner, Rachmaninov, and Liszt and also get (almost) all the notes in this most difficult repertoire was a remarkable achievement. That the musician in question is a still largely unknown (at least on this side of the Atlantic) 20-something made it evident that Vinnitskaya has the potential to be making not only excellent, but extraordinary music in her career. ... Let us just hope that we will have the chance to hear Vinnitskaya perform again and often.
The program first showcased Vinnitskaya's exciting, hard-fingered pianism with Sofia Gubaidulina's modern updating of the chaconne. With parallelisms, copious dissonance, and other 20th-century harmonic gestures, Gubaidulina explores the historical form and undermines it, notably with a fugal section where the bass repetition disappears completely. It was the only moment of austerity in a generally ear-pleasing program. Nikolai Medtner's music is often as backward-looking and broadly neo-Romantic as that of Sergei Rachmaninov. Vinnitskaya gave Medtner's Sonata Reminiscenza in A Minor (op. 38, no. 1) a smoky nostalgia, shaping it beautifully without indulging in too much of the treacle.
The real meat of the program was the paired sonatas of Rachmaninov and Liszt. The tempestuous opening of Rachmaninov's second sonata, in the composer's own 1931 version, had a few skittish slips that turned out to be a blip in a mind-blowing performance. Even more impressive than the booming sound of Vinnitskaya's power playing was the lacy, dewy soft passages which were poignant yet contained. ...
Liszt's B minor sonata followed, in one of the more enigmatic, subdued, and yet astonishing performances of the work in my experience. The opening section was truly misterioso, not something puzzling to be passed over quickly, and the challenging passages had a magisterial sweep, even if some of the technical demands (octaves especially) could have used a little more polish. Again it was the gossamer touch in the rhapsodic sections that stood out as distinctive, with rubato used with sparing efficacy in both fast and slow sections. Even when large-chord sections reached a manic howl, the voicing of the melody within was etched and shaped. ...
Ionarts, 09/29/08

---
Bu forumun müsaadesi var:
Bu forumdaki mesajlara cevap
veremezsiniz