1
sayfadaki
1
sayfası •
Paylaş
•

CLAUDE BOLLING
From Wikipedia, the free encyclopedia
http://www.claude-bolling.com/
http://www.imdb.com/name/nm0005969/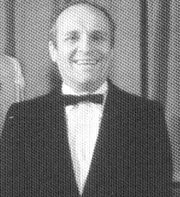 (born 10 April 1930), is a renowned French jazz pianist, composer, arranger, and occasional actor.
He was born in Cannes, studied at the Nice Conservatory, then in Paris. A child prodigy, by age 14 he was playing jazz piano professionally, with Lionel Hampton, Roy Eldridge, and Kenny Clarke. Bolling's books on jazz technique show that he did not delve far beyond bebop into much avant garde jazz. He was a major part of the traditional jazz revival in the late 1960s, and he became friends with Oscar Peterson.
He has written music for over one hundred films, mostly French, starting with the score for a 1957 documentary about the Cannes Film Festival, and including the films Borsalino (1970), and California Suite (1979).
Bolling is also noted for a series of "crossover" collaborations with classical musicians. His Suite for Flute and Jazz Piano Trio with Jean-Pierre Rampal, a mix of Baroque elegance with modern swing, has been a top seller for many years, and was followed up by other works in the same vein. It was particularly popular in the United States, at the top of the hit parade for two years after its release and on billboard top 40 for 530 weeks, roughly ten years.
Following his work with Rampal, Bolling went on to work with many other musicians, from different genres, including Alexandre Lagoya, Pinchas Zukerman, Maurice André, and Yo-Yo Ma. He has also worked with, and performed tributes to many others, including Lionel Hampton, Duke Ellington, Stéphane Grappelli, Django Reinhardt, Oscar Peterson.
Works
Claude Bolling Plays Duke Ellington (1959)
Cat Anderson, Claude Bolling And Co. (1965)
Original Ragtime (1966)
Original Boogie Woogie (1968)
Original Piano Blues (1969)
Original Jazz Classics (1970)
Original Piano Greats (1972)
Swing Session (1973)
Jazz Party (1975)
With the Help of My Friends (1975)
Keep Swingin' Volume 4 (1975)
Suite for Flute and Jazz Piano (1975)
Hot Sounds (1976)
Concerto for Guitar and Jazz Piano Trio (1975)
Suite for Violin and Jazz Piano Trio (1977)
California Suite (1978)
Jazz Gala 79 (1979)
Just For Fun (1980)
Picnic Suite for Guitar, Flute and Jazz Piano Trio (1980)
Toot Suite (1981)
Claude Bolling (1981)
Suite for Chamber Orchestra and Jazz Piano Trio (1983)
Suite for Cello and Jazz Piano Trio (1984)
Jazz a la Francaise (1984)
Live at the Meridien (1985)
Suite No. 2 for Flute and Jazz Piano Trio (1987)
Nuances (1988)
Sonatas for Two Pianos (1989)
Cross Over U.S.A. (1993)
Enchanting Versailles - Strictly Classical (1994)
A Drum is a Woman (1997)
Tribute To The Piano Greats (2003)
Premier Bal Bechet Sidney 1958

Sidney Bechet plays Premier Bal with the rhythm group of French pianist Claude Bolling's Orchestra.


Baby won't you please come home - Edith Wilson 1974.
In 1974 French jazz film maker Jean Christophe Averty recorded Edith. You see her in a film in Paris. She is accompanied by two of the best French Jazz players who were perfect to stylistically compliment her.
On piano is Claude Bolling and on trumpet Irakli de Davricheway.




---
Bu forumun müsaadesi var:
Bu forumdaki mesajlara cevap
veremezsiniz