1
sayfadaki
1
sayfası •
Paylaş
•

MARC ANDRE HAMELIN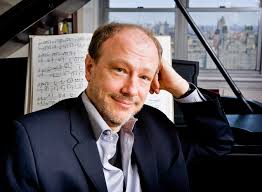 Marc-André Hamelin, OC, CQ (born September 5, 1961), is a Canadian virtuoso pianist and composer.
Born in Montreal, Quebec, Marc-André Hamelin began his piano studies at the age of five. His father, a pharmacist by trade who was also an amateur pianist, introduced him to the works of Alkan, Godowsky, and Sorabji when he was still young. He studied at the École de musique Vincent-d'Indy in Montreal and then at Temple University in Philadelphia. In 1989 he was awarded the Virginia Parker Prize.
Marc-André Hamelin has given recitals in many cities. Festival appearances have included Bad Kissingen, Belfast, Cervantino, La Grange de Meslay, Husum Piano Rarities, Lanaudière, Ravinia, La Roque d'Anthéron, Ruhr Piano, Halifax (Nova Scotia), Singapore Piano, Snape Maltings Proms, Mänttä Music Festival, Turku and Ottawa Strings of the Future, as well as the Chopin Festivals of Bagatelle (Paris), Duszniki and Valldemossa. Marc-André Hamelin appears regularly in both the Wigmore Hall Masterconcert Series and the International Piano Series at London's South Bank Centre. He plays annually in the Herkulessaal in Munich and has given a series of recitals in Tokyo.
He has made recordings of a wide variety of composers with the Hyperion label. His recording of Leopold Godowsky's complete Studies on Chopin's Études won the 2000 Gramophone Magazine Instrumental Award. He is well known for his attention to lesser-known composers especially of the late nineteenth and early twentieth century (Leo Ornstein, Nikolai Roslavets, Georgy Catoire), and for performing works by pianist-composers such as Leopold Godowsky, Charles-Valentin Alkan, Kaikhosru Sorabji, Nikolai Kapustin, Franz Liszt, Nikolai Medtner and Frederic Rzewski.
Hamelin has also composed several works, including a set of piano études in all of the minor keys, which was completed in September 2009 and is published by C. F. Peters, with a recording released on the Hyperion label. A cycle of seven pieces, called Con Intimissimo Sentimento, was published (with a recording by Hamelin) by Ongaku No Tomo Sha; and a transcription of Zequinha de Abreu's Tico-Tico No Fubá has been published by Schott Music. Although the majority of his compositions are for piano solo, he has also written three pieces for player piano (including the comical Circus Galop and Solfeggietto a cinque, which is based on a theme by C.P.E. Bach), and several works for other forces, including Fanfares for three trumpets, published by Presser. His other works are distributed by the Sorabji Archive.
In 1985 he won the Carnegie Hall International Competition for American Music. In 2004 Hamelin received the international record award in Cannes. He has been made an Officer of the Order of Canada and a Chevalier de l'Ordre national du Québec (National Order of Québec).
Most recently, he won the 2008 Juno Award for Classical Album of the Year: Solo or Chamber Ensemble—Alkan Concerto for Solo Piano.
His first marriage was to soprano Jody Karin Applebaum. He currently lives in Boston, Massachusetts, with his second wife Cathy Fuller, pianist and WGBH classical music broadcaster.
Hamelin is French Canadian.
*****
Klasik müzik dünyasında nadir seslendirilen eserleri ve zorlu piyano yapıtlarını yorumlayarak dikkatleri çeken Marc Andre Hamelin, bugün erken klasik dönemden çağdaş bestecilere uzanan repertuarıyla kariyerini giderek sağlamlaştırıyor. Tekniği "sınır tanımayan", "kusursuz", "doğa kanunlarına meydan okuyan" gibi ifadelerle tanımlanan piyanist buna rağmen yorumladığı müziğin ruhuna getirdiği derinlik ve bestecisinin düşüncelerine gösterdiği saygıyla da teknikle duygunun çok iyi bir birleşimini ortaya koyuyor.
Marc-André Hamelin's startlingly original blend of musicianship and virtuosity has earned him legendary status as a true avatar of the piano.  Long known for his matchless exploration of unfamiliar pianistic terrain, Mr. Hamelin is now recognized worldwide for the originality and technical brilliance of his performances of the classic repertoire.
Mr. Hamelin's exciting and diverse 2008/09 season includes a return to Wigmore Hall for the London Pianoforte Series and recitals in Belgium, Switzerland, Germany, Italy, Spain and Turkey.  His North American recitals include the opening of the 126th season of the Schubert Club in St. Paul, as well as recitals for the Columbus Chamber Music Society, Texas Tech, Cornell Concert Series, Music Toronto, Wheaton College, Harvard Musical Association, the Savannah Music Festival and the Metropolitan Museum of Art.
Orchestral engagements include appearances with the Montreal, Saint Louis, Seattle, New Jersey and North Carolina Symphony orchestras with returns in Europe to the Helsinki Philharmonic and the Lahti Symphony.  In fall 2008 Mr. Hamelin embarked on a tour of Asia and Australia for concerts with the Singapore Symphony, the Malaysian Philharmonic and the Melbourne Symphony, finishing with a pair of recitals in Hong Kong.
Throughout the season, Marc-André Hamelin and Takács String Quartet perform the Schumann Piano Quintet in North America, at the University of Chicago, University Musical Society in Ann Arbor, Club Musical de Québec, Wake Forest University, Brown University, the Carlsen Center in Overland Park, Kansas, and in Europe in Bilbao, Pamplona, Bristol, and Queen Elizabeth Hall in London.
During March 2009 the Pro Musica Society of Montreal marked its 60th anniversary season celebrating the art of Marc-André Hamelin.  In a week of concerts Mr. Hamelin collaborates with violinist Lara St. John, the Leipzig String Quartet, soprano Karina Gauvin and Les Violins du Roy with Bernard Labadie, completing the festivities with a solo recital.
Mr. Hamelin began the summer of 2008 in Norway at the Risør Chamber Music Festival, where he performed a duo recital with pianist Leif Ove Andsnes, Schubert Lieder with bass-baritone Thomas Quasthoff, and music of Antheil with violinist Christian Tetzlaff, in addition to solo performances of works by Ornstein, Antheil, Ives and Ligeti.  Other recitals included the Tivoli Concert Hall in Copenhagen, Baroniet Rosendal in Norway, the Ruhr Piano Festival in Bonn, Festival Chopin à Paris, the Cheltenham Festival, the Husum Piano Rarities Festival and the Busoni International Piano Competition.  He also joined the Tonhalle Orchestra in Zurich for the epic Busoni Piano Concerto led by Marek Janowski.  In North America Hamelin gave recitals at the Aspen Music Festival, the Minnesota Beethoven Festival, Festival International de Lanaudiere, Festival International Domaine Forget, and the International Keyboard Festival at Mannes Collge in New York City.
Under exclusive contract with Hyperion Records, Marc-André Hamelin has received 8 Grammy nominations including a 2009 nomination for Marc-André Hamelin in a state of jazz (CDA67656) released in May 2008.  His latest release (January 2009), Chopin Sonatas Nos. 2 & 3, Two Nocturnes, Berceuse - Barcarolle (CDA67706), has received extraordinary critical and popular acclaim.
Mr. Hamelin has recorded over thirty-five CDs for Hyperion, including concertos by Alkan, Bernstein, Bolcom, Busoni, Korngold, Joseph Marx, Rubinstein, Scharwenka and Shostakovich, and works for solo piano by Alkan, Catoire, Grainger, Medtner, Reger, Roslavets and Rzewski, as well as brilliantly received performances of Haydn, Schumann, Brahms, Liszt and Albeniz.
Mr. Hamelin was recently presented with a rarely bestowed lifetime achievement prize by the German Record Critic's Award (Preis der deutschen Schallplattenkritik).  
Marc-André Hamelin was made an Officer of the Order of Canada in 2003 and a Chevalier de l'Ordre du Québec in 2004; he is also a member of the Royal Society of Canada.  He makes his home in Boston.
En son Admin tarafından Cuma Kas. 20, 2015 10:10 am tarihinde değiştirildi, toplamda 3 kere değiştirildi

---
Bu forumun müsaadesi var:
Bu forumdaki mesajlara cevap
veremezsiniz