1
sayfadaki
1
sayfası •
Paylaş
•

[img]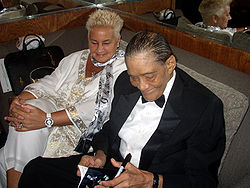 [/img]
http://www.jimmyscottofficialwebsite.org/homepage.htm
17 TEMMUZ 1925 tarihinde Clevland'da, büyüyüp gelişmesini engelleyen ve genetik bir hastalık olan Kallmann Sendromu ile dünyaya geldi. Ergenliğe geçiş döneminde boyu büyümediği gibi sesi de değişmedi. Zaten ''Little'' (küçük) lakabını almasına da bu durum neden olmuştur.
Bununla birlikte, onun olağanüstü phrasing (cümlecikleri) ve romantik duygusu tıpkı dostları Billie Holiday, Ray Charles, Dinah Washington ve Nancy Wilson gibi onu sevilen bir şarkıcı yaptı.
Scott was born in Cleveland, Ohio to Authur and Justine Stanard Scott, third in a family of ten. As a child he got his first singing experience by his mother's side at the family piano, and later, in church choir. His father was absent most of the time as he was taken with drink, gambling, and other women. Jimmy worshipped his mother, and whatever money he could make doing odd-jobs, went to her to help the family. At thirteen, he was orphaned when his mother was killed by a drunk driver. Witnesses say that she pushed one of Jimmy's siblings out of the way of the car, but in the process of saving her child's life, she lost her own.
Scott first rose to national prominence as "Little Jimmy Scott" in the Lionel Hampton Band when he sang lead on the late 1940s hit "Everybody's Somebody's Fool". Credit on the label, however, went to 'male vocalist', a slight to his talent and a blow to his career. A blow which would reoccur several years later, when his vocal on "Embraceable You" with Charlie Parker on the album, "One Night in Birdland" was credited to female vocalist, Chubby Newsome.
In 1963, it looked as though Scott's luck had changed for the good. Signed to Ray Charles's Tangerine label, he recorded under the supervision of the great man himself, what is by many considered as one of the great jazz vocal albums of all time, Falling in Love is Wonderful. The record was yanked from the shelves in a matter of days while Jimmy was honeymooning due to a contract he had signed earlier with Herman Lubinsky. (Only 40 years later this cult album became available to the big public again!). Another legendary masterpiece, the album The Source (1969), where he sings intense as ever, was not permitted to be released, (until 2001).
Scott's career faded by the late 1960s and he returned to his native Cleveland to work in a hospital and as an elevator operator in a hotel.
He resurfaced in 1991 when he sang at the funeral of his long-time friend Doc Pomus. Afterwards Lou Reed recruited him to sing back-up on the track "Power and Glory" on his 1992 album Magic and Loss, partially inspired by Pomus' death. Afterwards, Scott was seen on the series finale of David Lynch's show Twin Peaks, singing "Sycamore Trees." He was featured on the soundtrack of the follow-up film Fire Walk With Me. This brought him to the attention of the music industry and he has enjoyed significant success since then, singing and recording.
His comeback took off in earnest with the 1992 release of the album "All The Way" on Sire Records, produced by Tommy Lipuma and featuring artists such as Kenny Barron, Ron Carter, and David "Fathead" Newman. Jimmy Scott was nominated for a Grammy Award for this album.
He followed this up with the album "Dream" in 1994, and the jazz-gospel album "Heaven" in 1996. He also recorded an album of mostly pop and rock covers, "Holding Back the Years" in 1998, including his own version of Prince's Nothing Compares 2 U (a world hit for Sinéad O'Connor).
In 1999, his early recordings on the Decca label were re-released on CD, as were all of his recordings with the Savoy Label between 1952 and 1975 in a 3 disc Box Set. In 2000, Jimmy Scott was signed to the Milestone jazz label, and recorded four critically acclaimed albums, each produced by Todd Barkan, and featuring a variety of jazz artists, including as Wynton Marsalis, Renee Rosnes, Bob Kindred, Eric Alexander, Lew Soloff, George Mraz, Lewis Nash, and many more, as well as Jimmy's own touring and recording band "The Jazz Expressions". He also released two live albums, both recorded in Japan, and featuring the Jazz Expressions.
Jimmy Scott's career has spanned nearly sixty years, and in that time he has performed with a list of artists that read like a history of jazz music in that time, including Charlie Parker, Sarah Vaughan, Lester Young, Lionel Hampton, Charles Mingus, Fats Navarro, Bud Powell, Ray Charles, Wynton Marsalis, and Peter Cincotti. He has also performed with a host of musicians from other genres of music, such as David Byrne, Lou Reed, Flea, Michael Stipe, and Antony & The Johnsons.
Most recently he has appeared in live performances with Pink Martini, and continues to perform to audiences internationally at music festivals and at his own concerts.
In 2007 Jimmy Scott received the 2007 National Endowment Jazz Master Award.
Mr Scott lives in New Jersey, with his wife Jeannie. He appears to have moved to Las Vegas in 2007.
Discography
ALBUM DISCOGRAPHY
Very Truly Yours (Savoy) (1955)
If You Only Knew (Savoy) (1956)
The Fabulous Songs Of Jimmy Scott (Savoy) (1960)
Falling In Love Is Wonderful (Tangerine) (1963) (Re-issue 2003)
The Source (Atlantic) (1969) (Re-issue 2001)
Can't We Begin Again (Savoy) (1975)
Doesn't Love Mean More (J's Way) (1990)
Live In New Orleans (1951 Concert) (Fantasy) (1991)
All The Way (Sire) (1992)
Dream (Sire) (1994)
Heaven (Sire) (1996)
Holding Back The Years (Artists Only) (1998)
Mood Indigo (Milestone) (2000)
Over The Rainbow (Milestone) (2001)
Unchained Melody (Live Album) (Tokuma) (2001)
But Beautiful (Milestone) (2002)
Moonglow (Milestone) (2003)
All Of Me: Live In Tokyo (Venus) (2004)
COMPILATION ALBUMS
Lost And Found (Rhino) (1993)
Bravo Profiles: A Jazz Master (Bravo) (1993)
All Over Again (Savoy Jazz) (1995)
Everybody's Somebody's Fool (Universal (1999)
The Savoy Years & More (Box Set) (Savoy Jazz) (1999)
Les Incontournables (Warner) (2000)
Timeless (Savoy Jazz) (2002)
Someone To Watch Over Me (2-Disc) (Warner) (2004)
The Essential Jimmy Scott (Metro) (2005)
Milestone Profiles: Jimmy Scott (Milestone) (2006)
Filmography
Twin Peaks Episode 29-Beyond Life and Death (1991)
Scotch & Milk (1998)
Chelsea Walls (2002)
Stormy Weather: The Music of Harold Arlen (2002) (TV)
Jimmy Scott: If You Only Knew (DVD) (2003)

---
Bu forumun müsaadesi var:
Bu forumdaki mesajlara cevap
veremezsiniz