1
sayfadaki
1
sayfası •
Paylaş
•

Evgenia Obraztsova
Second Soloist, Kirov Ballet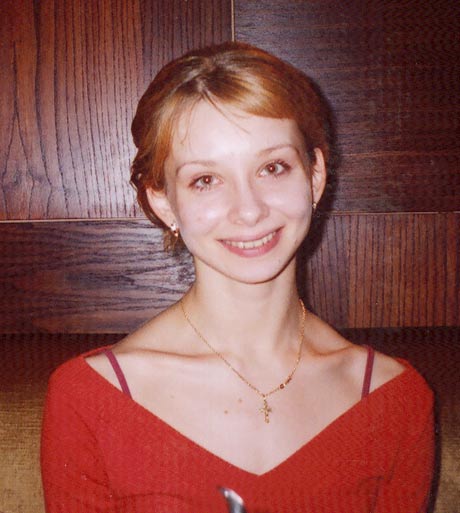 By Kevin Ng
Evgenia Obraztsova, the very talented Kirov coryphee dancer who was just promoted to second soloist in November, made a fine impression during the Kirov's season at Covent Garden last summer. Endowed with a prefectly-proportioned body and a beautiful face, her dancing is lucid and always has a youthful freshness and radiance, and she is totally ravishing in her classical purity.
A lot has happened to this new 21-year-old star lately. In November Obraztsova danced with the Rome Opera in Carla Fracci's production of "Cinderella" with another guest artist, Giuseppe Picone. It was Fracci who has invited Evgenia specially to Rome. This was followed in December by another guesting engagement with the Baltimore Ballet, for whose production of "The Nutcracker" she danced the Sugar Plum Fairy. She is also the star of the film "The Russian Dolls" directed last year by the French director Cedric Klapisch. Last June she won the gold medal in the senior women category in the Moscow International Competition. Evgenia has recently been compared by some commentators to the great legendary Bolshoi ballerina Galina Ulanova.
I met Evgenia towards the end of the Kirov's London season, in a restaurant in Covent Garden after a performance. She seemed slightly tired that night, but was glad to be relaxing over dinner for an hour or so. "I am so happy that I danced Juliet in Covent Garden last weekend. I like the Royal Opera House very much; it's very comfortable. London is such a wonderful city. I like everything in the city. It's a pity however that I don't have time to see performances by other companies."
Obraztsova as Juliet, with Andrian Fadeyev
© Natasha Razina
I asked about her triumph in the Moscow International Competition. Was she surprised that she won the gold medal? "Of course I was surprised, and I am so glad that I succeeded. I first asked our director Vaziev for permission to take part in the competition. Vaziev was in the end most happy that I had won. After the competition, I had to fly immediately to Washington to join the Kirov's performances of Le Corsaire".
Was it also due to a stroke of good luck that she got a part in the film "The Russian Dolls" directed by the French director Cedric Klapisch? "One day I was in the Mariinsky Theatre, and the director of the film came up to me and asked, 'Can you please do something in front of the camera? Just say something like - Hello, my name is Evgenia.' I followed his suggestion, and he said to me, 'OK, I hope to see you.' In the film, I spoke in English as well as Russian. It was great being in the film, and I really hope to get another acting role in future."
Evgenia's coach in the Kirov is the famous former ballerina Ninel Kurgapkina who also coaches Uliana Lopatkina. "Kurgapkina is a great teacher. She is wonderful. She always tells me what do with my legs, my face, my hands; and she has taught me a lot about acting."
Evgenia Obraztsova
© Kevin Ng
Evgenia's partners include Andrei Merkuriev, Vladimir Shklyarov, Igor Kolb, and Andrian Fadeyev (who partnered her for her debut as Juliet in 2003.) "I dance with Andrei (Merkuriev) the most often. I like Fadeyev a lot; I've danced Juliet with him twice. Also I am very happy to dance with Igor Kolb. He is a wonderful partner and very nice." Evgenia just danced Juliet with Kolb the weekend before.
On the previous day Evgenia danced in both performances of the Forsythe programme. Evgenia danced the main pas de deux with Andrei Ivanov in Forsythe's ballet "Approximate Sonata" which was premiered by the Kirov in the Mariinsky Festival last March. Did she enjoy dancing Forsythe's choreography?
"It's very difficult because I didn't know the steps well. I learnt the steps at short notice, and I only had five rehearsals with my partner Andrei Ivanov in St. Petersburg and London. Noah Gelber was my coach. I was actually very nervous because I was worried that I might make mistakes. I am sure that I will be better in future performances after I have had more time to analyse the steps. I want myself to feel freer when I dance the ballet again."
Evgenia also dances in St. Petersburg, though not in London, Forsythe's other ballets "In The Middle, Somewhat Elevated" and "The Vertiginous Thrill of Exactitude". Among her leading roles, I have so far only seen her Juliet, her Masha in Chemiakin's "Nutcracker", and in the title role of "La Sylphide". Evgenia is perfectly suited to this Bournonville ballerina role with her lightness and delicacy.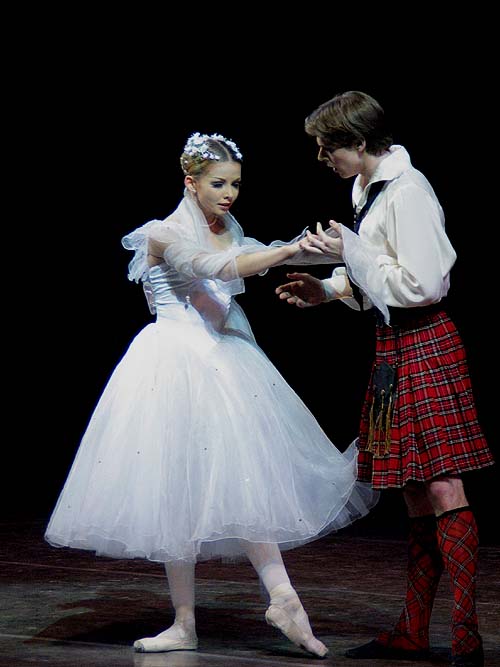 Obraztsova in La Sylphide, with Vladimir Shklyarov
© Natasha Razina
"Juliet has more acting than dancing in the role. Technically it's not too difficult, although I wouldn't describe the first act as easy. There is more dancing in "La Sylphide". There are a lot of jumps in this Romantic ballet. I like it too though I prefer Juliet, because I can really believe myself living in Verona as Juliet!" Evgenia certainly captured the full emotional range of the role of Juliet. Her Juliet was extremely touching with her naturalistic acting.
"I also dance Shyrin in Grigorovich's "The Legend of Love". Besides, Masha in Chemyakin's "Nutcracker". I've danced the role three times with different partners - Anton Korsakov, Leonid Sarafanov, and Andrei Merkuriev. As for the Vainonen version of "Nutcracker", I've only danced the full ballet in the Vaganova School with Mikhail Lobukhin. In the Mariinsky Theatre I only danced the pas de deux." (Obraztsova did dance later the full Vainonen version in the Baden-Baden tour in December.)
What roles does she expect to dance in future? "I don't know. I really hope to dance "The Sleeping Beauty". I've learnt Aurora throughout the past year, rehearsing with Vladimir Shklyarov. He's helped me a lot, as he has danced the ballet already with Ekaterina Osmolkina." Actually Evgenia already danced the "Sleeping Beauty" pas de deux last January with Vladimir Shishov in Farouk Ruzimatov's two galas in the St. Petersburg Conservatory. That was my first sighting of Evgenia.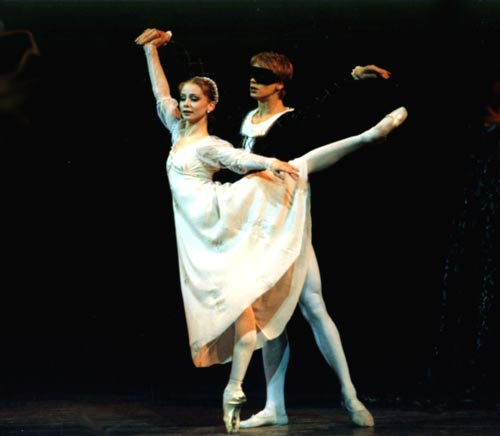 Evgenia Obraztsova in Cinderella, with Giuseppe Picone
© Rome Opera Ballet
But what about the other classics, e.g. "Swan Lake" and "Giselle"? "I think maybe Giselle. I don't think that I'll get to dance "Swan Lake" in the Mariinsky Theatre, because I am so small. It's impossible." Hopefully she may be able to dance the Swan Queen eventually with other companies as a guest artist later on.
Evgenia has wide interests outside ballet. "I try to do drawings, and I like art very much. I also like classical music, jazz, but not so much pop music. I see old classic films too."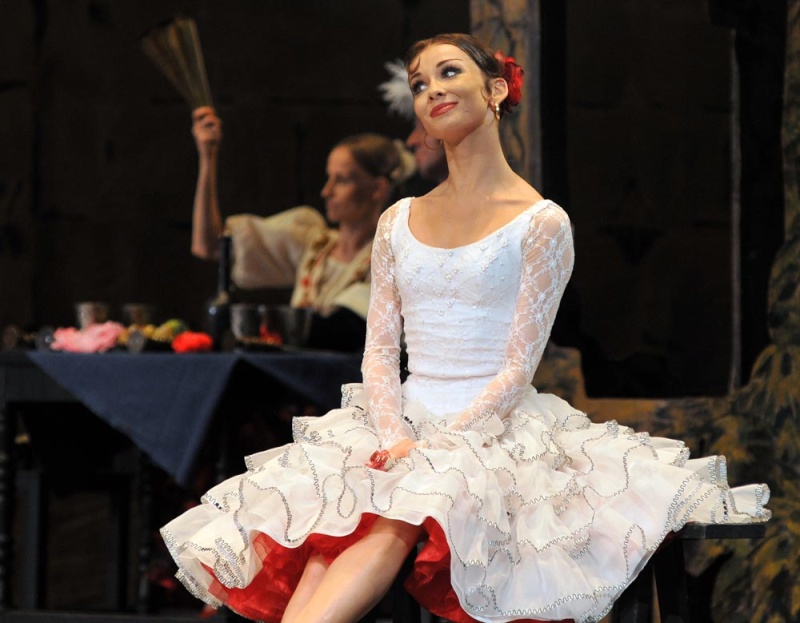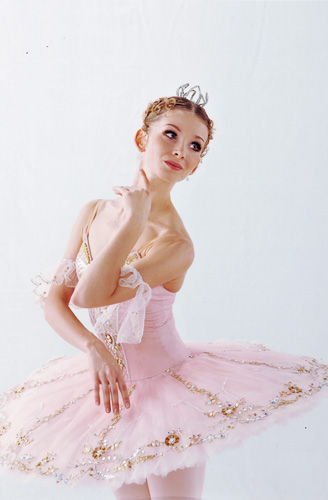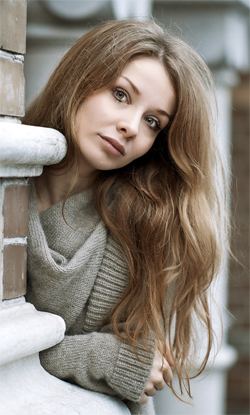 Obraztsova as Juliet, with Igor Kolb
© John Ross
Discussing the ballerinas whom she admires, she remarked, "I admire Loptakina of course. I also like the wondeful acting of Asylmuratova, and the wonderful technique of Chenchikova. Also Aurelie Dupont from the Paris Opera Ballet, and Alessandra Ferri. Ferri is the most beautiful Juliet in my opinion, and she is so convincing as an adolescent. Ulanova is a great Juliet, and my favourite Juliet". Recent comparison of Evgenia with the great Ulanova no doubt bodes well for her exciting career ahead.
Admin




Mesaj Sayısı

: 2411


Kayıt tarihi

: 01/04/08




---
Bu forumun müsaadesi var:
Bu forumdaki mesajlara cevap
verebilirsiniz