1
sayfadaki
1
sayfası •
Paylaş
•

Amelita Galli-Curci (18 November 1882 – 26 November 1963) was an Italian operatic soprano. She was one of the best known coloratura singers of the early twentieth century with her gramophone records selling in large numbers.
Biography
She was born as Amelita Galli into an upper-middle-class family in Milan, where she studied piano at the Milan Conservatory, winning a gold medal and at the age of 16 was offered a position as a "professor". She was inspired to sing by her grandmother. Operatic composer Pietro Mascagni also encouraged Galli-Curci's musical ambitions. By her own choice, Galli-Curci's voice was largely self-trained. She honed her technique by listening to other sopranos, reading old singing-method books, and doing piano exercises with her voice instead of using a keyboard.
Galli-Curci made her operatic debut in 1906 at Trani, as Gilda in Giuseppe Verdi's Rigoletto, and she rapidly became acclaimed throughout Italy for the sweetness and agility of her voice and her captivating musical interpretations. She was seen by many critics as an antidote to the host of squally, verismo-orientated sopranos then populating Italian opera houses.
In 1908 she wed a nobleman, the Marchese Luigi Curci, attaching his surname to hers. They divorced in 1920. The following year, Galli-Curci married Homer Samuels, her accompanist. The Marchese Curci petitioned the papal council in Rome for an annulment of the marriage in 1922.
The soprano had toured widely in Europe (including appearances in Russia in 1914) and South America. In 1915, she sang two performances of Lucia di Lammermoor with Enrico Caruso in Buenos Aires. These were to be her only appearances in opera with the legendary tenor, though they later appeared in concert and made a few recordings together. Galli-Curci and Caruso also acted as godparents for the son of the Sicilian tenor Giulio Crimi.
She arrived in the United States in 1916 as a virtual unknown. Her stay was intended to be brief, but the acclaim she received for her performance as Gilda in Rigoletto in Chicago, Illinois on November 18, 1916 (her 34th birthday) was so wildly enthusiastic that she accepted an offer to remain with the Chicago Opera Company. She was a member of the company through until the end of the 1924 season. Also in 1916, Galli-Curci signed a recording contract with the Victor Talking Machine Company and recorded exclusively for the company until 1930.
In 1921, Galli-Curci joined the Metropolitan Opera in New York City, remaining with the Met until her retirement from the operatic stage nine years later. She sang also in Great Britain, appearing in twenty cities during a 1924 tour, and visited Australia a year later for a series of recitals.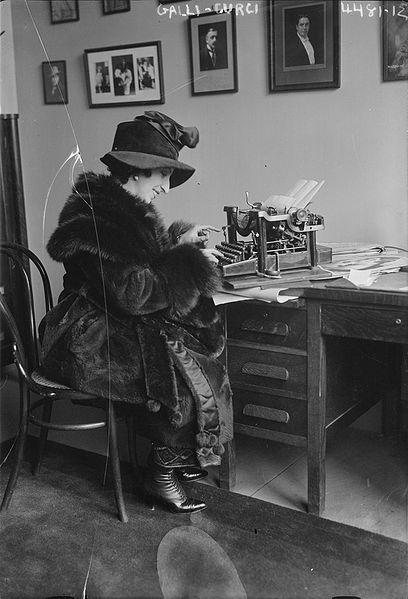 Amelita Galli-Curci typing in a fur coat, circa 1920. Forms part of: George Grantham Bain Collection (Library of Congress).
Galli-Curci built and maintained an estate called Sul Monte in Highmount, New York, where she summered for many years until she sold the estate in 1937. In the nearby village of Margaretville a theater was erected and named in her honor. She returned the favor by performing there on its opening night.
Galli-Curci was a student of the Indian meditation and yoga teacher Paramhansa Yogananda. She wrote the forward to Yogananda's 1929 book Whispers from Eternity.
Weary of opera house politics and convinced that opera was a dying art form, Galli-Curci retired from the operatic stage in January 1930 to concentrate instead on concert performances. Throat problems and the uncertain pitching of top notes had plagued her for several years and she underwent surgery in 1935 for the removal of a thyroid goiter. Great care was taken during her surgery, which was performed under local anethesia; however, her voice suffered following the surgery. A nerve to her larynx, the external branch of the superior laryngeal nerve, is thought to have been damaged, resulting in the loss of her ability to sing high pitches. This nerve has since become known as the "nerve of Galli-Curci."
Researchers Crookes and Recaberen "examined contemporary press reviews after surgery, conducted interviews with colleagues and relatives of the surgeon, and compared the career of Galli-Curci with that of other singers" and found, in 2001, that her vocal decline most likely did not result from a surgical injury.[8]
On 24 November 1936, Galli-Curci—aged 54—made an ill-advised return to opera, appearing as Mimi in La Boheme in Chicago. It was painfully clear that her singing days were over and after a few more recitals she went into complete retirement, living in California. She began teaching singing privately until shortly before her death from Emphysema in November 1963, at the age of 81. Among her students was soprano Jean Fenn.
Galli-Curci's voice can still be heard on CD reissues of her 78-rpm recordings of songs, duets and arias. Based on her recorded legacy and contemporary assessments of Galli-Curci's performances in England and America, the opera commentator Michael Scott, writing in Volume Two of The Record of Singing (Duckworth, London, 1979), compares her unfavourably as a vocal technician with coloratura sopranos of an earlier generation, such as Nellie Melba and Luisa Tetrazzini, but he acknowledges the beauty of her voice and the ongoing lyrical appeal of her charming singing.
Admin




Mesaj Sayısı

: 2410


Kayıt tarihi

: 01/04/08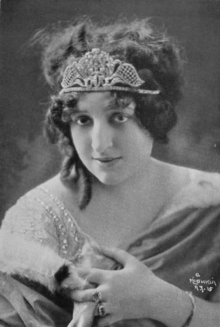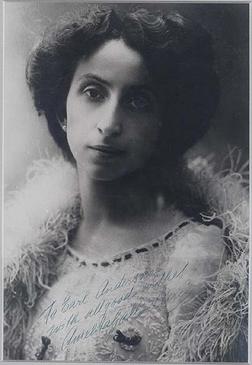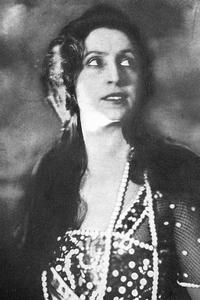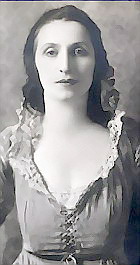 Classic recording of the famous "Lucia Sextet" featuring Galli-Curci, Caruso, Minnie Egener, Giuseppe De Luca, Angelo Bada and Marcel Journet. Photograph taken outside of the Victor Talking Machine Company in Camden, New Jersey on January 25, 1917 prior to the sessions for this recording and the Rigoletto Quartet. Left to Right: De Luca, Galli-Curci, Caruso, Flora Perini, Bada and Egener. Marcel Journet is absent from the photo.
Admin




Mesaj Sayısı

: 2410


Kayıt tarihi

: 01/04/08




---
Bu forumun müsaadesi var:
Bu forumdaki mesajlara cevap
veremezsiniz