1
sayfadaki
1
sayfası •
Paylaş
•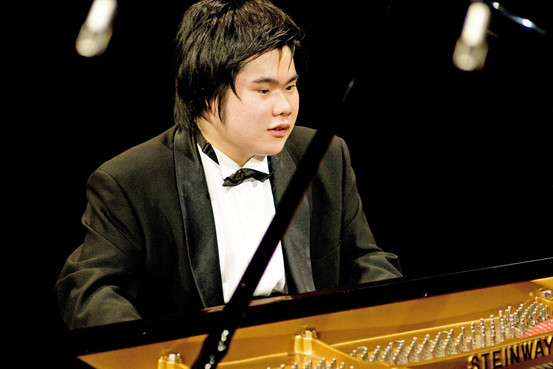 Nobuyuki Tsujii (born September 13, 1988) is a Japanese pianist and composer who shared the First Prize at the Thirteenth Van Cliburn International Piano Competition in 2009 in a tie with co-winner Haochen Zhang of China.
Background
Nobuyuki Tsujii was born blind but was gifted with a talent for music. At the age of two, he began to play Jingle Bells on a toy piano after his mother had been humming the tune. He began his formal study of piano at the age of four.
In 1995, at the age of seven, Tsujii won the first prize at the All Japan Music of Blind Students by the Tokyo Helen Keller Association. In 1998, at age ten, he debuted with The Century Orchestra Osaka. He gave his first piano recital in the small hall of Tokyo's Suntory Hall at age 12. He made his debut overseas with performances in the United States, France, and Russia. In October 2005, he reached the semifinal and received the Critics' Award in the 15th International Frederik Chopin Piano Competition held in Warsaw, Poland. .
In April 2007, Tsujii entered Ueno Gakuen University of music.
Tsujii competed in the 2009 Van Cliburn International Piano Competition and tied for the gold medal with Haochen Zhang. He was also awarded the Beverley Taylor Smith Award for the Best Performance of a New Work. He played all twelve of Frédéric Chopin's Op. 10 Études as part of his performance in the preliminaries.
Tsujii was one of the competitors prominently featured in the documentary film about the 2009 Van Cliburn competition, "A Surprise in Texas", which was first broadcast on PBS TV in 2010.
Comments on Tsujii
Van Cliburn is quoted as having told the Fort Worth Star-Telegram, "He was absolutely miraculous. His performance had the power of a healing service. It was truly divine."
2009 Van Cliburn Competition Juror Richard Dyer, a chief music critic for The Boston Globe, said, "Very seldom do I close my notebook and just give myself over to it, and he made that necessary. I didn't want to be interrupted in what I was hearing."
2009 Van Cliburn Competition Juror Michel Béroff, an award winning internationally known pianist, told the Japanese monthly piano magazine Chopin, "The special thing about his performance is his sound. It has depth, color and contrast, the genuine music."
In the documentary "A Surprise in Texas", Menahem Pressler, Cliburn juror and an eminent pianist, says: "I have the utmost admiration for (Nobuyuji Tsujii.) God has taken his eyes, but given him the physical endowment and mental endowment to encompass the greatest works of piano. For him to play the Chopin concerto with such sweetness, gentleness and sincerity; it's deeply touching. I had to keep from crying when I listened."
Scott Cantrell in his review of the 2009 Van Cliburn competition for The Dallas Morning News wrote that "It's almost beyond imagining that he has learned scores as formidable as Rachmaninoff's Second Piano Concerto and Beethoven's Hammerklavier Sonata by ear…Through all three rounds, he played with unfailing assurance, and his unforced, utterly natural Chopin E-Minor Piano Concerto was an oasis of loveliness."
John Giordano, music director and conductor of Corpus Christi Symphony Orchestra who was jury chairman for the Cliburn competition, said in 2010, ""He's amazing. We closed our eyes and it's so phenomenal that it's hard to withhold your tears. Nobu played the most difficult hour-long Beethoven piece (Hammerklavier, Sonata no. 29) flawlessly. For anyone, it's extraordinary. But for someone blind who learns by ear, it's mind-boggling."
[edit] WorksSince his triumph at the Cliburn, Tsujii has reached superstar status in classical piano music, especially in his native Japan. His Cliburn CDs, as well as other CDs recorded before 2009, are now widely available. His official Van Cliburn disc (HMU 907505) has sold well over 100,000 copies.
Following is a list of Tsujii's CDs that are now available outside of Japan:
début
Nobuyuki Tsujii, Avex Entertainment label, 2007: contains one disc of recitals of works of Chopin, Liszt, and Ravel; and a second disc with five original compositions of Tsujii.
Rachmaninoff: Piano Concerto #2, released by Avex Trax Japan in 2008, with conductor Yutaka Sado and the Deutsches Symphonie
Nobuyuki Tsujii, Gold Medalist, 2009 - Winners CD, released by harmonia mundi in 2009
Nobuyuki Tsujii Cliburn Competition Final Round Recital, released by harmonia mundi in 2009; also available as a
DVD
Nobuyuki Tsujii Cliburn Semifinal Round Recital, released by harmonia mundi in 2009; also available as a DVD
Nobuyuki Tsujii Cliburn 2009 Preliminary Round Recital, released by harmonia mundi in 2009; also available as a DVD
Frederic Chopin: Piano Concerto No. 1; Etudes Op. 10, released by harmonia mundi in 2010; containing Tsujii's live performance at the Cliburn Competition of Chopin's Piano Concerto no. 1 op. 11 with the Fort Worth Symphony Orchestra and Conductor James Conlon, Berceuse performed in the final recital, and 12 études op. 10 performed in the preliminary round.
Pictures at an Exhibition Nobuyuki Tsujii, released September 15, 2010 by Avex Entertainment; containing Mussorgsky's Pictures at an Exhibition suite and two Franz Liszt pieces: Concert Etude No.3 in D Flat Major Un sospiro and Rigoletto Concert Paraphrase.
Additionally, these CDs are available worldwide through Japanese outlets:
Chopin: Piano Works, with two discs, 10 tracks each; first releasted in 2005 (possibly after his participation at the Chopin Piano Competition that year), and re-released in September 2009.
My Favorite Chopin Nobuyuki Tsujii, recorded in Germany in January 2010 and released by Avex Classics in March, 2010. Included in the ten tracks are Andante spinato; Grand Polonaise; Ballade op.23; Mazurkas, op 24; Nocturnes, op. 27; and Fantaisie in F minor, op. 49.
Tchaikovsky: Piano Concerto No. 1 , with Yutaka Sado and the BBC Philharmonic, recorded in England in December 2010 and released by Avex Classics in February, 2011. Included is a recital of Robert Schumann's Papillons.
As a Van Cliburn winner, Tsujii has been performing in concerts all over the world
Admin




Mesaj Sayısı

: 2411


Kayıt tarihi

: 01/04/08




---
Bu forumun müsaadesi var:
Bu forumdaki mesajlara cevap
veremezsiniz