1
sayfadaki
1
sayfası •
Paylaş
•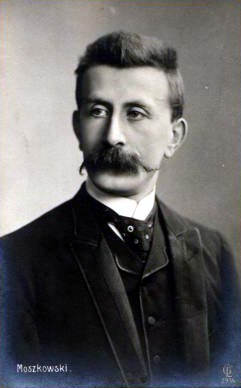 Moritz (Maurice) Moszkowski (23 August 1854 – 4 March 1925) was a German composer, pianist, and teacher of Polish descent. Ignacy Paderewski said, "After Chopin, Moszkowski best understands how to write for the piano". Although little known today, Moszkowski was well-respected and popular during the late nineteenth century.
Biography
He was born in Breslau, Prussia (now Wrocław, Poland) into a Jewish family and studied music in Breslau, Dresden and Berlin, under Theodor Kullak and others. He was a teacher in Berlin for many years, and became very friendly with Xaver and Philipp Scharwenka. He also played four-hand pieces with Franz Liszt. He was an ardent Jew, at a time when many Jews downplayed their Jewishness. His pupils included Frank Damrosch, Joaquín Nin, Ernest Schelling and Joaquín Turina. He also claimed that Józef Hofmann was his student, although at other times he said there was nothing anyone could teach him, so this claim is uncertain.After a successful career as a concert pianist and conductor, he settled in Paris in 1897. During this time (1887), he was awarded honorary membership of the Royal Philharmonic Society in London.
In Paris, he lived on the rue Blanche, and in the summer he rented a villa owned by Henri Murger. His Parisian students included Vlado Perlemuter, Thomas Beecham and, informally, Gaby Casadesus. In 1899 the Berlin Academy elected him a member. He was many times invited by piano manufacturers to appear in the United States, to show off their pianos, but despite being offered massive fees, he always refused.
By 1908 he had become a recluse. He stopped taking composition pupils because "they wanted to write like artistic madmen such as Scriabin, Schoenberg, Debussy, Satie ...". He had become a widower before World War I. He had two children. His second wife was the sister of Cécile Chaminade.
He sold all his copyrights, which made him rich for the first time in his life, but he invested the lot in German, Polish and Russian bonds and securities, which were rendered worthless on the outbreak of the war. In 1922, when he was ill and heavily in debt, his friends and admirers arranged a grand testimonial concert on his behalf at Carnegie Hall, involving 14 grand pianos on stage. Ossip Gabrilowitsch, Percy Grainger, Josef Lhévinne, Wilhelm Backhaus and Harold Bauer were among the performers, Paderewski telegrammed his apologies, and Frank Damrosch conducted. The concert netted $10,000, and the money provided relief from his immediate financial problems, however Moszkowski's illness lingered and in 1925 another benefit concert was arranged. Moszkowski died in March of that year before the new supply of funds could reach him. The money raised went instead to pay his funeral expenses and to his wife and daughter.
His brother Alexander Moszkowski (1851-1934) was a famous writer and satirist in Berlin.
Works
The orchestral opening to his Piano Concerto
In the second movement, the piano plays a variation of the main melodyMain article: List of compositions by Moritz Moszkowski
His music is brilliant, but has also been described as "devoid of the masculine and the feminine". He wrote over two hundred small-scale piano pieces, which brought him much popularity – notably his set of Spanish Dances, Op. 12, for piano duet (later arranged for solo piano, and for orchestra [3]). His early Serenade, Op. 15, was world-famous and appeared in many guises, including the song Liebe, kleine Nachtigall. Today he is probably best known for his fifteen Études de Virtuosité, Op. 72, which have been performed by virtuoso pianists such as Vladimir Horowitz and Marc-André Hamelin. Surprisingly, their first complete recording was not until 1970 (by Ilana Vered). Many of his small but brilliant piano pieces, such as Étincelles (Sparks), are used as encore performances at the end of classical concerts.
He also wrote larger scale works including the Piano Concerto in E major, Op. 59 (1898), the Violin Concerto in C major, Op. 30, three orchestral suites (Opp. 39, 47, 79), and a symphonic poem Jeanne d'Arc, Op. 19.
He wrote the opera Boabdil der letzte Maurenkönig, Op. 49, on the historical theme of the capture of Granada. It was premiered at the Berlin Court Opera on 21 April 1892, and appeared in Prague and New York the following year. It did not stay in the repertoire, but its ballet music was very popular for a number of years. He wrote a three-act ballet Laurin in 1896.
His Suite in G minor for 2 violins and piano, Op. 71, has been recorded by such duos as Itzhak Perlman and Pinchas Zukerman.
Seta Tanyel completed the first three volumes of her intended recording of all Moszkowski's solo piano works, but the recording company went bankrupt before she could complete the project.
Quotations
Moritz Moszkowski once underscribed an autograph book which had been previously inscribed by the great German conductor, virtuoso pianist and composer Hans von Bülow, who had written the following words: "The three greatest composers are Bach, Beethoven and Brahms. All the others are cretins." When Moszkowski saw this, he added underneath: "The three greatest composers are Mendelssohn, Meyerbeer and Moszkowski. All the others are Christians!"
Admin




Mesaj Sayısı

: 2411


Kayıt tarihi

: 01/04/08




---
Bu forumun müsaadesi var:
Bu forumdaki mesajlara cevap
veremezsiniz