1
sayfadaki
1
sayfası •
Paylaş
•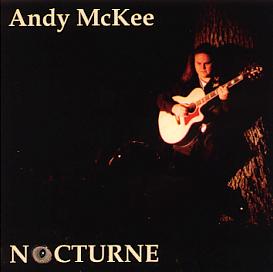 Andy McKee performing live in February 2008.
Background information
Born April 4, 1979 (1979-04-04) (age 31) Topeka, Kansas, U.S.
Genres: Folk, fingerstyle, instrumental
Occupations: Guitarist
Instruments : Guitar, baritone guitar, harp guitar
Years active: 2001 – present
Labels: Razor & Tie, Candy Rat Records
Website. www.andymckee.com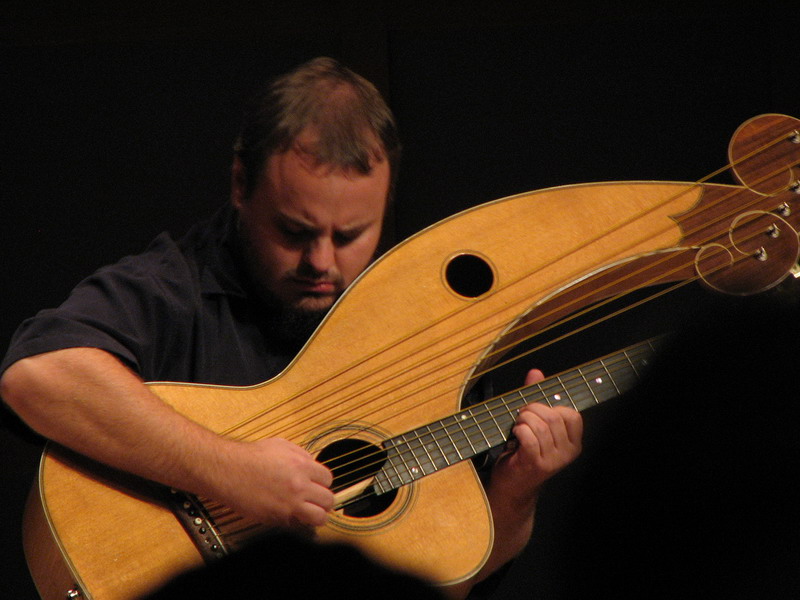 Andy McKee (born April 4, 1979 in Topeka, Kansas) is an American fingerstyle guitarist, currently signed to the American record label Candyrat Records. His style of playing and his compositions have earned him a considerable international fanbase; in late 2006, a live performance of his signature song "Drifting" became a Featured Video on YouTube and MySpace, achieving over 36,000,000 views on the former to date and remaining one of its highest rated music clips. A handful of McKee's other songs have experienced lesser success on YouTube, such as "Rylynn" with over 17,000,000 views. Similarly, McKee's cover of "Africa" reached over 9,000,000 views before suddenly being removed by Candyrat Records.
Life And Career
McKee played his first guitar, an Aria nylon string bought by his father, at age 13. Initially underwhelmed by his guitar lessons, McKee's electric guitar-playing cousin inspired him to continue learning, taking him out for his 16th birthday to see a guitarist named Preston Reed perform live at a clinic. McKee later bought an instructional videotape from Reed and began to learn more complex guitar techniques from it, also earning his GED that year in order to drop out of high school. He began to take influence from guitarists such as Michael Hedges, Billy McLaughlin, Pat Kirtley, and from Passion Session by Don Ross, as he self-studied the instrument.
In 2001, McKee independently released his first album, Nocturne. That same year, he was placed third at the National Fingerstyle Guitar Competition in Winfield, Kansas. In 2003, McKee toured in Taiwan with Jacques Stotzem, Isato Nakagawa, and Masaaki Kishibe, and earned first place in the Miscellaneous Acoustic Instrument contest of the Kansas State Fiddling and Picking Championships with a Ron Spillers harpguitar he purchased from Stephen Bennett in 2002. The instrument can be heard in a number of his songs, such as "Into The Ocean" and "Gates of Gnomeria". Only 1,000 copies of Nocturne were ever produced and the album is now out of circulation.
Dreamcatcher (2004)
McKee released his second album, Dreamcatcher, in 2004. The album includes his cover of "Africa" , as well as "The Friend I Never Met", a song written in tribute to Michael Hedges. McKee used the title track to win the opportunity to perform with bassist Michael Manring, with whom he has since toured. Additionally, he placed second in the Fingerstyle Guitar Competition of the Canadian Guitar Festival that year. The album was later re-released by McKee's label in response to the popularity he garnered on YouTube.
Art of Motion (2005)
McKee's third CD, Art of Motion, was released on Candyrat Records in November 2005 and earned considerable praise from established acoustic guitarists such as Don Ross, whom McKee is currently on the same label with and has noted as one of his favorite artists. Most of the songs that McKee is known for on YouTube appear on the album, which has a handful of tracks carried over from Dreamcatcher as well. During the early stages of McKee's success on YouTube in late 2006 and early 2007, Art of Motion was the only album of his carried by Candyrat Records, and saw the most mainstream exposure as a result. In a couple of his songs he plays a harp guitar shown down and to the right.
Gates of Gnomeria (2007)
After his popularity due to his performances on YouTube and touring extensively throughout much of 2007, McKee returned to the studio to record his fourth CD, Gates of Gnomeria. The album contains six new songs, one of which had already been seen on YouTube ("Gates of Gnomeria"), as well as two cover songs. McKee spent the majority of 2008 on tour throughout the world, performing with other Candyrat artists and promoting both Gates of Gnomeria and his collaborative album with Don Ross, The Thing That Came From Somewhere. He released a split DVD that same year with labelmate Antoine Dufour, each artist contributing eight songs to the disc; two of McKee's from Gates of Gnomeria.
Common Ground EP (2009)
In between touring extensively, and helping promote his duo guitar record with Don Ross, McKee recorded an EP of 2 re-recordings of songs from his Dreamcatcher album, and a cover song by Japanese guitarist Masaaki Kishibe. The album was released digitally only, along with videos available on iTunes that include his performance of his 2 compositions, a video each that either does or does not include commentary.
Joyland (2010)
McKee announced in May 2009 that he was intending to finish touring in the second half of the year and concentrate on recording his upcoming album. He stated in July 2009 that it will most likely be titled "Joyland", the title track of the album which originally went under the name "Music For A Vacant Amusement Park". The album was completed in November 2009 and was released in iTunes on March 23, 2010, and in stores on March 30, 2010 on Razor & Tie Records. According to McKee, "On this album I've branched out a bit and included some instrumentation on a couple of songs. There's also a new harpguitar tune and a couple of covers such as "Layover" by Michael Hedges and one of my favorite 80's tunes." (That one is Tears For Fears' "Everybody Wants To Rule The World".) The album also features a DVD full of 75 minutes worth of additional video material, including a documentary called Andy McKee: Joyland, and four new performance music videos. All four music videos have been released on Youtube and can be found at:
"Never Grow Old"
"Everybody Wants to Rule the World"
"Hunter's Moon"
"Joyland"
The documentary is currently only available for purchase as a part of the Joyland album CD/DVD.
Career progressionSelf-described as "just this guy from Topeka, Kansas who kind of blew up on the Internet about a week before Christmas", McKee became one of Candyrat Records' best-selling artists after their video of "Drifting" was massively upvoted by users at Digg. In the wake of this exposure, he appeared by invitation on Woodsongs as well as Last Call with Carson Daly, and his online store completely sold out of his various guitar tablature books. Due to the increased demand, he began to offer sheet music for nearly all of his songs on his official website. He also contributed to Josh Groban's 2007 Grammy-nominated Christmas album, Noël, playing guitar on the song "Little Drummer Boy". Groban's album went on to become the best-selling CD of 2007 in the U.S. hitting #1 on the U.S. Billboard 200.
Response to Filesharing
Andy McKee comments on The Pirate Bay.McKee has, at least once in the past, personally commented on BitTorrent websites hosting his music, chastising downloaders for their actions. Posting to The Pirate Bay under the name "AlteredTuning" (which is the same handle he uses in all his internet message board appearances as well as on his own website's message boards), McKee sarcastically echoed other commenters' thanks to the original uploader of his album and urged people to purchase his work legitimately. His comments were met with approval while some pointed out that the exposure on The Pirate Bay might lead to increased sales.
"Yeah thanks a lot for uploading! It's not like I need to make a living with my music or anything. 8,676 thieves. If you really appreciate what I am doing, buy my CD legitimately so I can continue to compose music rather than work at K-Mart. I'm not Metallica. I don't have hundreds of thousands of dollars, much less millions. Andy McKee"
Equipment and Influences
McKee currently uses the following equipment:
Greenfield G4 and GB Guitars
Greenfield HG1.2 Harp Guitar
Lance McCollum Baritone Guitar
Ron Spillers Harp Guitars
Avalon Guitars
K&K Sound Pickups (internal)
DTAR Solstice Pre-Amp
D'Addario Phosphor Bronze Medium Gauge
Shubb Capos
Andy McKee at Glenn Gould Studio in Toronto, Ontario.McKee's influences include: Eric Johnson, Dream Theater,Michael Hedges, Preston Reed, Billy McLaughlin, Tommy Emmanuel, Björk, Steve Lukather, Metallica, Joe Satriani, Iron Maiden, Pantera, Steve Erquiaga, Vince Di Cola, Toto, Peter Gabriel, Imogen Heap, King Crimson, Primus, Pat Metheny, and Don Ross,
McKee began listening to metal, such as Dream Theater, at the age of 13. He described on Woodsongs how he was a "metal freak" during childhood, even performing a Metallica song in his high school talent show. It was not until he saw Preston Reed that his influences began to shift towards acoustic songwriters such as Don Ross and Michael Hedges. Both walks of music continue to influence him, though he has stuck with acoustic music in his professional life.
In response to certain comments regarding the source of his creative talent, McKee has proudly admitted to have never taken any recreational drugs in his life—a fact lauded by many of his fans online, including fellow guitarist Don Ross. Commenting on McKee's MySpace, Ross wrote:
I too have never touched weed, pills, blow or needles. I'm always insulted when people find that hard to believe. 'How can you write such insane music straight?!?' Frick! Some of us are just creative using only the chemicals already present in our bodies. That goes for almost any musician I've had a close association with, contrary to the stereotypes. Hell, Zappa was sober all the time!
Bravo, Andy. I appreciate the fact that when you and I tour together, there's no junk going around, no smokes, no nothing. Keeping it clean. And we always have a fabulous time.
Discography
Album Title Year
Nocturne 2001
Dreamcatcher 2004
Art of Motion 2005
Gates of Gnomeria 2007
Split DVD with Antoine Dufour 2007
The Thing That Came From Somewhere with Don Ross 2008
Common Ground EP 2009
Joyland 2010
Admin




Mesaj Sayısı

: 2411


Kayıt tarihi

: 01/04/08




---
Bu forumun müsaadesi var:
Bu forumdaki mesajlara cevap
veremezsiniz