1
sayfadaki
1
sayfası •
Paylaş
•

Warsaw: Piano works. Concert No 11 Concert (2010 - 55mns) réalisé par François-René Martin et Sébastien Glas
Enregistré à La Folle Journée Chopin de Varsovie

Andrei Korobeinikov- Sonate n°2 en si bémol mineur opus 35 "Funèbre"

Jean-Frédéric Neuburger- Fugue en la mineur - Valse en la bémol majeur opus 42

Abdel Rahman El Bacha- Polonaise en fa dièse mineur opus 44

Philippe Giusiano- Prélude en ut dièse mineur opus 45

Momo Kodama- Nocturne en ut mineur opus 48 n°1

La Folle Journée est un événement culturel unique en son genre. Créé à Nantes en 1995 par René Martin, l'événement se décline aujourd'hui à l'international, de Lisbonne (2000-2007) à Bilbao (depuis 2002), de Tokyo à Rio de Janeiro. Chaque année la manifestation, qui accueille les plus grands artistes internationaux rend hommage, soit à un célèbre compositeur, soit à l'une des périodes ou à l'un des courants majeurs de l'histoire de la musique.
L'année 2010 est marquée par le bicentenaire de la naissance de Frédéric Chopin, que la France et la Pologne ont décidé de célébrer ensemble. Cette Année Chopin donnera lieu à de nombreux événements dans les deux


Concert (2010 - 55mns) réalisé par François-René Martin et Sébastien Glas
Enregistré à La Folle Journée Chopin de Varsovie

Iddo Bar-Shaï- Nocturne en fa dièse mineur opus 48 n°2

Andrei Korobeinikov- Mazurka en la mineur KK II b/4 - Mazurka en la mineur KK II b/5

Anne Queffélec- Valse en fa mineur opus 70 n°2 - Valse en mi bémol majeur "Sostenuto" - Ballade n°3 en la bémol majeur opus 47

Abdel Rahman El Bacha- Tarentelle en la bémol majeur opus 43 - Fantaisie en fa mineur opus 49

Anne Queffélec- Mazurka en sol majeur opus 50 n°1 - Mazurka en la bémol majeur opus 50 n°2 - Mazurka en ut dièse mineur opus 50 n°3

La Folle Journée est un événement culturel unique en son genre. Créé à Nantes en 1995 par René Martin, l'événement se décline aujourd'hui à l'international, de Lisbonne (2000-2007) à Bilbao (depuis 2002), de Tokyo à Rio de Janeiro. Chaque année la manifestation, qui accueille les plus grands artistes internationaux rend hommage, soit à un célèbre compositeur, soit à l'une des périodes ou à l'un des courants majeurs de l'histoire de la musique.
L'année 2010 est marquée par le bicentenaire de la naissance de Frédéric Chopin, que la France et la Pologne ont décidé de célébrer ensemble. Cette Année Chopin donnera lieu à de nombreux événements dans les deux pays.
L'un des temps fort de l'Année Chopin 2010 est la première édition polonaise de " La Folle Journée ", qui se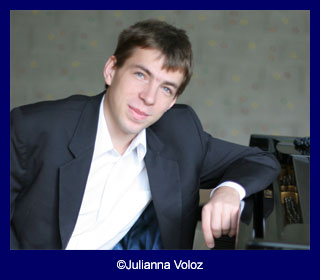 1986 yilinda Moskova'da doğdu, içti Piyanist Genç ve sahne Aldi Royal Ülkede 21 2003 yilinda Uluslararası Çaykovski Yarışması'nda 2004 yilinda first Ödül Scriabin, ve Uluslararası Ulusal yarışmalarda Uzer Dahila Olmak ve birincilik ödülü (birincilik ödülü itibaren 21 Ödül kazandı 2006 yilinda Londra Müzik ) Fakültesi. Yila CIKT O 19 (!) Moskova Konservatuvarı Bir Çift Ayrım ada Of. J. Halen Ve J. icin Bir hibe, Londra'daki Kraliyet Müzik Koleji'nde tesekkur Masters okuyor Bursu Simmonds.
2006 yilinda Andrei Korobeinikov La Roque d'Antheron, davetiye aux Folles Journées de Nantes, Rio de Janeiro, Tokyo ve un festival kazanılan Fransa'da Giris Yapta. Ocak 2007 yilinda Maestro Vladimir Ashkenazy Rachmaninoff Ikinci ve Altında Konçertosu Ile yaptığı Londra Yapta sopa. Ayrıca, Festival Radio France Montpellier kum tepeciği ve Içinde resital Hall'da Londra'daki Wigmore. Çellist O Ile met yaz Henry Demarquette Oda muzigi piyasaya sürülecek.
UNON olağanüstü Yetenek çeşitli alanlarda icine farklılaşan. 17 yaşındayken pekiyi DEReC Ile avrupa Hukuku Moskova Üniversitesi'nden Derecesi Hukuk ve özellikle Yabancı dillerde yayınlanmış cok Sayid yasal Eserler Elde edilmistir. Bos zamanlarında yaptığı beste ve caz Tenor saksafon Şiir ada.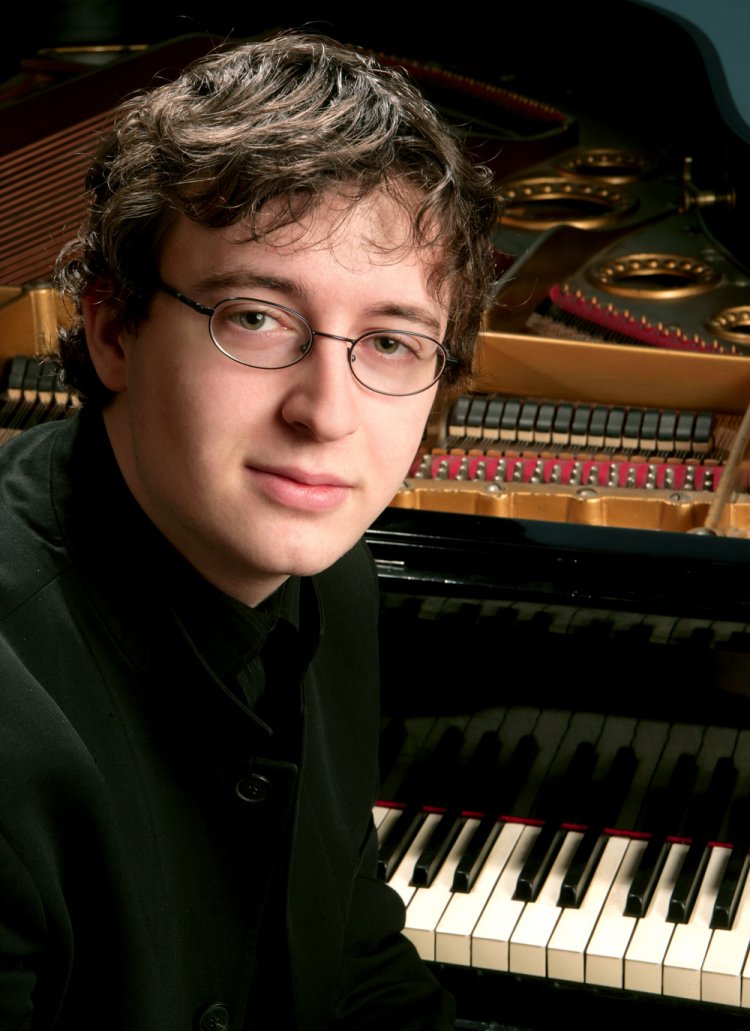 Born: 1986 - France
The French pianist, organist and composer, Jean-Frédéric Neuburger (pronounced Nu-bour-jhay), showed an exceptional musical aptitude and curiosity very early. He began studying piano with Claude Maillols at the Académie Maurice Ravel at the age of nine, and also developed an interest in the organ and composition, which he studied with Emile Naoumoff and Jean-François Zygel. He entered the Conservatoire National Supérieur de Musique de Paris in 2000, where he received highest honors in piano, accompaniment, and chamber music in the classes of Jean-François Heisser, Jean Koerner, Itamar Golan, Christian Ivaldi and Marie-Françoise Bucquet. Devoted to perfecting his art, he currently studies with Reiko Hozu and Vladimir Krainev.
Since being recognized by the Académie Maurice Ravel at the age of 15, Jean-Frédéric Neuburger has been the laureate of numerous international competitions, including First Prize at the 2002 Ettlingen International Competition for Young Pianists; Second Prize and the Beethoven Prize at the 2004 International José Iturbi Competition in Valencia, Spain; Third Grand Prix, the Orchestre Philharmonique de Radio France Prize, the Audience Favorite Prize and the Sacem Prize at the 2004 Long-Thibaud Competition in Paris; and Second Prize at the 2005 London International Piano Competition. He won the 2006 Young Concert Artists International Auditions, where he was also awarded the John Browning Memorial Prize and the Rhoda Walker Teagle Prize, which in December 2006 sponsored his New York debut at Carnegie's Zankel Hall and his debut recital in Washington, DC at the Kennedy Center, both of which were enthusiastically received. He had previously won First Prize in the 2005 Young Concert Artists European Auditions in Paris.
Even more than these outstanding achievements, it is for his personality and extraordinary musical maturity that Jean-Frédéric Neuburger is much sought-after as recitalist, having already performed at such prestigious events as the Festivals of Auvers sur Oise, Radio-France-Montpellier, La Roque d'Anthéron Piano Festival, Menton, l'Orangerie de Sceaux, Chopin á Bagatelle Festival, les Folles journées de Nantes, Lisbonne and Tokyo. He has also given recitals at the Auditorium du Louvre, Auditorium du Musée d'Orsay, Théâtre des Bouffes du Nord, the Chopin Festival at Duznicki and the Chopin-Gesellschaft at Darmstadt. He is dedicated to discovering new repertoire - whether for solo piano or chamber music - from J.S. Bach to contemporary composers.
As soloist, Jean-Frédéric Neuburger has appeared with the Baden-Baden Philharmonic, Danish National Orchestra, Orchestre National de Montpellier, the London Philharmonic Orchestra and the Orchestre Philharmonique de Radio France. In 2006, he made two important debuts: the first in Shanghai with the Shanghai Philharmonic, playing Shostakovitch's Concerto No. 2 and the second, his Tokyo concerto debut with the New York Philharmonic Orchestra under Lorin Maazel, playing Beethoven's Concerto No. 3. In May 2007, he appeared with Yoel Levi and the Orchestre National d'Île-de-France in Franz Liszt's Concerto No. 1 for the re-opening season of Paris prestigious Salle Pleyel before returning to America for summer festivals. During the summer of 2007, he performed Ravel's Piano Concerto in G Major with the Orchestre National de Lyon on tour in Japan, and during the 2007-2008 season appeared with the London Philharmonic Orchestra and the Orchestre Philharmonique de Liège. He has also made solo appearances with the Baden-Baden Philharmonic, Danish National Orchestra and the Orchestre Philharmonique de Radio France, as well as recitals at Suntory Hall in Tokyo (November 2007), the Louvre in Paris, Chopin festivals in Poland and Germany, and at other prestigious festivals in Europe.
In 2008-2009 season Jean-Frédéric Neuburger makes his New York concerto debut in YCA's Gala Irene Diamond Concert, performing with the Orchestra of St. Luke's and conductor Giancarlo Guerrero at Lincoln Center. Also during the 2008-2009 season, he appears at Buffalo Chamber Music Society, Merkin Hall in New York City, Brownville Concert Series (NE), Harvard Musical Association (MA), Fox Hill Village (MA), the Isabella Stewart Gardner Museum in Boston, and Port Washington Library (NY). His concerts abroad this season include recitals in France and Japan as well as concerto appearances in Beethoven's Piano Concerto No. 4 and J.S. Bach's Concerto in G Minor with the Bamberger Symphoniker, Messiaen's Des Canyons aux étoiles with the Orchestre de Poitou-Charentes, Mozart's Piano Concerto No. 9 with the Osaka Philharmonic, Prokofiev's Piano Concerto No. 2 with the Orchestre National d'Île de France, and Beethoven's Piano Concerto No. 1 with the NHK Symphony in Japan.
In 2003, at the age of 16, Jean-Frédéric Neuburger recorded the complete Chopin Etudes for the «Disc'Auvers» collection, a version that has already been compared to those by the great masters, and which immediately placed him among the foremost pianists of today. A double CD with one disc dedicated to Chopin and the other featuring a live recital was released in March 2006, and his recording of the complete Carl Czerny "The Art of Finger Dexterity" was released on the Mirare record label. He recently released a CD of music by C. Czerny and F. Liszt on the Mirare label.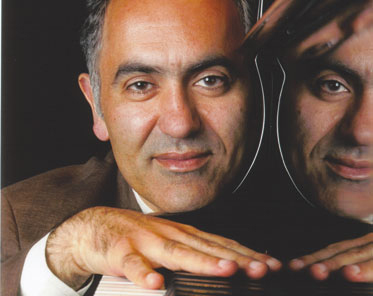 Abdel Rahman El Bacha (born October 1958) is a Lebanese pianist and composer.
His repertory includes over fifty concertos and is largely based on the works of Bach, Mozart, Beethoven, Chopin, Schubert, Schumann, Rachmaninov, Ravel and Prokofiev .
Biography
El Bacha was born in Beirut, Lebanon in 1958 to a family of musicians - his father was a well-known composer and his mother was a singer . He remarked in an interview that his mother possessed a sharp ear for music without the ability to read it in written form, and that this taught him the importance of learning music by ear.
He began his piano schooling in 1967 at the age of nine, with Zvart Sarkissian (a pupil of Marguerite Long and Jacques Février). At the age of ten, he gave his first concert with an orchestra.
He was offered scholarships in France, the United Kingdom and then USSR. He opted for France, studying at the Paris Conservatoire and graduating from there with four prizes: piano, chamber music, harmony and counterpoint.
At the age of nineteen, in June 1978, El Bacha won the Concours Reine Elisabeth de Belgique by a unanimous judgment. He was also awarded the Audience Prize at the same competition.
In 1983, he made his first recording for the label Forlane, Early Works by Sergei Prokofiev. It won the Grand Prix de l'Académie Charles Cros, presented to him by Prokofiev's widow.
He was recently awarded the Médaille de l'Ordre du Mérite by the President of the Lebanese Republic, the highest distinction of his native country.[citation needed]
El Bacha has had Franco-Lebanese dual nationality since 1981, and now lives near Paris, France.
Philippe Giusiano – 2nd Prize winner, 13th International Frederic Chopin Piano Competition in Warsaw (1995). Philippe Giusiano started learning piano playing at the age of five. In 1980, he entered the Conservatoire National de Région de Marseille, where his first teacher was Odile Poisson (1980–1983), followed by Pierre Barbizet (1983–1986). He completed his piano studies at the Conservatoire National Supérieur de Musique in Paris with Jean-Claude Pennetier and Jacques Rouvier (1987–1991), at the Hochschule für Musik / Mozarteum in Salzburg with Karl-Heinz Kämmerling (1992–1994), and at the Sweelinck Conservatoire in Amsterdam with Jan Wijn (1994–1995). Between 1989 and 1993 he attended masterclasses held by Jan Ekier, Adam Wibrowski and John Perry.
Mr. Giusiano competed twice in the Chopin Competition: first in 1990 (failed to qualify to the finals) and then in 1995, when he took 2nd Prize ex aequo with Alexei Sultanov (no 1st Prize was awarded). He was also awarded at the Liszt Competition in Les Pennes Mirabeau (1986) and the Concours de L'Orchestre Philharmonique des Pays de Loire (1990).
Mr. Giusiano is steadily developing his career, appearing at music festivals in France (Aix-en-Provence, La Chaise-Dieu, Nohant and others), Romania, Morocco, Poland, Japan and Austria. He has played at the Concertgebouw in Amsterdam, the Carnegie Hall and the Casals Hall in Tokyo. His broad repertoire is centered on Chopin, Rachmaninov, Prokofiev, Débussy and Ravel.
Stanisław Dybowski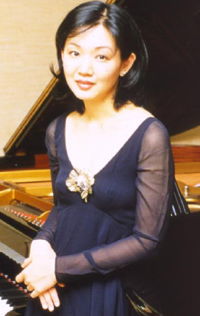 Momo Kodama was born in Osaka, Japan moving to Europe with her family soon after her first birthday. She studied at the Conservatoire National Superieur de Paris with Germaine Mounier, and continued her artist development with Vera Gornostaeva, Murray Perahia, Tat'yana Nikolayeva and András Schiff. Among her many awards she has received first prize at the Epinal International Piano Competition, the Idemitsu Award, the top prize at the Munich Competition and the Terence Judd Award in 1999.
In recent seasons she has made several high profile debuts confirming her status as one of the most exciting young Japanese artists of her generation including appearances with the Boston Symphony Orchestra/Seiji Ozawa and Berlin Philharmonic Orchestra/Kent Nagano, Gulbenkian Orchestra/Lawrence Foster as well as recitals at the Wigmore Hall, Lucerne and Berlin Festivals. She has worked with all of the major orchestras in Japan including the New Japan Philharmonic Orchestra/Seiji Ozawa, the Tokyo Metropolitan/Eliahu Inbal and Gery Bertini and the NHK Symphony Orchestra, Lawrence Foster and Charles Dutoit
The Israeli pianist Iddo Bar-Shai was born in 1977 in Nazareth Illit. He studied with Bracha Ornan-Margalit in Haifa and with Prof. Pnina Salzman in the piano department at the Rubin Music Academy in Tel-Aviv University, also receiving guidance from Maestro Alexis Weissenberg. At early stages he attracted attention for his playing and already at the age of 11 he was a recipient of the America - Israel Cultural Foundation scholarships.
Since then his career has taken on an international dimension: he has performed on important stages such as the Wigmore Hall (London), the Mann Auditorium (Tel Aviv), the Theatre des Champs Elysees (Paris), the Tokyo Opera City Hall, The Beijing Zhongshan Concert Hall and others in various countries among which are many European countries, Israel, The USA, Japan, The People's Republic of China and Brazil.
He first performed as a soloist with an orchestra at the age of twelve, and has subsequently played under the batons of Aldo Ceccato, Jesus Lopez-Cobos, Horia Andreescu, Avner Biron among others with prominent orchestras in Europe a nd Israel such as the English Chamber Orchestra, Israel Philharmonic Orchestra, the Jerusalem Symphony –IBA, the Ensemble Orchestral de Paris and others.
Iddo Bar-Shai is keen to enjoy all the varied possibilities offered by his instrument, and regularly performs chamber music with such ensembles as the Ysaÿe Quartet, the Aviv Quartet, the Ebène Quartet, the Modigliani Quartet and the American String Quartet.
He has been a participant of the Verbier Festival & Academy and in the "Steans Institute" program at the Ravinia Festival. In 2004 he gave his début recital in the prestigious International Piano Festival of La Roque d'Anthéron in France and since then he has been performing there every year. He has been also regularly performing in the "La Folle Journée" festival taking place in Nantes, Lisbon, Tokyo and Rio de Janeiro and the La Grange de Meslay festival (France). Other festivals he took part in are: Music series of the Music Festival de Sion and the Radio-France music festival in Montpellier to name a few.
This season included taking part in playing the integral of Chopin's piano works with 5 other pianists in all La Folle Journee festivals around the globe concluding in Warsaw (where it was recorded and filmed for Mezzo television channel).
Iddo Bar-Shai is a first prize winner of various competitions among which: the Israeli Radio Broadcasting "Young Artist " piano competition in 1997, the Tel - Aviv Chopin competition in 1998, the "Aviv Competitions": Israel's most acclaimed national competition for young musicians in 1999 and "The Peter Jay Sharp Competition – The Vendome Prize" in 2000.
His performances have been recorded and broadcast by French, Israeli, Swiss, German, Dutch, Irish and American radio channels and live performances of his were recorded and broadcast by "Mezzo" and "Arte" television channels. He has also taken part in the recording of a DVD "Les Pianos de Demain" (Naïve/Idéale Audience) with cooperation of Arte and France-3 television channels.
In 2006 was released a CD with his playing of Haydn piano works under the "Mirare" label which gained much praise in the press: receiving "5 diapasons" from the "Diapason" magazine, described as "one of the best ever, dedicated to the piano works of Haydn" by "Le Monde de La Musique" , as an "outstanding release – an obligatory purchase for all lovers of the Classical repertoire" by "International Piano" magazine and as a "superb recital that announces the arrival of a pianist of a grand talent who joins his predecessors, Curzon and De Larrocha in the Andante, Brendel and Gould for the sonatas" by "Classica Répertoire", and has been selected and awarded by various magazines and radio channels (notably being selected in the "Annual International Piano Awards 2006" of "International Piano" magazine as one of three best CDs in the category : "Rising star award for best debut recording"). In December 2008 came out his latest CD recording with "Mirare" of Chopin Mazurkas which has received worldwide unanimous praise receiving highest possible markings from prestigious magazines such as "Le Figaro" and German "Fonoforum" described as a "magnificent achievement which confirms a new great talent of present keyboard" (Classique-news online magazine) and as "A major and unique CD" ("Le Devoir").
Bir büyük orkestranın önünde solist olarak ilk kez yer aldığında yaşı henüz 12 idi. Dönemin orkestra şefleri ise Aldo Ceccato, Horia Andreescu ve Avner Biron gibi önemli isimler. Solo resitallere sıra geldiğinde Londra'da Wigmore Hall, Paris'te Salle Cortot, Pekin'de Zhongshan Concert Hall Iddo Bar-Shai'ye kapılarını açtı. A.B.D., Fransa, İspanya, Portekiz, İsviçre, İtalya, İngiltere, İrlanda, Polonya, İsrail, Bulgaristan, Brezilya ve Japonya'da solo resitaller ve büyük orkestralar ile konserler vermeye başladı.
Verbier Festivali, Ravinia Festivali, La Roque d'Anthéron Festivali, "Moments Musicaux de l'Hermitage – Barriére" festivali, "La Folle Journee" festivali, La Grange de Meslay festivali sürekli davet edildiği müzik buluşmaları arasında.
Sahne performansları Fransız, Israil, İsviçre, Alman, Hollanda, İrlanda ve Amerikan radyoları ve televizyon kanalları tarfından kaydedilip yayınlanıyor.
Kısa bir süre önce MIRARE tarfından yayınlan ve Haydn'ın piyano yapıtlarını seslendirdiği albümü ile Diapason, Le Monde de la Musique, International Piano gibi önemli yayınlardan etiket, ünvan, övgü ve methiyeler aldı. CD son derecede başarılı bulunarak bir çok müzk yayını tarafından klasik müzik koleksiyonlarının olmazsa olmazları arasında gösterildi. Iddo'nun Haydn Sonatları albümü böylelikle, yayınladığında yine önemli pozitif eleştirilere hedef olmuş bulunan Chopin Mazurkaları'nı yakalamış oldu.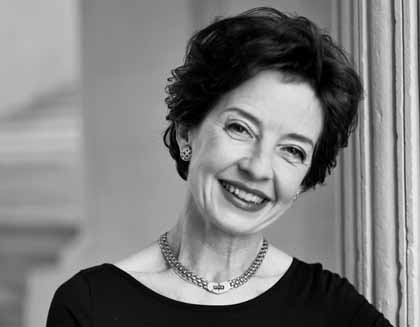 Anne Queffélec (born 17 January 1948) is a French pianist, born in Paris.
BiographyShe started playing piano at the age of five. In 1964, she enrolled in the Paris Conservatoire. She won the first prize for piano in 1965 and the first prize for chamber music in 1966. She continued her education with Paul Badura-Skoda and Jörg Demus. She won the first prize at the Munich competition in 1968. Since then she continued her career playing at the international centres.
She is not only famous as a solo concert pianist, but also well known for her chamber music playing in cooperation with the artists such as Catherine Collard, Pierre Amoyal, Fréderic Lodéon, and Imogen Cooper.
She is the daughter of Henri Queffélec and sister of Yann Queffélec, both noted writers.


Similar topics
---
Bu forumun müsaadesi var:
Bu forumdaki mesajlara cevap
veremezsiniz