1
sayfadaki
1
sayfası •
Paylaş
•

Jorge Bolet (November 15, 1914 – October 16, 1990) was a Cuban-born but mostly American-resident pianist and teacher.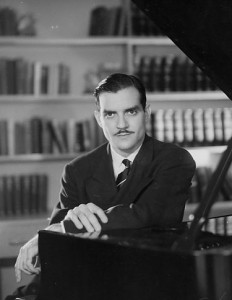 LifeBolet was born in Havana, and studied at the Curtis Institute of Music in Philadelphia, where he himself taught from 1939 to 1942. His teachers included Leopold Godowsky, Josef Hofmann, David Saperton, Moriz Rosenthal and Fritz Reiner.
In 1937, he won the Naumburg Competition, and gave his debut recital. In 1942 Bolet joined the US Army. He was sent to Japan as part of the Army of Occupation. While there, he conducted the Japanese premiere of The Mikado. He made his first recordings for Remington.
In 1960 Bolet provided the piano soundtrack for a film about Franz Liszt, Song Without End. His playing, though, was condemned by American critics for decades, as being too focused on romantic virtuosity, so his recordings in the 1960s were confined to fairly small and hard-to-find labels. Only in 1974 did he come to national prominence, with a stupendous recital in that year at Carnegie Hall, which sealed his reputation.
Later Bolet became Head of Piano at the Curtis Institute, succeeding Rudolf Serkin, but he resigned from this to concentrate once again on his performing career. A measure of Bolet's stature can be given by the fact that the dean of American music critics, Harold C. Schonberg, considered him "a kind of latter-day Josef Lhévinne".
In 1984, the A&E Network broadcast a series of three programs entitled Bolet Meets Rachmaninoff, in which the pianist was shown giving masterclasses on the subject of Rachmaninoff's Piano Concerto No. 3. These masterclasses were followed on the series by a complete performance of Bolet playing the concerto.
The Decca/London record company put him under contract in 1978, giving the 64-year-old Bolet his first systematic exposure to life at a major international label. Recordings of key sections of his repertoire were made from 1978 up to his death, but there are also tapes of many live concerts from this time, which were never commercially released but can be found in archives, principally the International Piano Archive at Maryland. Such performances include a specialty of his, Leopold Godowsky's "Concert Paraphrase on Themes from Johann Strauss's Die Fledermaus", which he studied with Godowsky during his student years.
Bolet's health began to decline in 1988, and in 1989 he underwent a brain operation from which he never fully recovered. It was reported in the media that he died from heart failure in October 1990, at his home in Mountain View, California. However, Gregor Benko states that Bolet in fact died of complications from AIDS.
[edit] RecordingsBolet is particularly well remembered for his performances and recordings of large-scale Romantic music, particularly works by Franz Liszt, César Franck, and Frédéric Chopin. He also specialised in piano transcriptions and unusual repertoire, including the fiendishly difficult works of Godowsky, many of which Bolet had studied with the composer himself. In an interview given to Elyse Mach (Great Contemporary Pianists Speak for Themselves, Dover Books on Music), Bolet extensively mentioned an obscure piece by Joseph Marx which was, according to Bolet's own words, his favorite among virtuoso concertos because of the enormous show of strength required from the soloist.
Bach, J.S., PIANO VIRTUOSOS—CZIFFRA, MOISEIWITSCH, & BOLET, Georges Cziffra, Benno Moiseiwitsch, & Jorge Bolet, Philharmonia Orchestra, Charles Groves, Medici Arts 1333 DVD
Chopin, Frederic, 24 Preludes Op. 28; Ballade No. 2 in F major Op. 28; Ballade No. 4 in F minor Op. 52; Fantasie in F minor Op. 49, Jorge Bolet, Eloquence 458 172-2 CD
Chopin, Frederic, Jorge Bolet In Concert Vol 1 - Chopin Andante Spianato e Grande Polonaise Op. 22; Barcarolle Op. 60; Impromptus 1, 2, & 4; Four Scherzos; Polonaises Op. 26; Nocturnes Op. 9 No. 3, Op. 15 No. 2, Op. 27 No. 2, & Op. 55 No. 1; Sonata No. 3 in B minor Op. 58; Chant Polonaise Op. 74 No. 12 "My Joys" (arr. Liszt); Waltz No. 14 in E minor Op. Posth., Jorge Bolet, Marston 52035-2 CD
Debussy, Claude, Preludes Books 1 & 2 (selections), Jorge Bolet, Decca 425 518 2 CD
Grieg, Edvard, Piano Concerto in A minor Op. 16; Piano Concerto in A minor Op. 54, Jorge Bolet, Berlin Radio Symphony Orchestra, Riccardo Chailly, Decca 417 112 2 CD
Liszt, Franz, Études D'Exécution Transcendante, Jorge Bolet, Ensayo 9711 CD
Liszt, Franz, GREAT PIANISTS OF THE 20TH CENTURY VOLUME 11: JORGE BOLET II, Mephisto Waltz No. 1; Venezia e Napoli; Funérailles; Liebestraum No. 3; La Leggierezza; La Campanella; Sonetto 104 del Petrarca; Harmonies du soir; Gnomenreignen; Au bord d'une source; Consolation No. 3; Hungarian Rhapsody No. 12; Ricordanza; Réminiscences de Norma, Jorge Bolet, Philips 456 814-2 CD
Liszt, Franz, Piano Concerto No. 3 in D minor Op. 30; Die Forelle (Schubert); Des mädchens Wunsch (Chopin); Widmung (Schumann); Réminiscences de Lucia di Lammermoor (Donizetti); Spinnelied aus Der fliegende Holländer (Wagner); Rigoletto Paraphrase (Verdi), Jorge Bolet, Indiana University Symphony Orchestra, Charles Webb, Palexa 0503 CD
Liszt, Franz, Piano Works, Jorge Bolet, London Symphony Orchestra, London Philharmonic Orchestra, Iván Fischer, Georg Solti, Decca 467 801-2 CD
Liszt, Franz, Various works, Jorge Bolet RCA 63748-2 CD
Schumann, Robert, Piano Concerto in A minor Op. 16; Piano Concerto in A minor Op. 54, Jorge Bolet, Berlin Radio Symphony Orchestra, Riccardo Chailly, Decca 417 112 2 CD
Liszt, Franz, Bolet Rediscovered: Liszt Recital, Jorge Bolet, RCA 63748, 04/03/2001
J Brahms; R Schumann: Klaus Tennstedt Jorge Bolet, London Philharmonic Orchestra; Klaus Tennstedt, BBC Legends, BBCL42512
InstrumentsT
hroughout his career, Bolet bucked the system by endorsing and performing on Baldwin and C. Bechstein pianos worldwide. When other pianists aligned with the Steinway piano, he chose a different approach and a unique broadly varied tone through non-standard instruments. It is common knowledge that Bolet's best Decca/London recordings were made using the Baldwin SD-10 concert grand. Some of the most celebrated, near the end of his career, were made with Charles Dutoit and the Montreal Symphony Orchestra. Most pianophiles agree that the most perfect piano sound and tone (through masterful piano technical preparation) was the last Decca/London solo piano recording of Claude Debussy.
Admin




Mesaj Sayısı

: 2411


Kayıt tarihi

: 01/04/08




---
Bu forumun müsaadesi var:
Bu forumdaki mesajlara cevap
veremezsiniz