1
sayfadaki
1
sayfası •
Paylaş
•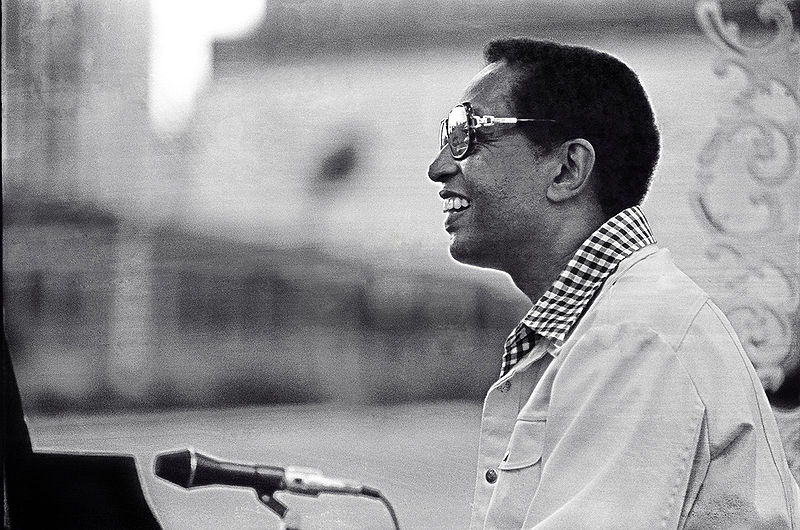 http://www.billytaylorjazz.net/
Billy Taylor (July 24, 1921 – December 28, 2010) was an American jazz pianist, composer, and educator. He was the Robert L. Jones Distinguished Professor of Music at East Carolina University in Greenville. Since 1994, Taylor was the artistic director for jazz at the John F. Kennedy Center for the Performing Arts in Washington, D.C.
Dr. Taylor sat on the Honorary Founders Board of The Jazz Foundation of America. In 1989 Billy Taylor, Ann Ruckert, Herb Storfer and Phoebe Jacobs started The Jazz Foundation to save the homes and the lives of America's elderly jazz and blues musicians including musicians that survived Hurricane Katrina.
Biography
Taylor was born in Greenville, but moved to Washington, D.C. when he was 5. He graduated from Virginia State College with a B.S. in Music in 1942, and later earned a Masters and Ph.D. in Music Education from the University of Massachusetts-Amherst. Taylor also served as a Duke Ellington Fellow at Yale University and was bestowed with seventeen honorary degrees during his lifetime. Taylor played piano professionally from 1944, starting with Ben Webster's Quartet on New York's 52nd Street. He later became the house pianist at Birdland, where he performed with the likes of Charlie Parker, Dizzy Gillespie and Miles Davis. He was a protege of jazz pianist Art Tatum. In 1958, he was the Musical Director of NBC's The Subject is Jazz, the first ever television series where the topic was jazz.
Taylor worked as a DJ on radio station WNEW in New York in the 60's. In 1961, Dr. Taylor founded New York's Jazzmobile, which provides arts education program of the highest quality via workshops, master classes, lecture demonstrations, arts enrichment programs, outdoor summer mobile concerts, special indoor concerts and special projects. During the 1960s, the Billy Taylor Trio was a regular feature of the Hickory House on West 55th street in Manhattan From 1969 to 1972, Dr. Taylor led the band on The David Frost Show; he was the first African American to lead a talk show band. In 1981, Jazzmobile produced a Jazz special for the National Public Radio, and for which the program received the Peabody Award for Excellence in Broadcasting Programs. Jazzmobile's 1990 Tribute Concert to Dr. Taylor at Avery Fisher Hall, part of the JVC Jazz Festival, featured Nancy Wilson, Ahmad Jamal Trio and Terence Blanchard Quintet.
Among his most notable works is "I Wish I Knew How It Would Feel to Be Free", composed in 1954, and subsequently achieving more popularity with Civil Rights Movement of the 1950s and 1960s. Nina Simone covered the song in her 1967 album Silk and Soul. It is widely known in the UK as a piano instrumental version, used for BBC1's Film programme, hosted by Barry Norman and subsequently Jonathan Ross. Solomon Burke, Derek Trucks, The Lighthouse Family, Levon Helm and Jools Holland & His Rhythm & Blues Orchestra have also recorded versions.
In 1989, Taylor started his own "Taylor Made" record label to document his own music, releasing four albums, You Tempt Me (1996) is a strong outing by his 1985 trio (with Victor Gaskin and drummer Curtis Boyd) that includes a rendition of Duke Ellington's "Take the 'A' Train". White Nights (1991) has Taylor, Gaskin, and drummer Bobby Thomas performing live from Leningrad in the Soviet Union, than came Solo (1992), and Jazzmobile Allstars (1992).
Taylor remained active with his educational activities and continued to tour and work into his eighties. He continued to work for over 50 years. He visited the White House several times and he received awards from a President and a New York Governor. Taylor received an Emmy award for his work for television which includes carrying out over 250 interviews on behalf of CBS News Sunday Morning.
Taylor died on December 28, 2010 at the age of 89.
Awards and honorsWith over twenty three honorary doctoral degrees, Taylor is also the recipient of two Peabody Awards, NEA Jazz Masters Award (1998) an Emmy Award (1983) for "Outstanding Informational, Cultural or Historical Programming", a Grammy Award (2004)[7] and a host of prestigious and highly coveted prizes, such as the National Medal of Arts (1992), the Tiffany Award, and the Lifetime Achievement Award from Down Beat Magazine. He was also honored in 2001 with the American Society of Composers, Authors and Publishers (ASCAP) Jazz Living Legend Award,[8] and election to the Hall of Fame for the International Association for Jazz Education.
Discography This section requires expansion.
As leader
Billy Taylor at Usdan1945: Billy Taylor Piano (Savoy)
1954: Cross-Section
1956: Cross Section (Prestige)
1957: My Fair Lady Loves (GRP)
1959: Warming Up (Riverside)
1959: Billy Uptown (Riverside)
1959: Billy Taylor with Four Flutes (Riverside, with Herbie Mann, Jerome Richardson, Frank Wess)
1962: Impromptu Mercury
1977: Live at Storyville West 54
1985: You Tempt Me (Taylor-Made)
1988: White Nights And Jazz In Leningrad (Taylor-Made)
1988: Solo (Taylor-Made)
1989: Billy Taylor And The Jazzmobile All Stars (Taylor-Made)
1991: White Nights and Jazz in Leningrad (Taylor-Made)
1992: Dr. T (GRP) with Gerry Mulligan
1992: Solo (Taylor-Made)
1993: Live at MCG
1993: Dr. T (GRP)
1997: The Music Keeps Us Young (Arkadia Jazz, with Chip Jackson, Steve Johns)
1998: Ten Fingers - One Voice Arkadia Jazz
1999: Taylor Made at the Kennedy Center with Dee Dee Bridgewater Kennedy Center Jazz
Admin




Mesaj Sayısı

: 2411


Kayıt tarihi

: 01/04/08



Amerikalı caz piyanisti ve besteci Billy Taylor, ABD'nin New York kentinde 89 yaşında hayata veda etti.

New York Times'ın haberine göre, 1943 yılında New York'a gelen ve "Dr. Taylor" olarak da anılan ünlü piyanist, hayatı boyunca, aralarında "I wish I knew how it would feel to be free" nin de bulunduğu 300 parça besteledi. "I wish I knew how it would feel to be free" parçası, 1960 yıllarda sivil haklar için gösteri yapanların marşı haline gelmişti.

New York'un Long Island üniversitesinde ve Manhattan müzik okulunda da caz dersleri veren Billy Taylor, 1965 yılında New York'un fakir mahallelerinde açık hava caz konserleri veren seyyar "Jazzmobile" müzisyenler topluluğunu da oluşturmuştu.
wish I knew how it would feel to be free
I wish I could break all the chains holding me
I wish I could say all the things that I should say
Say 'em loud say 'em clear
For the whole wide world to hear

I wish I could share
All the love that's in my heart
Remove all the bars that keep us apart
And I wish you could know how it is to be me
Then you'd see and agree that every man should be free

I wish I could be like a bird in the sky
How sweet it would be if I found I could fly
Well I'd soar to the sun and look down at the sea
And I'd sing cos I know how it feels to be free

I wish I knew how it would feel to be free
I wish I could break all the chains holding me
And I wish I could say all the things that I wanna say
Say 'em loud say 'em clear
For the whole wide world to hear
Say 'em loud say 'em clear
For the whole wide world to hear
Say 'em loud say 'em clear
For the whole wide world to hear

One love one blood
One life you've got to do what you should
One life with each other
Sisters, brothers

One love but we're not the same
We got to carry each other Carry each other
One One One One One...

I knew how it would feel to be free
I knew how it would feel to be free



Admin




Mesaj Sayısı

: 2411


Kayıt tarihi

: 01/04/08




---
Bu forumun müsaadesi var:
Bu forumdaki mesajlara cevap
veremezsiniz