1
sayfadaki
1
sayfası •
Paylaş
•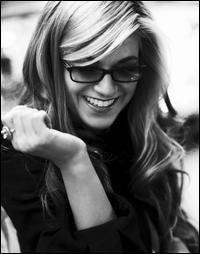 Gardot in Paris, France (2008)
Background information
Born February 2, 1985 (1985-02-02) (age 25), New Jersey
Origin Philadelphia, Pennsylvania, United States
Genres Jazz, acoustic, blues
Occupations Singer-songwriter, musician
Instruments Vocals, piano, guitar
Years active 2005-present
Labels UCJ/Verve (2009–present)
Website
www.melodygardot.com
Melody Gardot ('mɛlədiː gaɹ'doʊ), born February 2, 1985 in New Jersey, is a Grammy-nominated American singer, writer and musician in Philadelphia, Pennsylvania, though she considers herself a "citizen of the world" [1]. She has been influenced by such blues and jazz artists as Judy Garland, Janis Joplin, Miles Davis, Duke Ellington, Stan Getz and George Gershwin as well as Latin music artists such as Caetano Veloso.[2]
Gardot follows the teachings of Buddhism[3][4], is a macrobiotic cook[5] and humanitarian who often speaks about the benefits of music therapy. She has visited various universities and hospitals to speak about its ability to help reconnect neural pathways in the brain, improve speech ability, and lift general spirits. In a recent interview she was rumored to be working closely in a university in the United States to help develop a program for music therapy and the management of pain, something she has spoken about establishing in the future on her own.
Early life & education
Brought up largely by her grandparents, her grandmother was a Polish immigrant, her mother, a photographer, who worked and traveled frequently, they moved around often and as a consequence had very few possessions, often living out of suitcases.
Gardot studied fashion at the Community College of Philadelphia.
Accident & therapy
While cycling in Philadelphia in November 2003[8] she was hit by a Jeep Cherokee whose driver had ignored a red traffic light. In the accident she suffered serious head and spinal injuries and her pelvis was broken in two places. Because of these severe injuries she was confined to her hospital bed for a year and had to remain lying on her back. As a further consequence of her injuries she had to re-learn simple tasks such as brushing her teeth and walking. The most noticeable effect of the neural injuries she suffered is that she was left hyper-sensitive to both light and sound, therefore requiring her to wear dark sunglasses at nearly all times to shield her eyes. The accident also resulted in both long and short term memory problems and difficulty with her sense of time. Gardot has described coping with this as like "climbing Mount Everest every day" as she often wakes with no memory of what she has to do that day.
After her accident Gardot began writing music and since then often speaks and advocates in favour of using music for therapy. The accident had damaged the neural pathways between the brain's two cortexes which control perception and higher mental function, and made Gardot (in her own words) "a bit of a vegetable." As well as making it very hard for her to speak or communicate properly, she found it difficult to recall the right words to express her feelings.
Music involving listening and making a verbal attempt to sing or hum is thought[who?] to help the brain form new pathways.[citation needed] At first, Gardot learned to hum and was eventually able to sing into a tape recorder. She made good progress and was eventually able to write original songs that sometimes referred to her rehabilitation.
For several years after the accident Gardot traveled with a physiotherapist and carried a TENS machine strapped to her waist which released pain reducing impulses.
She was introduced to macrobiotics by a friend who lent her a book on its benefits and she began to experiment and cook for several hours a day. As well as reducing her pain levels, she feels that macrobiotics helped her mental ability to cope with pain, helping her relax as the routine of cooking helped take her mind off her physical condition, and she found she was able to sleep more easily.
Music career
Gardot started music lessons at the age of nine and began playing piano in Philadelphia bars at the age of sixteen on Fridays and Saturdays for four hours a night. She insisted on only playing music she liked, ranging from standards from The Mamas & the Papas to Duke Ellington and modern groups such as Radiohead.
During her time in hospital she learned how to play the guitar and began writing songs, which were made available as downloads in iTunes and released in Some Lessons: The Bedroom Sessions in 2005. She began to play these songs at venues in Philadelphia and was spotted by the radio station WXPN, operated by the University of Pennsylvania in Philadelphia, which helped to launch Norah Jones. As well as playing her songs, WXPN encouraged her to assemble a demo, which was quickly picked up by Universal Records.
Released in 2006 and then re-released by Verve Records in 2008, her first full-length album was entitled Worrisome Heart. After meeting her in New York City in 2008, producer Larry Klein began working with Gardot and they released her second album, My One and Only Thrill, on April 28, 2009. From this album, the song "Who Will Comfort Me?" became a top 10 hit at Smooth Jazz radio. Also in 2009, Gardot released a live EP, Live from SoHo. Gardot is a recipient of the 2007 VSA International Young Soloists Award.
Discography
ALBUMS
Some Lessons: The Bedroom Sessions (2005)
Worrisome Heart (2008)
80 on Billboard 200
2 on Jazz Albums
4 on Top Heatseekers
14 on European Jazz Albums
Live from SoHo (2009)
2 on Jazz Albums
My One and Only Thrill (2009)
42 on Billboard 200,
2 on Jazz Albums,
7 on Digital Albums
SINGLES
Worrisome Heart (2008)
Goodnite (2008)
Quiet Fire (2008)
Who Will Comfort Me (2009)
6 on Jazz Songs
Baby I'm a Fool (2009)
28 on Jazz Songs
Admin




Mesaj Sayısı

: 2411


Kayıt tarihi

: 01/04/08




---
Bu forumun müsaadesi var:
Bu forumdaki mesajlara cevap
veremezsiniz