1
sayfadaki
1
sayfası •
Paylaş
•

JULIAN BREAM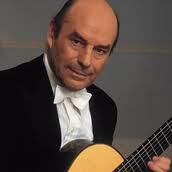 Born 1933, London
Genres Classical music
Instruments Classical Guitar, Lute, baroque guitar
Labels RCA, EMI, BMG
Julian Bream C.B.E. (born 15 July 1933) is an English classical guitarist and lutenist and is one of the most distinguished classical guitarists of the 20th century. He has also been successful in renewing popular interest in the Renaissance lute.
Bream was born in London and brought up in a musical environment. His father played jazz guitar and the young Bream was impressed by hearing the playing of Django Reinhardt.
Bream began his life-long association with the guitar by strumming along on a small gut-string Spanish guitar at a very young age to dance music on the radio. The president of the Philharmonic Society of Guitars, Dr Boris Perott, gave Bream lessons, while Bream's father became the society librarian, giving Bream access to a large collection of rare music.
On his 11th birthday, Bream was given a guitar by his father. He became something of a child prodigy, at 12 winning a junior exhibition award for his piano playing, enabling him to study piano and cello at the Royal College of Music. He made his debut guitar recital at Cheltenham in 1947, aged 13.
He left the Royal College of Music in 1952 and was called up into the army for national service. He was originally drafted into the Pay Corps, but managed to sign up for the Royal Artillery Band after six months. This required him to be stationed in Woolwich, which allowed him to moonlight regularly with the guitar in London.
After three and a half years in the army, he took any musical jobs that came his way, including background music for radio plays and films. Commercial film, recording session and work for the BBC were important to Bream throughout the 50s and the early 60s.
In the years after national service, Bream pursued a busy career playing around the world, including annual tours in the U.S. and Europe for several years. He played part of a recital at the Wigmore Hall on the lute in 1952 and since has done much to bring music written for the instrument to light.
1960 saw the formation of the Julian Bream Consort, a period-instrument ensemble with Bream as lutenist. The consort led a great revival of interest in the music of the Elizabethan era.
His first European tours took place in 1954 and 1955, and were followed by extensive touring in North America (beginning in 1958), the Far East, India, Australia, the Pacific Islands and other parts of the world. Bream performed for the Peabody Mason Concert series in Boston, first solo in 1959, and later with the US debut of the Julian Bream Consort.
In addition to master-classes given in Canada and the USA, Bream has also conducted an international summer school in Wiltshire, England.
Admin




Mesaj Sayısı

: 2411


Kayıt tarihi

: 01/04/08




---
Bu forumun müsaadesi var:
Bu forumdaki mesajlara cevap
veremezsiniz