1
sayfadaki
1
sayfası •
Paylaş
•

JIM CROCE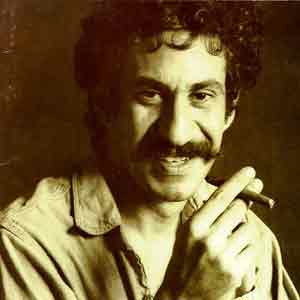 Birth name James Joseph Croce
Born January 10, 1943(1943-01-10), South Philadelphia, Pennsylvania, USA
Died September 20, 1973(1973-09-20) (aged 30), Natchitoches, Louisiana, USA
Genres Folk
Folk rock
Pop
Occupations Singer-songwriter
Instruments Guitar, Vocals
Years active 1960–1973
Labels Capitol/EMI Records
ABC Records
Saja/Atlantic Records
James Joseph "Jim" Croce (pronounced /ˈkroʊtʃi/; January 10, 1943 – September 20, 1973) was an American singer-songwriter. Between 1960 and 1973, Croce released six studio albums and eleven singles. His singles "Bad, Bad Leroy Brown" and "Time in a Bottle" were both number one hits on the Billboard Hot 100 charts. Croce died in a plane crash at the age of 30.
Biography
Early life
James Joseph Croce, better known as Jim Croce, born in South Philadelphia, Pennsylvania, on January 10, 1943, to Jim and Flora Croce. Jim took a strong interest to music at a very young age. At five, he learned to play his first song on the accordion, "Lady of Spain." He says, "I was the original underachiever. I'd shake that thing and smile, but I was sort of a late bloomer." Croce attended Upper Darby High School in Drexel Hill, Pennsylvania. After his graduation in 1960, Croce went to work for a construction company, staying employed there for three years before deciding to enroll at Villanova University in 1964. During his time as a student at the university, Croce became a member of the Villanova Singers and Villanova Spires, and was a student disc jockey at WXVU.
Croce didn't really take music too seriously other than a hobby until his time at Villanova, where he formed various bands, performing at fraternity parties, coffee houses, and at universities around Philadelphia, playing "anything that the people wanted to hear: blues, rock, a cappella, railroad music... anything." One of those bands was chosen for a foreign exchange tour of Africa and the Middle East. "We had a good time," Croce later recalled. "We just ate what the people ate, lived in the woods, and played our songs. Of course they didn't speak English over there... but if you mean what you're singing, people understand."
Croce met his future wife Ingrid Jacobson at this time, during a hootenanny at Philadelphia Convention Hall, where he was judging a contest. When they married, he converted to Judaism.
Early Career
From the mid-1960s to early 1970s, Croce performed with his wife as a duo. At first, their performances included songs by artists such as Ian and Sylvia, Gordon Lightfoot, Joan Baez, and Woody Guthrie, but in time, they began writing their own music. During this time, Croce got his first long-term gig at a rural bar and steak house in Lima, Pennsylvania, called The Riddle Paddock. His set list included every genre from blues to country to rock 'n roll to folk, with soon-to-be-trademark tender love songs and traditional bawdy ballads, always introduced with a story and an impish grin.
In 1968, Jim and Ingrid Croce were encouraged by record producer Tommy West to move to New York City and record their first album with Capitol Records. During the next two years, they drove more than 300,000 miles playing small clubs and concerts on the college concert circuit promoting their album Jim & Ingrid Croce.
Becoming disillusioned by the music business specifically and New York City in general, they sold all but one guitar to pay the rent and they returned to the Pennsylvania countryside where Jim got a job driving trucks and doing construction to pay the bills while continuing to write songs, often about the characters he enjoyed meeting at the local bars and truck stops.
The couple returned to Philadelphia and Jim decided to be "serious" about becoming a productive member of society. But it was hard to make a living playing in a band, and his previous employment experiences had lost their appeal: "I'd worked construction crews, and I'd been a welder while I was in college. But I'd rather do other things than get burned." His determination to be "serious" led to a job at a Philadelphia R&B radio station, where he translated commercials into soul. "I'd sell airtime to Bronco's Poolroom and then write the spot: "You wanna be cool, and you wanna shoot pool... dig it." Increasingly frustrated, he quit to teach guitar at a summer camp and even enlisted in the U.S. Army. He did not have a very illustrious military career, but said he would be prepared if "there's ever a war where we have to defend ourselves with mops".
Success
In 1970, Croce met the classically trained pianist/guitarist and singer-songwriter Maury Muehleisen from Trenton, New Jersey through producer Joe Salviuolo (aka Sal Joseph). Salviuolo had been friends with Croce when they attended Villanova University together, and Salviuolo later discovered Muehleisen when he was teaching at Glassboro State College in New Jersey. Salviuolo brought the Croce and Muehleisen duo together at the production office of Tommy West and Terry Cashman in New York City. Initially, Croce backed Muehleisen on guitar at his gigs. but in time, their roles reversed, with Muehleisen adding lead guitar to Croce's down-to-earth music.
In 1972, Croce signed to a three-record deal with ABC Records and released two LPs, You Don't Mess Around with Jim and Life & Times that same year. The singles "You Don't Mess Around with Jim", "Operator (That's Not The Way It Feels)", and "Time in a Bottle" (written for his then-unborn son, A. J. Croce) all received airplay. Croce's biggest single, "Bad, Bad Leroy Brown", hit #1 on the American charts in July 1973.
Death
Croce, 30, and Maury Muehleisen, 24, died in a small commercial plane crash on September 20, 1973, shortly before his ABC single, "I Got a Name", was to be released.
Croce had just completed a concert at Northwestern State University's Prather Coliseum in Natchitoches, Louisiana, and was flying to Sherman, Texas, for a concert at Austin College. The pilot and all passengers (Croce; Muehleisen; Croce's booking agent Kenneth D. Cortose; George Stevens, the comic who was the show's warm-up act; and Dennis Rast, another passenger) were killed instantly at 10:45 p.m. EDT on September 20, 1973, less than an hour after the end of the concert.
Upon takeoff from Natchitoches Regional Airport, despite excellent visibility, the Beechcraft E18 plane did not gain enough altitude to clear a pecan tree at the end of the runway, which investigators said was the only tree for hundreds of yards. The official report from the NTSB hints that the charter pilot, Robert Newton Elliott, who had severe coronary artery disease and had run a portion of the three miles to the airport from a motel, may have suffered a heart attack. A later investigation, source unknown, placed sole blame for the accident on pilot error.
Croce is buried in Haym Solomon Memorial Park, East Whiteland Township, Chester County, Pennsylvania. Muehleisen is buried at Saint Mary's Cemetery in Trenton.
Legacy
The album I Got a Name was released on December 1, 1973. Croce had just finished recording the album barely over a week before his death. The posthumous release included three hits: "Workin' at the Car Wash Blues", "I'll Have to Say I Love You in a Song", and the title song, which had been used as the theme to the film The Last American Hero which was released two months prior his death. The album reached #2 in the U.S. Pop Albums chart, and "I'll Have to Say I Love You in a Song" reached #9 in the U.S. singles chart.
The song "Time in a Bottle" had been featured over the closing credits of the ABC made-for-television movie She Lives!, which aired on September 12, 1973, merely eight days before Croce's death. That appearance had generated significant interest in Croce and his music in the week just prior to the plane crash. That, combined with the news of the death of the singer, sparked a renewed interest in Croce's previous albums as well. Consequently, three months later, "Time in a Bottle", originally released on Croce's first album the year before, hit number-one on December 29, 1973, the third posthumous chart-topping song of the rock era following Otis Redding's "(Sittin' On) The Dock of the Bay" and Janis Joplin's recording of "Me and Bobby McGee".
A greatest hits package entitled Photographs & Memories, released in 1974, proved to be extraordinarily popular. Later posthumous releases have included Jim Croce Home Recordings, Facets, Jim Croce: Classic Hits, Down the Highway, and DVD and CD releases of Croce's television performances, Have You Heard – Jim Croce Live.
Croce's catalog became a staple of radio play for years, and still receives significant airplay on a variety of radio formats in to the second decade of the 21st century. In 1990, Croce was inducted into the Songwriters Hall of Fame.
Jim and Ingrid Croce's son Adrian James Croce was born September 28, 1971, and is now an accomplished singer-songwriter, musician, and pianist in his own right, performing under the name A.J. Croce. He has released seven CDs of original music, beginning with a self-titled CD in 1993, and one best-of CD (Early On - The American Recordings 1993-1998). A.J. Croce is also the owner/operator of his own record label, Seedling Records.
Croce's widow owns and manages Croce's Restaurant & Jazz Bar, a project she and Jim had jokingly discussed a decade earlier, located in the historic Gaslamp Quarter in downtown San Diego, California. She opened the business in 1985.

---
Bu forumun müsaadesi var:
Bu forumdaki mesajlara cevap
veremezsiniz