1
sayfadaki
1
sayfası •
Paylaş
•

JOHNNY HARTMAN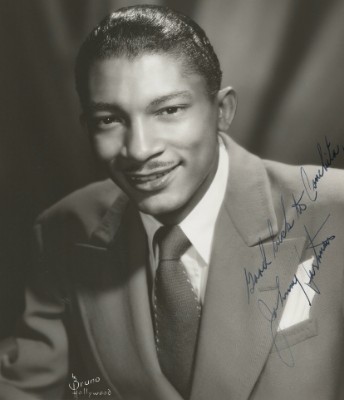 Background information
Birth name John Maurice Hartman
Born July 3, 1923(1923-07-03)
Origin Chicago, Illinois
United States
Died September 15, 1983(1983-09-15) (aged 60)
Genres Jazz,
Occupations Singer
Instruments Vocals, piano
Years active 1956–1983
Labels Bethlehem Records, Impulse Records, ABC Records, Perception Records, Blue Note Records, Savoy Records
Associated acts John Coltrane, Dizzy Gillespie Big Band, Earl Hines
John Maurice Hartman (July 13 1923 – September 15 1983) was an American baritone jazz singer who specialized in ballads and earned critical acclaim, though he was never widely known. He recorded a well-known collaboration with the saxophonist John Coltrane in 1963 called John Coltrane and Johnny Hartman, and was briefly a member of Dizzy Gillespie's group. Most of his career was spent recording solo albums.
Biography
Born and raised in Chicago, Hartman began singing and playing the piano by age eight. Hartman attended DuSable High School studying music under Walter Dyett before receiving a scholarship to Chicago Musical College. He sang as an Army private during World War II, but his first professional work came in September 1946 when he won a singing contest awarding him a one-week engagement with Earl Hines. Seeing potential in the singer, Hines hired him for the next year. Although Hartman's first recordings were with Marl Young in February 1947, it was the collaboration with Hines that provided notable exposure. After the Hines orchestra broke up, Dizzy Gillespie invited Hartman to join his big band in 1948 during an eight-week tour in California. Dropped from the band about one year later, Hartman worked for a short time with pianist Erroll Garner before going solo by early 1950.
After recording several singles with different orchestras, Hartman finally released his first solo album, Songs From the Heart, with a quintet for Bethlehem Records in 1955. Releasing two more albums with small labels, neither very successful, Hartman got a career-altering offer in 1963 to record with John Coltrane. The saxophonist likely remembered Hartman from a bill they shared at the Apollo Theater in 1950 and later said, "I just felt something about him, I don't know what it was. I like his sound, I thought there was something there I had to hear so I looked him up and did that album."[1] Featuring all ballads, John Coltrane and Johnny Hartman is widely considered a classic. This led to recording four more albums with Impulse! and parent label ABC, all produced by Bob Thiele.
With the 1970s being difficult for singers clinging to the pre-rock American songbook, Hartman turned to playing cocktail lounges in New York City and Chicago. Recording again with small labels like Perception and Musicor, Hartman produced music of mixed quality as he attempted to be viewed as a more versatile vocalist. Referring to his approach to interpreting a song, Hartman said, "Well, to me a lyric is a story, almost like talking, telling somebody a story, try to make it believable."[2] Returning to the jazz combo format of his earlier albums, Hartman recorded Once in Every Life for Bee Hive, earning him a 1981 Grammy nomination for Best Male Jazz Vocalist. This was quickly followed up by his last album of newly recorded material titled This One's for Tedi as a tribute to his wife.
In the early 1980s Hartman gave several performances for jazz festivals, television, and radio before succumbing to lung cancer at age sixty. His reputation grew considerably in 1995 when the soundtrack to Clint Eastwood's Bridges of Madison County (1995) featured seven songs from the then out-of-print Bee Hive album. With the renewed public interest in his deep-voiced, romantically charged ballads, all the music from Hartman's solo albums and most of his earlier singles have since been reissued. Considering the nearly unanimous critical praise Hartman received during his life, it is unfortunate greater popularity always seemed to escape him.
Selected Discography
Songs from the Heart (Bethlehem, 1955)
Johnny Hartman Sings (Savoy Jazz, 1956)
All of Me (Bethlehem, 1956)
And I Thought About You (Roost, 1959)
John Coltrane and Johnny Hartman (Impulse!, 1963)
I Just Dropped By to Say Hello (Impulse!, 1963)
The Voice That Is! (Impulse!, 1965)
Unforgettable Songs (ABC-Paramount, 1966)
I Love Everybody (ABC-Paramount, 1967)
Today (Perception, 1973)
I've Been There (Perception, 1975)
Johnny Hartman (Musicor, 1976)
Once In Every Life (Bee Hive, 1980)
This One's for Tedi (Audiophile, 1985)
For Trane (Blue Note, 1995)
Johnny Hartman Collection 1947-1972 (Hip-O, 1998)
Thanks for Everything (Audiophile, 1998)
Complete Regent Recordings (Jazz Factory, 2001)
You Came A Long Way From St. Louis (Definitive, 2003)
A Proper Introductio to Johnny Hartman: There Goes My Heart (Proper, 2004)
Tokyo Albums (Gambit, 2005)
Boston Concert 1976 (Gambit, 2007)
Dancetracks: "Beyond the Sea" & "Caravan" recorded in 1979 (Grenadilla Music, 2010)
billy strayhorn)


I used to visit all the very gay places
Those come what may places
Where one relaxes on the axis of the wheel of life
To get the feel of life...
From jazz and cocktails.


The girls I knew had sad and sullen gray faces
With distant gay traces
That used to be there you could see where they'd been washed away
By too many through the day...
Twelve o'clock tales.


Then you came along with your siren of song
To tempt me to madness!
I thought for a while that your poignant smile was tinged with the sadness
Of a great love for me.


Ah yes! I was wrong...
Again,
I was wrong.


Life is lonely again,
And only last year everything seemed so sure.
Now life is awful again,
A troughful of hearts could only be a bore.
A week in paris will ease the bite of it,
All I care is to smile in spite of it.


I'll forget you, I will
While yet you are still burning inside my brain.
Romance is mush,
Stifling those who strive.
I'll live a lush life in some small dive...
And there I'll be, while I rot
With the rest of those whose lives are lonely, too..








Autumn Serenade
Harry James
Music and Lyrics by Peter De Rose and Sammy Gallop

This was an instrumental originally by Harry James and his orchestra,the
lyrics being added later. Singer Johnny Hartman revisited the tune with
the legendary sax man John Coltrane.


Thru the trees comes autumn with her serenade.
Melodies the sweetest music ever played.
Autumn kisses we knew are beautiful souvenirs.
As I pause to recall the leaves seem to fall like tears.
Silver stars were clining to an autumn sky.
Love was ours until October wandered by.
Let the years come and go,
I'll still feel the glow that time can not fade
When I hear that lovely autumn serenade.







---
Bu forumun müsaadesi var:
Bu forumdaki mesajlara cevap
veremezsiniz