1
sayfadaki
1
sayfası •
Paylaş
•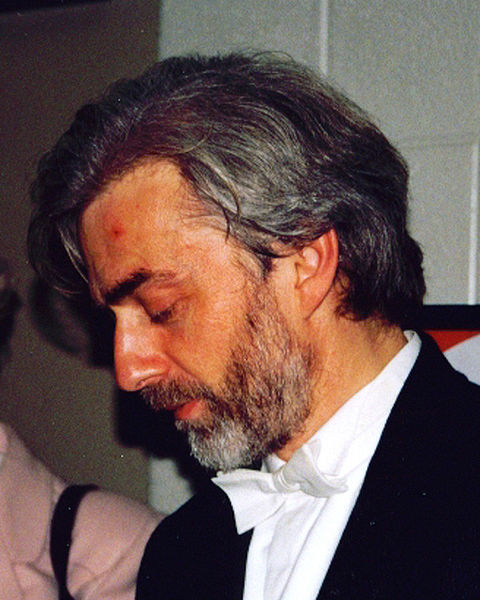 Krystian Zimerman (born December 5, 1956) is a Polish classical pianist who is widely regarded as one of the finest pianists alive.
Biography
Zimerman was born in Zabrze, Poland, and studied at the Katowice Conservatory under Andrzej Jasiński. His career was launched when he won the 1975 Warsaw International Frederick Chopin Piano Competition.
He performed with the Berlin Philharmonic conducted by Herbert von Karajan in 1976 and he made his début in the United States with the New York Philharmonic in 1979. He has toured widely and made a number of recordings. Since 1996 he has taught piano at the Academy of Music in Basel, Switzerland.
Zimerman is also famous for his enigmatic charisma. For example he states that he has three variants of fingering for each piece and changes it depending on the acoustic of the concert hall. He also says he plays 1% of what he learns at home and he never listens to his labelled music although he records every concert and listens especially to the concerts that he thinks he has played badly in.
Zimerman is best known for his interpretations of Romantic music, but has performed a wide variety of classical pieces as well. He has also been a supporter of contemporary music. For example, Witold Lutosławski wrote his piano concerto for Zimerman, who later recorded it. Amongst his best-known recordings are the piano concerti of Edvard Grieg and Robert Schumann with conductor Herbert von Karajan; the Brahms concerti with Leonard Bernstein, the piano concerti of Frédéric Chopin once conducted by Carlo Maria Giulini and a later recording conducted by himself at the keyboard; the Third, Fourth and Fifth Piano Concertos of Beethoven under Bernstein (Zimerman himself led the accompaniment of the Vienna Philharmonic from the keyboard in Beethoven's First and Second Concertos); the first and second piano concerti of Rachmaninoff; the piano concerti of Franz Liszt with Seiji Ozawa, the piano concerti of Maurice Ravel with Pierre Boulez, and solo piano works by Frédéric Chopin, Franz Liszt, Claude Debussy and Franz Schubert. Recently, Zimerman recorded Brahms' Piano Concerto No. 1 with Berlin Philharmonic conducted by Simon Rattle (DG 477 5413; Limited Edition DG 477 6021).
Criticism of US Policy
Shortly after September 11, 2001, Zimerman's custom-made piano was confiscated at JFK Airport when he landed in New York City to give a recital at Carnegie Hall. The US Transportation Security Administration decided to destroy his piano, claiming the glue smelled like explosives.
On April 26, 2009, Zimerman vowed to his audience at Los Angeles's Walt Disney Concert Hall that, in protest of American policy toward Poland, this would be his final appearance in the United States. He had made a similar threat in 2006, stating he would not return until George W. Bush was out of office.
Awards
1975 International Frederick Chopin Piano Competition, Warsaw (First prize)
Léonie Sonning Music Prize (1994; Denmark)

---
Bu forumun müsaadesi var:
Bu forumdaki mesajlara cevap
veremezsiniz