1
sayfadaki
1
sayfası •
Paylaş
•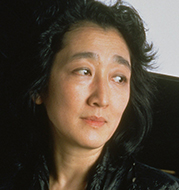 Mitsuko Uchida
From Birth name Mitsuko Uchida
Born December 20, 1948 (1948-12-20) (age 61)
Tokyo, Japan
Genres Classical
Occupations Musician
Instruments Piano
Years active 1973 - present
Labels Philips
Website:
http://www.mitsukouchida.com/
Dame Mitsuko Uchida, DBE (内田光子?) (born 20 December 1948) is a Japanese naturalized British classical pianist.
Career
Born in Atami, a seaside town close to Tokyo, Japan, Uchida moved to Vienna, Austria, with her diplomat parents when she was twelve years old, after her father was named the Japanese ambassador to Austria. She enrolled at the Vienna Academy of Music to study with Richard Hauser, and later Wilhelm Kempff and Stefan Askenase[1], and remained in Vienna to study after her father was transferred back to Japan after five years. She gave her first Viennese recital at the age of 14 at the Vienna Musikverein. She also studied with Maria Curcio, the last and favourite pupil of Artur Schnabel.
In 1969 she won the first prize in the Beethoven Competition in Vienna and in 1970 the second prize in the International Frédéric Chopin Piano Competition. Then, in 1975, she won second prize in the Leeds Piano Competition.
She is an acclaimed interpreter of the works of Mozart, Beethoven, Schubert, Chopin, Debussy and Schoenberg. She has recorded all of Mozart's piano sonatas (a project that won the Gramophone Award), and concerti, the latter with the English Chamber Orchestra, conducted by Jeffrey Tate. She is further noted for her recordings of Beethoven's complete piano concerti with Kurt Sanderling conducting, Beethoven's late piano sonatas, and a Schubert piano cycle. Her recording of the Debussy Études won another Gramophone Award, and so did her recording of the Schoenberg Piano Concerto. She is distinguished as an interpreter of the works of the Second Viennese School.
From 2002 to 2007 she served as artist-in-residence for the Cleveland Orchestra, where she led performances of all of Mozart's solo piano concertos. She has also conducted the English Chamber Orchestra, among others, from the keyboard. In 2010, she is artist-in-residence for the Berlin Philharmonic. She is an Artistic Director of the Marlboro Music School and Festival, along with fellow pianist Richard Goode. She is also a trustee of the Borletti-Buitoni Trust, an organization established to help young artists develop and sustain international careers.
Uchida currently resides in London. Her long-standing partner, Robert Cooper, currently works for the European Union in Brussels.
Honours and Awards
Uchida is a recipient of the 1986 Suntory Music Award.
Mitsuko Uchida was appointed Honorary Commander of the Order of the British Empire (CBE) in the 2001 New Year Honours. At the time, the award was honorary because she was not yet a citizen of the United Kingdom.
In April 2008, BBC Music Magazine presented her its Instrumentalist of the Year and Disc of the Year award.
She was promoted to Dame Commander of the Order of the British Empire (DBE) in the 2009 Queen's Birthday Honours. On this occasion, the award was substantive as she is now a British citizen.
In June 2009 she was awarded an honorary Doctor of Music (DMus) degree by the University of Oxford during Encaenia 2009
Admin




Mesaj Sayısı

: 2411


Kayıt tarihi

: 01/04/08



Admin




Mesaj Sayısı

: 2411


Kayıt tarihi

: 01/04/08




---
Bu forumun müsaadesi var:
Bu forumdaki mesajlara cevap
veremezsiniz