1
sayfadaki
1
sayfası •
Paylaş
•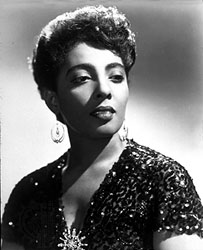 Carmen Mercedes McRae (April 8, 1920 – November 10, 1994) was an American jazz singer, composer, pianist, and actress. Considered one of the most influential jazz vocalists of the 20th century, it was her behind-the-beat phrasing and her ironic interpretations of song lyrics that made her memorable. McRae drew inspiration from Billie Holiday, but established her own distinctive voice. She went on to record over 60 albums, enjoying a rich musical career, performing and recording in the United States, Europe, and Japan.


McRae was born in Harlem to Jamaican immigrant parents, Osmond and Evadne McRae. She began studying piano when she was eight, and the music of jazz greats like Louis Armstrong and Duke Ellington filled her home. She met singer Billie Holiday when she was just 17 years old. As a teenager McRae came to the attention of Teddy Wilson and his wife, the composer Irene Kitchings Wilson. One of McRae's early songs, "Dream of Life" through their influence, was recorded in 1939 by Wilson's longtime collaborator Billie Holiday. McRae considered Holiday to be her primary influence.

In her late teens and early twenties, McRae played piano at a New York club called Minton's Playhouse, Harlem's most famous jazz club, sang as a chorus girl, and worked as a secretary. It was at Minton's where she met trumpeter Dizzy Gillespie, bassist Oscar Pettiford, and drummer Kenny Clarke. Had her first important job as a pianist with the Benny Carter's big band (1944), worked with Count Basie (1944) and made first recording as pianist with Mercer Ellington Band (1946-1947). But it was while working in Brooklyn that she came to the attention of Decca's Milt Gabler. Her five year association with Decca yielded 12 LPs.

In 1948 she moved to Chicago with comedian George Kirby. She played piano steadily for almost four years before returning to New York. Those years in Chicago, McRae told Jazz Forum, "gave me whatever it is that I have now. That's the most prominent schooling I ever had." Back in New York in the early 1950s, McRae got the record contract that launched her career. In 1954, she was voted best new female vocalist by Down Beat magazine. She married bassist Ike Isaacs in the late 1950s.

Among her most interesting recording projects were Mad About The Man (1957) with composer Noël Coward, Boy Meets Girl (1957) with Sammy Davis, Jr., participating in Dave Brubeck's The Real Ambassadors (1961) with Louis Armstrong, a tribute album You're Lookin' at Me (A Collection of Nat King Cole Songs) (1983), cutting an album of live duets with Betty Carter, The Carmen McRae-Betty Carter Duets (1987), being accompanied by Dave Brubeck and George Shearing, and closing her career with brilliant tributes to Thelonious Monk, Carmen Sings Monk (1990), and Sarah Vaughan, Sarah: Dedicated to You (1991).

As a result of her early friendship with Billie Holiday, she never performed without singing at least one song associated with "Lady Day", and recorded an album in 1983 in her honor entitled For Lady Day, which was released in 1995. Some songs included are; "Good Morning Heartache", "Them There Eyes", "Lover Man", "God Bless the Child", "Don't Explain", just to name a few. McRae also recorded with the world best jazz musicians, Take Five Live (1961) with Dave Brubeck, Heat Wave (1982) with Cal Tjader, and Two for the Road (1989) with George Shearing.

Carmen McRae sang in jazz clubs throughout the United States—and across the world—for over fifty years. McRae was a popular performer at the legendary Monterey Jazz Festival (1961-1963, 1966, 1971, 1973, 1982). Performing with Duke Ellington's at the North Sea Jazz Festival in 1980, singing "Don't Get Around Much Any More", and at the Montreux Jazz Festival in 1989.

Career
McRae was born in Harlem to Jamaican immigrant parents, Osmond and Evadne McRae. She began studying piano when she was eight, and the music of jazz greats like Louis Armstrong and Duke Ellington filled her home. She met singer Billie Holiday when she was just 17 years old. As a teenager McRae came to the attention of Teddy Wilson and his wife, the composer Irene Kitchings Wilson. One of McRae's early songs, "Dream of Life" through their influence, was recorded in 1939 by Wilson's longtime collaborator Billie Holiday.McRae considered Holiday to be her primary influence.

In her late teens and early twenties, McRae played piano at a New York club called Minton's Playhouse, Harlem's most famous jazz club, sang as a chorus girl, and worked as a secretary. It was at Minton's where she met trumpeter Dizzy Gillespie, bassist Oscar Pettiford, and drummer Kenny Clarke. Had her first important job as a pianist with the Benny Carter's big band (1944), worked with Count Basie (1944) and made first recording as pianist with Mercer Ellington Band (1946-1947). But it was while working in Brooklyn that she came to the attention of Decca's Milt Gabler. Her five year association with Decca yielded 12 LPs.

Death
Carmen McRae was forced to retire in 1991 due to emphysema. McRae died on November 10, 1994, in Beverly Hills, California from a stroke, following complications from respiratory illness.

Selective awards and recognitions
Awards
Carmen McRae Grammy Award Recognitions
Year Category Title Label Result
1990 Best Jazz Vocal Performance - Female Carmen Sings Monk Novus Nominee
1988 Best Jazz Vocal Performance - Female Fine and Mellow Concord Jazz Nominee
1988 Best Jazz Vocal Performance - Duo or Group The Carmen McRae-Betty Carter Duets Great American Music Hall Nominee
1987 Best Jazz Vocal Performance - Female Any Old Time Denon Nominee
1984 Best Jazz Vocal Performance You're Lookin' at Me (A Collection of Nat King Cole Songs) Concord Jazz Nominee
1977 Best Jazz Vocal Performance Carmen McRae at the Great American Music Hall Blue Note Nominee
1971 Best Jazz Performance - Soloist Carmen McRae Atlantic Nominee
Carmen McRae Awards
Year Organization Category Result
1994 National Endowment for the Arts NEA Jazz Masters Winner
1993 NAACP NAACP Image Awards Honoree

Filmography
Movies
1986: "Jo Jo Dancer, Your Life Is Calling", played the grandmother
1967: "Hotel", played Christine
1960: "The Subterraneans", played herself
1956: "The Square Jungle", herself
[edit] Television
1982: "L. A. Jazz"
1981: "Billie Holiday. A Tribute"
1981: "At the Palace"
1980: "From Jumpstreet"
1979: "Roots: The Next Generations", played Lila
1979: "Carmen McRae in Concert"
1976: "Sammy and Company"
1976: "Soul"


Selected discography
Year Title Label
1990 Sarah: Dedicated to You Novus
1988 Carmen Sings Monk Novus
1987 The Carmen McRae-Betty Carter Duets Great American Music Hall
1987 What Do The Words Say (w. Ray Brown) Blue Music Group
1983 You're Lookin' at Me (A Collection of Nat King Cole Songs) Concord Jazz
1980 Two for the Road with George Shearing Concord Jazz
1972 The Great American Songbook Atlantic
1965 Alive! Columbia
1962 Something Wonderful Columbia
1962 The Real Ambassadors Columbia
1961 Sings Lover Man and other Billie Holiday Classics Columbia
1961 Take Five Columbia
1960 Book of Ballads Kapp
1958 Boy Meets Girl: Sammy Davis Jr. & Carmen McRae Decca
1958 Ella Fitzgerald and Billie Holiday at Newport Verve
1957 After Glow Decca
1956 Blue Moon Decca
1955 Torchy Decca
1954 Easy to Love Bethlehem
1954 Carmen McRae Bethlehem
Carmen McRae
Doğum adı Carmen McRae Mercedes
Olarak da bilinen " Singer Singer "
Doğmuş 8 Nisan 1920(1920-04-08)
Menşe Harlem,
New York City, New York,
Amerika Birleşik Devletleri
Öldü 10 Kasım 1994 (74 yaşında)
Beverly Hills, Kaliforniya, Amerika Birleşik Devletleri
Türler Vokal caz, caz müzik türü, geleneksel pop
Meslekler Şarkıcı , piyanist
Enstrümanlar Piyano
Yıl aktif 1944s - 1994
Etiketler Decca, Şevk, Atlantik, Novus, Columbia, Blue Note, Anlaşma, Buda
Ilişkili eylemler Sammy Davis, Jr
Cal Tjader
George Shearing
Dave Brubeck
Carmen McRae Mercedes (8 Nisan 1920 - 10 Kasım 1994 ) bir oldu Amerikan caz şarkıcı, besteci, piyanist ve aktris. en etkili caz biri olarak kabul vocalists 20. yüzyılın , onun arkasında -the- beat phrasing ve onun unutulmaz yapılan şarkı sözlerini onun ironik yorumları oldu. McRae ilham aldı Billie HolidayAma kendi özgün sesi kurdu. O performans ve Amerika Birleşik Devletleri , Avrupa ve Japonya'da kayıt , zengin bir müzik kariyerine zevk 60 fazla albüm kaydetmek için gittik .
Kariyer
McRae doğdu Harlem Jamaikalı göçmen velilere , Osmond ve Evadne McRae . O caz büyüklerden müzik gibi ve o sekiz yaşındayken piyano çalışmaya başladı Louis Armstrong ve Duke Ellington evine doldurdu. o sadece 17 yaşında iken o şarkıcı Billie Holiday araya geldi. olarak McRae dikkat geldi Teddy Wilson ve eşi , besteci Irene Kitchings Wilson. McRae erken şarkılarından biri , onların etkisiyle " Dream of Life " , Wilson uzun zamandır işbirlikçisi Billie Holiday tarafından 1939 yılında kaydedildi. McRae onun birincil etkilemek için Holiday düşünülmektedir.
onu geç ergenlik ve erken yirmili yılında McRae bir piyano oynadı New York kulüp olarak adlandırılan Minton 's Playhouse, Harlem en ünlü caz kulübü , bir koro kızına olarak seslendirdi ve sekreter olarak çalıştı. Bu onun trompetçi tanıştı 's Minton oldu Dizzy Gillespie, Basçı Oscar PettifordVe davulcu Kenny Clarke. bir piyanist olarak ilk önemli iş Had Benny Carter' çalıştı big band (1944) , s Count Basie (1944) ve piyanist olarak yapılan ilk kayıt ile Mercer Ellington Bant ( 1946-1947 ) . Ama çalışırken oldu Brooklyn o ilgi geldiğini Decca'S Milt Gabler. Decca ile olan beş yıllık dernek 12 LP vermiştir.
1948 yılında taşındı Chicago komedyen ile George Kirby. O dönmeden önce yaklaşık dört yıldan bu yana düzenli piyano oynadı New York. O yıllarda Chicago, McRae Jazz Forum " o şimdi olması ne olursa olsun bana verdi . Ben şimdiye kadar en önemli eğitim bu. " anlattı[3] Geri New York 1950'lerin başında , McRae kariyerine başladı albüm kontratı var. 1954 yılında tarafından en iyi yeni kadın vokalist seçildi Down Beat dergi . O basçı evlendi Ike Isaacs 1950'lerin sonlarında .
Onun en ilginç kayıt projeleri de vardı Man Mad About (1957) besteci ile Noël Coward, Boy Girl Meets (1957) ile Sammy Davis, Jrolarak , katılan Dave Brubeck's Gerçek Büyükelçiler (1961) ile Louis ArmstrongBir tribute albüm Eğer (A Collection of Me 'de ' Lookin konum Nat King Cole Şarkılar ) (1983 ) ile canlı düet bir albüm kesme Betty Carter, Carmen McRae - Betty Carter Duets (1987) , eşlik ediyor Dave Brubeck ve George Shearing, ve parlak övgüler ile kariyerine kapanış Thelonious Monk, Carmen Monk Sings (1990), ve Sarah Vaughan, Sarah : Size Özel (1991) .
onu erken dostluk sonucunda Billie Holiday, O , "Lady Day" ile ilişkili en az bir şarkı söylerken olmadan başarı asla ve albüm kayıtları için 1983 yılında başlıklı onun şerefine Lady GünHangi 1995 yılında piyasaya sürüldü . dahil Bazı şarkılar vardır; "Good Morning Heartache"," There Them Eyes ","Lover Man","Tanrı Çocuk Bless"," sadece birkaç isim , " Don't Explain . McRae de dünyanın en iyi caz müzisyenleri ile kaydedilmiş , Beş Live alın (1961) ile Dave Brubeck, Sıcak hava dalgası (1982) ile Cal TjaderVe Yol için iki (1989) ile George Shearing.
Carmen McRae ve karşısında Amerika Birleşik Devletleri boyunca caz kulüplerinde şarkı söyledi dünya için elli yıldır . McRae efsanevi popüler bir sanatçı oldu Monterey Caz Festivali (1961-1963 , 1966, 1971 , 1973, 1982) . ile Gösteri Duke EllingtonAltında North Sea Caz Festivali 1980 yılında , "Çok Herhangi devamını Don't Get Around "ve şan Montreux Caz Festivali 1989 yılında .
Carmen McRae always had a nice voice (if not on the impossible level of an Ella Fitzgerald or Sarah Vaughan) but it was her behind-the-beat phrasing and ironic interpretations of lyrics that made her most memorable. She studied piano early on and had her first important job singing with Benny Carter's big band (1944) but it would be another decade before her career really had much momentum. McRae married and divorced Kenny Clarke in the 1940s, worked with Count Basie (briefly) and Mercer Ellington (1946-47), and became the intermission singer and pianist at several New York clubs. In 1954 she began to record as a leader and by then she had absorbed the influences of Billie Holiday and bebop into her own style. McRae would record pretty steadily up to 1989 and, although her voice was higher in the 1950s and her phrasing would be even more laidback in later years, her general style and approach did not change much through the decades. Championed in the 1950s by Ralph Gleason, Carmen McRae was fairly popular throughout her career. Among her most interesting recording projects were participating in Dave Brubeck's the Real Ambassadors with Louis Armstrong, cutting an album of live duets with Betty Carter, being accompanied by Dave Brubeck and George Shearing, and closing her career with brilliant tributes to Thelonious Monk and Sarah Vaughan.

---
Bu forumun müsaadesi var:
Bu forumdaki mesajlara cevap
veremezsiniz