1
sayfadaki
1
sayfası •
Paylaş
•

http://www.hilaryhahn.com/
Hilary Hahn in 2007
Background information
Born November 27, 1979 (1979-11-27) (age 30)
Lexington, Virginia, USA
Genres Classical
Occupations Violinist
Instruments Violin
Hilary Hahn (born November 27, 1979 in Lexington, Virginia) is an American violinist. Beginning her studies when she was three years old at Baltimore's Peabody Institute, she was admitted to the Curtis Institute of Music in Philadelphia at age ten, and in 1991, made her major orchestral debut with the Baltimore Symphony Orchestra. Hahn signed her first musical recording contract at age sixteen in 1996 with Sony Music. She graduated from the Curtis Institute in May 1999 with a Bachelor of Music degree.
Hahn plays on an 1864 copy of Paganini's 'Cannone' made by Vuillaume. Her main interest is in solo performance; she also performs chamber music.
Early life and education
Hahn began playing the violin one month before her fourth birthday in the Suzuki Program of Baltimore's Peabody Institute. She participated in a Suzuki class for a year. Between 1984 and 1989 Hahn studied in Baltimore under Klara Berkovich. In 1990, at ten, Hahn was admitted to the Curtis Institute of Music in Philadelphia where she became a student of Jascha Brodsky. Hahn studied with Brodsky for seven years and learned the études of Kreutzer, Ševčík, Gaviniès, Rode, and the Paganini Caprices. She learned twenty-eight violin concertos, recital programs, and several other short pieces.
In 1991, Hahn made her major orchestral debut with the Baltimore Symphony Orchestra. Soon thereafter, Hahn debuted with the Philadelphia Orchestra, Cleveland Orchestra, Pittsburgh Symphony Orchestra, and the New York Philharmonic. In 1995 Hahn made her international debut in Germany with a performance of the Beethoven Concerto for Violin and Orchestra in D Major with Lorin Maazel and the Bavarian Radio Symphony Orchestra. The concert was broadcast on radio and television in Europe. A year later, Hahn debuted at Carnegie Hall in New York as a soloist with the Philadelphia Orchestra.
By sixteen, Hahn had completed the Curtis Institute's university requirements, but elected to remain for several years to pursue elective courses, until her graduation in May 1999 with a Bachelor of Music degree. During this time she coached violin with Jaime Laredo, and studied chamber music with Felix Galimir and Gary Graffman. In an interview with PBS in December 2001, Hahn stated that of all musical disciplines, she is most interested in performance.
Musical career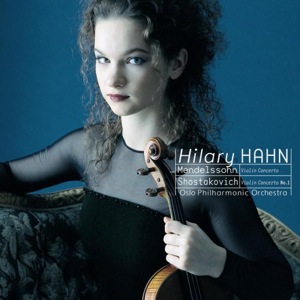 Hilary Hahn – Mendelssohn & Shostakovich Concertos Album Cover – 2002 Sony Classical
In 1996 when she was sixteen years old, Sony Music signed Hahn to an exclusive recording contract. After Hahn completed her part of the contract with Sony, which was for five recordings over six years, she decided against renewing the contract as she and Sony did not agree on her future projects. Instead, Hahn signed with Deutsche Grammophon in 2003 after her contract with Sony expired in the year before. In 2001, Time Magazine named Hahn as "America's Best" young classical musician.
Hahn has played with orchestras such as the London Symphony Orchestra, New York Philharmonic, Stuttgart Radio Symphony Orchestra, and the Singapore Symphony Orchestra. She debuted with the Chicago Symphony Orchestra in March 2007, and played in Vatican City as part of the celebrations for Pope Benedict XVI together with the Stuttgart Radio Symphony Orchestra and conductor Gustavo Dudamel, also in 2007.
She began performing and touring in a crossover duo with singer-songwriter Josh Ritter in 2007 and with singer-songwriter Tom Brosseau in 2005. According to Hahn, "Other musicians cross genres all the time. For me it's not crossover—I just enter their world. It frees you up to think in a different way from what you've been trained to do."
In addition to being a solo violinist, Hahn has also performed as a chamber musician. Since the summer of 1992 she has performed nearly every year with the Skaneateles Chamber Music Festival in Skaneateles, New York. Between 1995 and 2000 she performed and studied chamber music at the Marlboro Music Festival in Vermont, and in 1996 she served as an artist and a member of the chamber music mentoring program of The Chamber Music Society of Lincoln Center.
In an 1999 interview with Strings Magazine, Hahn cited people influential on her development as a musician and a student, including David Zinman, the conductor of the Baltimore Symphony and Hahn's mentor since she was ten, Lorin Maazel, with whom she worked in Europe with the Bavarian Radio Symphony Orchestra.
Hahn sometimes feels that classical-music admirers "make it hard for people who are just coming in. I think that if people show up in jeans and chains, it's great that all parts of culture are interested in music. People forget sometimes that it's about the music, not how you act and dress."
During concerts she does hope for absolute quiet from the audience during the music. "Not out of snobbishness or holy respect for the music, but just so everyone (including the performers) can hear it. Great music can be quite comfortable and relaxing, and you can sleep—as long as you don't snore."
On January 14, 2010, Hahn appeared on The Tonight Show with Conan O'Brien in support of her album, Bach: Violin & Voice.[9] Because her appearance coincided with the Tonight Show controversy, the album sold 1,000 copies, reaching #1 on a Billboard classical chart, officially peaking at #6 on the Billboard Classical Albums chart.
Hahn's latest album, featuring works by Tchaikovsky and the Pullitzer Prize-winning piece by Hahn's former teacher Jennifer Higdon will be released on September 21, 2010.
On playing Bach
In 1999, Hahn stated that she played Bach more than any composer and that she had played solo Bach pieces every day since she was eight.
Bach is, for me, the touchstone that keeps my playing honest. Keeping the intonation pure in double stops, bringing out the various voices where the phrasing requires it, crossing the strings so that there are not inadvertent accents, presenting the structure in such a way that it's clear to the listener without being pedantic — one can't fake things in Bach, and if one gets all of them to work, the music sings in the most wonderful way.
—Hilary Hahn, Saint Paul Sunday
In a segment on NPR entitled "Musicians in Their Own Words", Hahn speaks about the surreal experience of playing the Bach Chaconne (from the Partita for Violin No. 2) alone on the concert stage. In the same segment, she discusses her experiences emulating a lark while playing The Lark Ascending by Ralph Vaughan Williams.
Instrument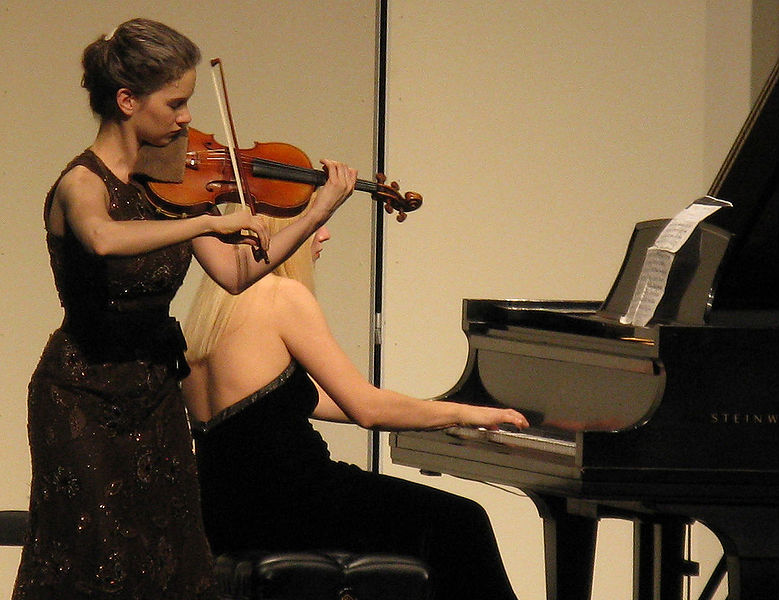 Hilary Hahn, violin, and Valentina Lisitsa, piano, Kuss Auditorium, Clark State Performing Arts Center, Springfield, Ohio, March 3, 2009
Her violin is an 1864 copy of Paganini's 'Cannone' made by Vuillaume formerly owned by the Russian violinist Samuel Lande, who was a friend and colleague of Klara Berkovich, Hahn's first teacher. Lande's heirs emigrated to the United States and, after hearing one of Hahn's early recitals, decided that she should be the instrument's next owner. Hahn uses bows by French bow makers Paul Jombar and Emil Miquel.[2] As for her strings, she uses Dominants[2] for the A, D and G (all medium gauge) and uses a Wondertone E.
Journal
Hahn's official website includes a unique section entitled "Hilary's Journal". In the Strings Magazine interview, Hahn stated that the idea originated while she was participating in a community outreach program for a third-grade class in upstate New York. The class that she visited was doing a geography project in which students of the class asked everyone that they knew who was traveling internationally to send postcards from the cities that they were visiting. The goal was to help the students to better learn about international cities around the globe. Hahn decided to participate after receiving a positive reaction from her suggestion that she take part as well. Hahn enjoyed her first year's experience with the project so much that she decided to continue it. Because the teacher of the original third-grade class was retiring, Hahn wanted to expand the project's scale. She worked with Sony to establish "Hilary's Journal", a collection of electronic postcards that she periodically posts to her official website informing readers of her travels. Journal entries usually include photographs that Hahn takes while touring the city and during rehearsals. The first entry in "Hilary's Journal" dates back to January 6, 2002, when she was visiting Copenhagen, Denmark.
Since September 2008 Hahn also has had a Twitter account, where she posts messages from the point of view of her violin case
En son Admin tarafından Çarş. Haz. 27, 2012 2:37 pm tarihinde değiştirildi, toplamda 1 kere değiştirildi
En son Admin tarafından Perş. Mart 28, 2013 4:43 pm tarihinde değiştirildi, toplamda 1 kere değiştirildi

---
Bu forumun müsaadesi var:
Bu forumdaki mesajlara cevap
veremezsiniz