1
sayfadaki
1
sayfası •
Paylaş
•

LUDOVIC BEIER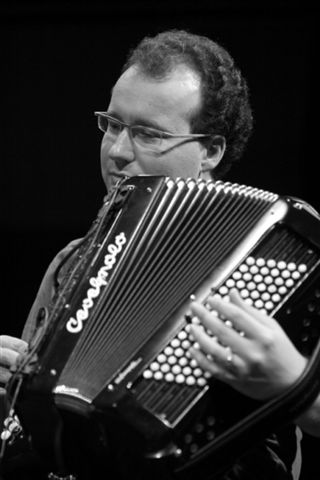 http://www.ludovicbeier.fr/
"Born in 1978, Ludovic Beier learned the accordion from his
father and benefits from being part of a musical family. He
was brought up in the French tradition of the instrument and
turned to jazz a few years ago. He has a spirited, adventurous
style which strays into all kinds of byways."
The Guardian, UK - 2005
Ludovic Beier is a French jazz/ swing musette accordionist and accordina player. He has performed in France, the United States and Canada, and recorded various CDs, in a duo with guitarist Angelo Debarre and with his "Ludovic Beier Quartet".
Only 29 years old, he is playing on the French and European scene with some of the top
players of the Django/Swing Jazz style including Angelo Debarre, Dorado Schmitt, Florin
Niculescu…He certainly is giving the accordion a new name as his fingers go across the keys in
an almost unbelievable way, both swinging and amazingly creative in his improvisation. Along
with his virtuoso playing, he composes and arranges, and has his own band, Ludovic Beier
Quartet, to perform his "cool and latin" French jazz. He has an impressive technique and also a
great dose of lyricism with a band that keeps him at full stretch. Accordion will never be the same
under his knowledgeable hands, and the new directions he takes. Besides playing around Europe
at top festivals and clubs, he appeared in the States with the Django Reinhardt Project,
performing at Birdland (NYC) with guests such as Paquito D'Rivera, at Lincoln Center with Joe
Lovano, at Yoshis (CA) with David Sanchez, and last summer at the Montreal International Jazz
Festival with Angelo Debarre and James Carter where he brought the house down. He also had
the honour to perform at Carnegie Hall with Toots Thielemans among a prestigious line up
including Herbie Hancock, Ivan Lins and Eliane Elias.
Admin




Mesaj Sayısı

: 2411


Kayıt tarihi

: 01/04/08



LUDOVIC BEIER chromatic accordion virtuoso Jazz Musician from France is Jon's guest here on HammondCast KYOURADIO. Interview
recorded in New York City while Ludovic was in town to play the annual "Django Birdland Festival" produced by Pat Phillips. Ludovic speaks with Jon about his new album "Live @ Jazz Standard" and his musical influences which brought him to playing Gypsy Jazz and many other styles, also on an instrument called Accordina, small but mighty! *Special thanks to Ludovic's Manager Sebastien Smits and Pat Phillips and Ettore Stratta Productions & Gianni Valenti of Birdland NYC ©
http://www.HammondCast.com
http://www.ludovicbeier.com
Chromatic Accordion, Accordina, Django Reinhardt, Gypsy, Jazz, Accordina, Citroen, Renault, Jon Hammond, HammondCast, French, KYOURADIO, Paris, Accordeon
Admin




Mesaj Sayısı

: 2411


Kayıt tarihi

: 01/04/08




---
Bu forumun müsaadesi var:
Bu forumdaki mesajlara cevap
veremezsiniz