1
sayfadaki
1
sayfası •
Paylaş
•

CORINNE BAILEY RAE
http://www.corinnebaileyrae.net/
http://allmusic.com/cg/amg.dll?p=amg&sql=11:qef4zfg4eh4k
http://www.imdb.com/name/nm2066164/
http://musicbrainz.org/artist/bc85c6f6-6b06-44c1-8754-ef32c1e6b824.html
http://www.bluesandsoul.com/feature/498/everythings_corrine_up_smelling_of_roses/
http://www.musicomh.com/music/features/corinne-bailey-rae_0306.htm
http://www.guardian.co.uk/music/2005/nov/11/popandrock
http://www.guardian.co.uk/music/2009/oct/04/corinne-bailey-rae-interview
http://hiphoprnbsoul.com/content/view/324/82/
http://video.aol.co.uk/music-videos/Corrine-Bailey-Rae/Like-A-Star/browseby/1801187
http://worldcat.org/identities/lccn-no2006-90890
This article is about the singer. For her self-titled album, see Corinne Bailey Rae (album).
Corinne Bailey Rae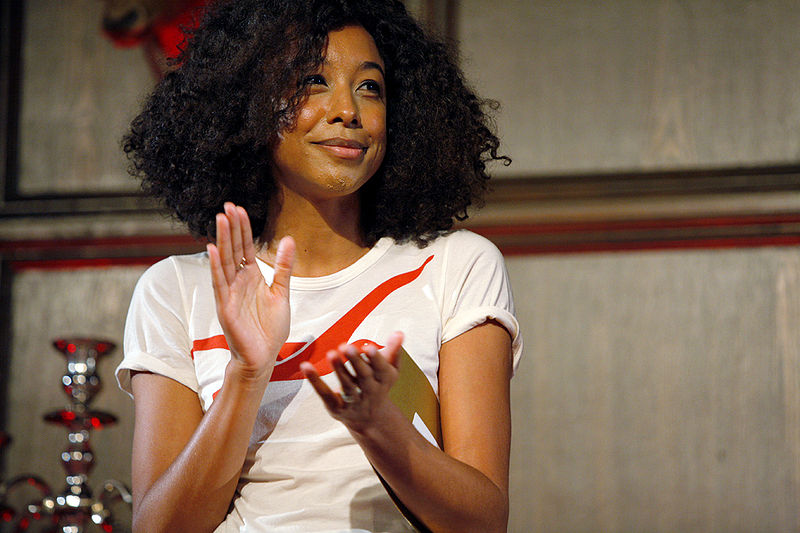 Corinne Bailey Rae at the Mojo Awards 2009
11 June 2009 Photo: Simon Fernandez
Background information
Birth name: Corinne Jacqueline Bailey Born 26 February 1979 (1979-02-26) (age 31) Leeds, West Yorkshire, England
Genres: Soul, R&B, jazz, blues
Occupations: Singer-songwriter, guitarist
Instruments: Vocals, guitar
Years active: 2005 – present
Labels: EMI, Capitol
Website:
www.corinnebaileyrae.net
Notable instruments: Gibson Hummingbird
Corinne Bailey Rae (born Corinne Jacqueline Bailey on February 26, 1979) is an English singer-songwriter and guitarist who released her debut album Corinne Bailey Rae in February 2006. Rae was named the number-one predicted breakthrough act of 2006 in an annual BBC poll of music critics, Sound of 2006. She became only the fourth female British act in history to have her first album debut at number one. Rae was nominated for Grammy Awards and BRIT Awards, and has won two MOBO Awards and an Album Of The Year Grammy and Best Contemporary Jazz Album for her work as an featured artist in Herbie Hancock's River: The Joni Letters. Rae was married to fellow musician Jason Rae from 2001 until his death in 2008. Rae released her second album, The Sea on 26 January 2010, after a hiatus of nearly two years. Tracks on the new album have been produced by Steve Brown and also Steve Chrisanthou (who produced her debut album in 2006).
Early years
Childhood
Rae was born in Leeds to a black Kittitian father and a white English mother as the oldest of three daughters, including Candice Bailey and actress Rhea Bailey. She endured racist taunts on a regular basis as a child; "My sisters and I were different and people used to say, 'Ah, aren't they cute, the little chocolate children', and "look at their hair". "I know they were only being cute but it was over the top. Then people from other schools would shout, Iraqi and more often 'Paki' (a commonly used racist term in the UK) to me because it was the most common racist insult of the time. 'At least if you're going to do it, get it right,' I used to shout back, 'But my dad isn't from Pakistan, he's from St Kitts—so there!'"
Rae began her musical career at school where she studied classical violin before she turned her attention to singing: "I started off singing in church, I suppose, but people think it must have been a gospel church because of the whole, you know, black assumption", she says in reference to her multiracial background. "But it wasn't gospel at all, it was just your regular Brethren church, very middle-class, where we would sing these harmonies every Sunday. It was always my favourite part of the service, the singing."
Rae later transferred to a Baptist church, where the youth leader was coaching rock bands in the local high school. The church young people wrote their own worship songs and sang covers by the likes of Primal Scream. "We changed the words though", Rae states on her website. "We didn't want to offend the regular churchgoers, now did we?" She recorded two albums with the youth group under the name of Revive.
Performing in church broadened Rae's musical horizons, and her love for making music was solidified after the church youth leader offered to lend her the money for her first guitar. In her mid-teens, she and a friend became obsessed with Lenny Kravitz, and through him she discovered rock legends Jimi Hendrix and Led Zeppelin. "I loved that band during my teens; I wanted, somehow, to follow in their footsteps, and to create music of my own."
Rae formed an all-female (barring the drummer) indie group called Helen, which was inspired by similar acts such as Veruca Salt and L7. "It was the first time I'd seen women with guitars. They were kinda sexy—but feminist. I wanted to be like that, at the front of something."
The group raised eyebrows on several fronts; in the white male-dominated world of indie music, they were an all-female group fronted by a mixed-race singer from Leeds. The moniker "Helen" also drew attention, albeit for not all the right reasons: "What can I say? We were 15 years old, and thought that Helen was a cheeky, indie kind of thing to do. It seemed clever at the time. Admittedly, it seems less so now".
The group played many gigs around Leeds and eventually became the first indie act to be signed to heavy metal record label Roadrunner Records, home to acts such as Slipknot, in 1995. The venture proved to be short-lived however after the bassist became pregnant and the group disbanded. "[Was I] Disappointed? I was gutted! I had no idea what to do next".
University life
After the disappointment of Helen, Rae went on to attend the University of Leeds where she studied English Literature, graduating in 2000. While at University, she began work as a hat check girl on an evening in her local jazz club. Permitted to sing on stage with the jazz band when business was slow, it was there that she discovered a different type of music that sent her on a different musical path: "I kept hearing this jazz and soul stuff and I realized I loved music too".
Music Career
2004–2008: Career Music Development
Main article: Corinne Bailey Rae (album)
In the three years after she got married, Rae began working on solo material—this time steering away from her indie past and embarking on a more "soulful" path. She collaborated with Leeds-based funk group The New Mastersounds on the track "Your Love Is Mine", featured on their 2003 album Be Yourself, released via One Note Records. The following year she again worked with another Leeds-based group, Homecut Directive, on the song "Come the Revolution", which was the first single from the group's debut album.
Corinne Bailey Rae performing live at the V Festival on 18 August 2007
In 2004, Rae got a breakthrough when she was signed by Global Talent Publishing and then approached by Craig David's mentor Mark Hill, from the duo The Artful Dodger, to appear on his new album better luck next time under his new alias, The stiX. The resulting collaboration, "Young and Foolish", was released in April 2005 and brought Rae to the attention of the major record label bosses. Rae released her debut single, "Like a Star", in November 2005 and her first album, Corinne Bailey Rae, in February 2006 it debuted at number one in the UK and stayed in the top ten of the U.S.Billboard 200, peaking at number four and was 71 weeks in the chat between the years 2006 to 2008, according to Nielsen SoundScan, according to Nielsen SoundScan, the album sold 1.9 million copies in the United States alone, being the biggest selling album by a British artist in the United States. The lead single, "Like a Star", became her hit in UK and U.S., and sold over 327,000 U.S. downloads, Follow-up singles "Put Your Records On", biggest hit to date when it rose to number two in the UK, and sold over 945,000 U.S. downloads. "Trouble Sleeping" made the top forty, and "I'd Like To", the top seventy. In the middle of 2006, Bailey Rae embark on their first world tour, through Europe and North America, playing at various festivals including Rock in Rio Lisboa 2 and Live Earth, and after a year-long tour to end with 55 shows performed. In early April 2006, Corinne Bailey Rae was certified 2x platinum by the BPI and platinum by the RIAA.. In September 2006, Rae scooped two awards at the UK's MOBO Awards: "Best UK Newcomer" and "Best UK Female". Rae recorded a live session at Abbey Road Studios in July 2006 for Live from Abbey Road.
Rae also received three nominations at the 2007 Grammy Awards: Record of the Year, Song of the Year (both for "Put Your Records On"), and Best New Artist. During the ceremony, she performed "Like a Star" and joined John Legend and John Mayer in a collaborative performance, providing accompanying vocals to Legend's "Coming Home" and Mayer's "Gravity", The following year Like a Star was nominated for a Grammy for Song of the Year and Bailey Rae won in two categories for Album of the Year and Best Contemporary Jazz Album for her collaboration on River: The Joni Letters. Then during the American and European tour Bailey Rae recorded her first DVD with the title Live in London & New York. The DVD was filmed in London and the bonus CD was recorded in New York. Several songs from Rae's debut album comprise the soundtrack to the 2006 film Venus. Rae is co-credited by the filmmakers for the score.
2009–Present: The Sea
Corinne Bailey Rae released her new album titled The Sea on 26 January 2010. The album was released after a gap of two years following the death of her husband Jason Rae. Lead single I'd Do It All Again premiered on 25 November in 2009 on the Jools Holland program Later. Follow up single "Closer" will be added to Smooth Jazz Radio on 25 January, Urban AC on 1 February and AC radio in late February. The album's second single "Paris Nights and New York Mornings" will go to Triple A radio on 15 February. The track "I Would Like To Call It Beauty" was chosen as the Starbucks iTunes Pick of the Week on 2 February 2010.
Personal Life
Jason Rae
It was at university that she met Jason Rae, whom she eventually married in 2001 at age twenty-two. "I was Corinne Bailey. I added on Rae, my husband's name, when I got married. There's no hyphen; stops it being posh!". Born in 1976, Jason Rae was a Scottish musician, originally hailing from Aberdeen, who played saxophone for the eight-piece group Haggis Horns. The group has performed with Amy Winehouse, Lily Allen, Mark Ronson, Nightmares On Wax and Corinne Bailey Rae herself. Rae had recorded with Bailey Rae, The New Mastersounds and Martina Topley-Bird (Quixotic).
Jason Rae was found dead on 22 March, 2008 in a flat in the Hyde Park area of Leeds. A pathologist report noted the possible cause of death as a "suspected drug overdose". A post-mortem examination on the musician's body was found to be inconclusive. It was reported that Bailey Rae was not in the flat at the time of his death. A 32 year-old man was arrested under suspicion of dealing recreational drugs to the musician but has since been released on bail. In December 2008, Leeds Coroner's Court gave a verdict of death by misadventure, and stated that Rae died of an accidental overdose of methadone and alcohol. The West Yorkshire Police also cleared Rae's friend, in whose flat Rae died, of providing Rae with the methadone.
Other Activities And Appearances
Lists of miscellaneous information should be avoided. Please relocate any relevant information into appropriate sections or articles. (December 2008)
Rae was the musical guest on the 7 October 2006 episode of Saturday Night Live with the host being Jaime Pressly. She performed "Put Your Records On" and "Like a Star". She also appeared on Studio 60 on the Sunset Strip on the episode "B-12", which aired on 27 November 2006, with Howie Mandel. She performed "Like a Star" and "Trouble Sleeping".
Rae performed on Radio 1 Live Lounge with the songs "Like a Star", a cover version of Editors' "Munich", and a cover version of Justin Timberlake's "SexyBack".
Recorded John Lennon's "I'm Losing You" for Make Some Noise, Amnesty International's music venture. The song was also released on the 2007 John Lennon tribute album, "Instant Karma: The Amnesty International Campaign to Save Darfur."
On 7 July 2007 Rae performed at the UK leg of Live Earth at Wembley Stadium, London.
Recorded with Herbie Hancock, Wayne Shorter, and other well-known jazz musicians Joni Mitchell's "River" for Herbie Hancock's September 2007 Joni Mitchell tribute album "River: The Joni Letters". At the 2008 Grammy Awards, the album won Album of the Year and Best Contemporary Jazz Album. She recorded a live session of "River" with Hancock at Abbey Road Studios in for Live from Abbey Road for Channel 4 which was broadcast on Series 2.
The song I'd Like To from Rae's debut album was featured in the soundtrack for the movie He's Just Not That Into You (2009).
Rae is the Special Ambassador for the charity CORD.
Rae is the central ambassador for International water and Sanitation charity, Pump Aid
Discography
Main Article: Corinne Bailey Rae discography
Studio albums
2006: Corinne Bailey Rae
2010: The Sea
DVDs
2007: Live in London & New York
Concert tours
2006/2007: World Tour
2010: The Sea Tour
Awards And Nominations
Corinne Bailey Rae awards and nominations Award Wins Nominations Totals
Awards won 11
Nominations 22
Year***** Result***** Award******* Category******** Nominated Work
2006
Nominated BET Awards BET J Cool Like Dat Award General
Nominated MTV Europe Music Awards Best UK & Ireland Act General
Nominated MTV Woodie Awards International Woodie (Favorite International Artist) General
Nominated UK Festival Music Awards Best Urban Act General
Nominated Premios 40 Principales Mejor Artista Nuevo Internacional General
Nominated MOBO Awards Best Song Put Your Records On
Won Best UK Female General
Won Best UK Newcomer General
Won MOJO Awards Best New Act General
Won Q Awards Best New Act General
2007
Nominated Grammy Awards Best New Artist General
Nominated Record of the Year Put Your Records On
Nominated Song of the Year
Nominated BET Awards Best New Artist General
Nominated Best Female R&B Artist General
Nominated BRIT Award Best British Single Put Your Records On
Nominated British Female Artist General
Nominated British Breakthroug Act General
Nominated Teen Choice Awards Best Female Breakthrough Artist General
Nominated ECHO Awards International Newcomer of the Year General
Nominated Ivor Novello Awards PRS Most Performed Work General
Nominated MOBO Awards Best UK Female General
Nominated Image Awards Outstanding Album Corinne Bailey Rae
Nominated Outstanding Female Artist General
Won Outstanding New Artist General
Won Music Week Awards International Marketing Campaign of the Year General
Won European Border Breakers Awards United Kingdom General
2008
Nominated Grammy Awards Song of the Year Like a Star
Won Album of the Year River: The Joni Letters (featured artist)
Won Best Contemporary Jazz Album River: The Joni Letters (featured artist)
Won ASCAP Awards Song of the Year Put Your Records On
Nominated Urban Music Awards Best Neo Soul Act General
Won BMI Pop Awards Song of the Year Put Your Records On
Kickers Urban Music Awards 2007
Best Neo-Soul Act – Nominated
Best Crossover Chart Act – Nominated



"Call Me When You Get This"

How does it feel being in these arms?
What's it really like to be loved?
I've been alone now, how long?
Have you ever loved the way that i have?
And i have often wondered who,
Who could love you the way i do?
Now i just want you to know, how i'm touched deep in my soul just being with you.
And i need you more each day.
Baby, if you're still awake,
Call me when you get this.
I've got all this poetry now i didn't know then.
I kept inside. guess i had never seen anything beautiful
Till i first saw you asleep at night.
And i have often wondered who,
Who could love you the way i do?
Now i just want you to know,
How i'm touched deep in my soul
Just being with you.
And i need you more each day.
Baby, if you're still awake,
Call me when you get this.
I just wanted to know what it was like, what's it really like to be loved?
These little volcanoes came as a surprise to me.
I never thought i could be this way.
And i have been cautious and i've tried to keep to myself, but who could love you the way i do?
Now i just want you to know, how i'm touched deep in my soul.
Just being with you.
So much more each day,
Baby, if you're still awake,
Call me when you get this



Oh oh oh...

Maybe you've been pouring everything into this your mistake of this attends to agony, you can't predict this when it comes to it,
You can't hide from me, but don't you surrender anything..
Don't you know that, that patience is a virtue (yes it is), and life is a waiting game...don't you know that, peace must be nurtured

And all the money in the world can buy you nothing... (i tell you that)
All these things happen, all these things happen for a reason, don't you go on and throw it all away ...when the seasons change (you gonna change)...

Oh oh...

Hurts me to see you feel this way but it won't be always, don't you know everything got to change,oh... feels like all your hope is gone, you can't carry on, but there's nothing oh, you don't have to pretend with me, don't you know that, that patience is a virtue, (yes it is), and life is a waiting game, don't you know that, peace must be nurtured...

All the money in the world can buy you nothing, (let me tell you that)...
All these things happen, all these I've done for a reason...don't you go on throw it all away , when the seasons change
Oh oh oh...
When the seasons change
Corinne Bailey Rae, Paris la nuit, New York le matin

Voici un nouvel air très frais et doux de la chanteuse trentenaire Corinne Bailey Rae intitulé Paris Nights, New York Mornings.

Cette chanson est extraite du dernier album de Corinne Bailey Rae, The Sea. Elle se balade de New York à Paris en un coup de taxi mais passe quand même un bon bout du clip dans la capitale française, un coup au bord de la Seine, puis une ballade aux Champs-Elysées ... Voyez plutôt ...




Breakfast at Mickey's, make-up still on
Elbows on the greasy table cloth
One more coffee and one last cigarette

Smiling at the rain cause you hold me close
My best dress on underneath this old coat
Walking down Bleecker no one is awake yet

Still, seven hours
Nothing but clouds
It's enough to make your heart sigh
We should try
So pick me up and take me out

Oo we crash into love-filled nights
(Paris nights and New York mornings)
Oo we race till we're out of time
(Paris nights and New York mornings)
And now that you've taken me up so high
(Paris nights and New York mornings)
Don't let me down
Don't let me down

I could see the lights from the restaurant
I couldn't quite perfect that nonchalance
Paris and champagne with one brown sugar cube

And we danced while the band played "She's not there"
Kissed me in the rain by the Rue Voltaire
It's a perfectly good way to ruin those silk shoes

Still, seven hours
Nothing but clouds
It's enough to make your heart sigh
We should try
For each other and for the lovers

Oo we crash into love-filled nights
(Paris nights and New York mornings)
Oo we race till we're out of time
(Paris nights and New York mornings)
And now that you've taken me up so high
(Paris nights and New York mornings)
Don't let me down
Don't let me down

You change and you grow
But we were young
We were young and we didn't know
We didn't know

Oo we crash into love-filled nights
(Paris nights and New York mornings)
Oo we race till we're out of time
(Paris nights and New York mornings)
And now that you've taken me up so high
(Paris nights and New York mornings)
Don't let me down
Don't let me down







It's late and I'm feeling so tired
Having trouble sleeping.
This constant compromise
Between thinking and breathing.

Could it be I'm suffering
Because I'm never give in?
Won't say that I'm falling in love
Tell me I don't seem myself
Couldn't I blame something else?

Just don't say I'm falling in love

Some kind of therapy
Is all I need
Please believe me
Some instant remedy
That can cure me completely

Could it be that I'm suffering
Because I'll never give in?
Won't say that I'm falling in love
Tell me I don't seem myself
Couldn't I blame something else?

Just don't say I'm falling in love
'cause I've been there before and it's not enough
So nobody say it

Don't even say it
I ve got my eyes shut
Won't look, oh
No, I'm not in love

Could it be I'm suffering
Because I'll never give in?
I'm falling love
Tell me I don't seem myself good enough for something else

Just don't say I'm falling in love
Falling in love
Just don't say I'm falling in love
Oh, yeah
Falling love ooh
Oh, oh, don't say that I'm falling in love, don't say that, oh
Just don't say that I'm falling in love, yeah
Just don't say that I'm falling in love
Don't say but in the answer
'Cause I'll never give in
Oh
Falling in love
Yeah
Oh

---
Bu forumun müsaadesi var:
Bu forumdaki mesajlara cevap
veremezsiniz