1
sayfadaki
1
sayfası •
Paylaş
•

VALENTINA LISITSA
Valentina Lisitsa (Ukraynaca: Валентина Лисиця, translit. Valentyna Lysytsya; 11 Aralık 1973'te doğdu) Kuzey Karolina'da ikamet eden Ukrayna kökenli Amerikan klasik piyanist. Lisitsa YouTube'da en çok izlenen piyanistler arasındadır.Lisitsa başlangıçta tur organizatörü ya da kayıt şirketi ile sözleşmesi olmadan, kariyerini sosyal medya aracılığıyla bağımsız olarak başlattı
http://www.valentinalisitsa.com/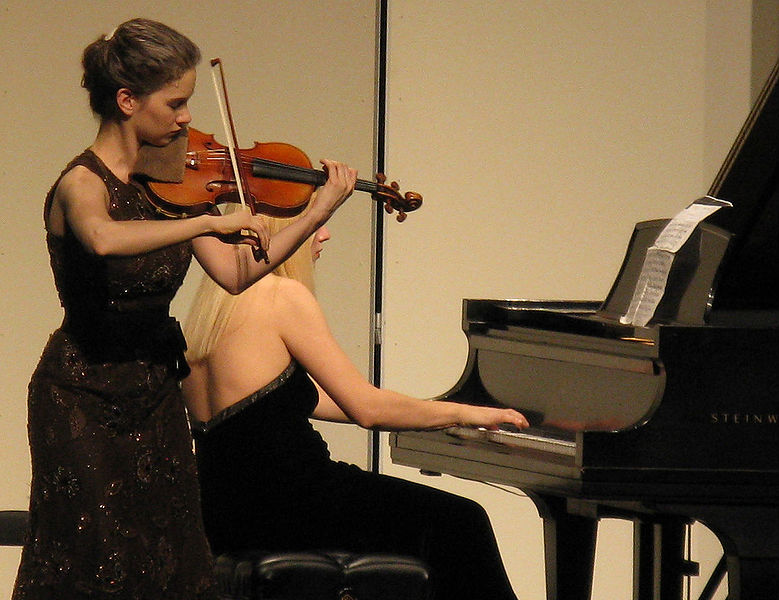 Lisitsa performs with violinist Hilary Hahn at the Kuss Auditorium, Clark State Performing Arts Center, Springfield, Ohio, on March 3, 2009
Valentina Lisitsa (Ukrainian: Валентина Лисиця, translit. Valentyna Lysytsya, Russian: Валентина Лисица) is a Ukrainian-born classical pianist. Lisitsa resides in North Carolina in the USA.
Her husband, Alexei Kuznetsoff, is also a pianist and her partner in a number of piano duets.
Biography
Born in Kiev, Ukraine, Lisitsa started playing the piano at the age of three, performing her first solo recital at the age of four. Despite her early disposition to music, her dream at that point was to become a professional chess player. Lisitsa attended the Lysenko music school for Gifted Children and, later, Kiev Conservatory, where she and her future husband, Alexei Kuznetsoff, studied under Dr. Ludmilla Tsvierko. It was when Lisitsa met Kuznetsoff that she began to take music more seriously. In 1991 they won the first prize in The Murray Dranoff Two Piano Competition. In the same year, they moved to the United States to further their careers as concert pianists. Their New York debut was at the Mostly Mozart Festival at Lincoln Center in 1995.
Lisitsa has performed in various venues around the world, including Carnegie Hall, Avery Fisher Hall, and the Musikverein. Recently, she has been the pianist in recital engagements collaborating with violinist Hilary Hahn.[5] Many of Lisitsa's performances, including Frédéric Chopin's Op. 10 and Op. 25 Etudes and Beethoven's Appassionata Sonata, can be viewed on YouTube.
Lisitsa has recorded 6 CDs (two solo CDs) for Audiofon Records (two are in duet with Alexei Kuznetsoff), a Gold CD for CiscoMusic label with cellist DeRosa, a duet recital on VAI label with violinist Ida Haendel, DVDs of Frédéric Chopin's 24 Etudes, Schubert-Liszt Schwanengesang, and her most recent DVD titled Black and Pink. Lisitsa recently collaborated with HORSE the band on their song, "Rape Escape", featured on their latest album, Desperate Living.
****
The incomparable talents of pianist Valentina Lisitsa have been recognized in glowing reviews as a "gigantic talent" and as "the kind of talent that comes along once in a generation." A performance of Rachmaninoff's Second Piano Concerto at the Grant Park Festival in Chicago was described by the Chicago Sun-Times as "jaw-dropping."
Ms. Lisitsa is capturing the attention of audiences throughout the world for her stunning virtuosity and unequaled sense of lyricism. Widely known and respected as a duo-pianist alongside her husband Alexei Kuznetsoff, she brings to the concert stage a rare technical mastery combined with deep understanding of musical inner life.
Born in Kiev, Ms. Lisitsa presented her first solo recital at the age of six. A graduate of the famed Kiev Conservatory, she has won numerous international prizes, such as the Murray Dranoff Two Piano Competition, Concertino Prague, The Lysenko Piano Competition, The Paris Chamber Music Competition, and the Ukrainian Chamber Music Competition. Since making her New York debut in 1995 at the Mostly Mozart Festival at Lincoln Center with Gerard Schwartz conducting, she has maintained an active international schedule in recital and with orchestras, including a US tour with the Orchestre National de France under Charles Dutoit, performing the Poulenc Concerto for Two Pianos with her husband in, among other places, New York and Boston. She has also performed in a 30 performance tour with the Prague Chamber Orchestra.
Ms. Lisitsa is a frequent guest artist of numerous orchestras and festivals including the Indianapolis Symphony and Chicago's Grant Park Festival where she has appeared seven years in a row performing concerti by Mozart, Rachmaninoff, MacDowell, Bernstein, and Beethoven.
Her career highlights include her performances of all the Rachmaninoff concerti with numerous US and European orchestras, a 29 city recital tour (solo and duo with her husband, Alexei Kuznetsoff) in the US, a performance of Rachmaninoff's Second Concerto with the Dallas Symphony Orchestra with Andrew Litton conducting, and the world premiere of Schubert-Liszt's Schwanengesang at the Los Angeles County Museum of the Art, which was broadcasted live.
Her international appearances include recitals in the Seoul Arts Center in South Korea and concerts in Russia, Italy, the United Kingdom, and Germany. Since her debut at the prestigious Concert Society Series in Milan, Ms. Lisitsa has been re-engaged seven times for recitals and orchestral performances. The most respectable Italian newspaper, Corriere Della Sera, says, "…A singular mixing of grace and mysterious power…" Ms. Lisitsa's most recent performance of Shostakovich's Concerto No. 1 with the Mahler Chamber Orchestra in Munich and the I PALPITI Chamber Orchestra in Los Angeles was said to be "…as Shostakovich himself played it…" (Los Angeles Times).
Her recent engagements have included, a tour with the Talich String Quartet, a month-long tour with the Russian Symphony Orchestra in the United States and Mexico, recitals and an orchestra tour in Italy, a 12 concert US tour with the Russian State Symphony Orchestra, a European tour with the Stuttgart Symphony Orchestra and solo and chamber music recitals in Milan, Vienna, Amsterdam, London, Glasgow, San Diego, Miami, New York, and Chicago. Highlights from past seasons include the Atlanta Symphony, Stuttgart Philharmoniker, with the NYPO Chamber Players and Lynn Harrell, concerts in Knoxville, Las Vegas, Miami, Pensacola, and at the Capitol Building in Washington, D.C. In the 2004/2005 season, Ms. Lisitsa's engagements included performances in New Zealand, Mexico and throughout the United States. Ms. Lisistsa's busy 2005/2006 schedule included performances with the Nashville Symphony, Syracuse Symphony, Chicago Philharmonic, West Virginia Symphony, and Orquestra de Sao Paulo. Her summer 2006 schedule included her debut at the Bard Music Festival, as well as appearances at the Grant Park Music Festival, Amelia Island Chamber Music Festival, and with the Orquestra Sinfónica de Mineria in Mexico.
Ms. Lisitsa's recent 2006-2007 season engagements included orchestral appearances with the Pacific Symphony, Oregon Symphony, and Black Hills Symphony Orchestras. Ms. Lisitsa also toured the US in recital. This 2007-2008 season, Ms. Lisitsa will join Hilary Hahn in extensive tours throughout the US and Europe.
Ms. Lisitsa can be heard on the Audiofon label. Her discography consists of seven highly acclaimed CD recordings including performances of Shostakovich's First Piano Concerto with the Ekaterinburg Symphony Orchestra, Sarah Caldwell conducting; two CDs of duo piano performances; the Rachmaninoff Cello Sonata with William De Rosa, and three solo recital programs ranging from Mozart to Prokofiev. In addition to her extensive discography, Ms. Lisitsa has also recorded a television program "Valentina in Miami," a one hour music special produced and presented by PBS. A DVD of Ms. Lisitsa's interpretation of all 24 Chopin Etudes is also available. Recently, Ms. Lisitsa was featured in a segment of the CBS News program "Sunday Morning."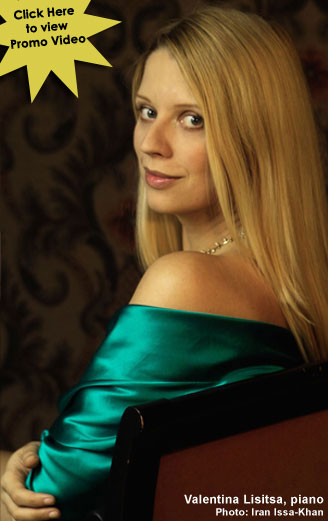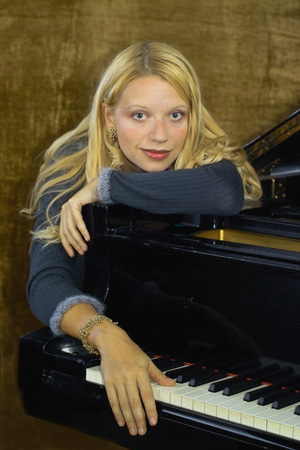 Admin




Mesaj Sayısı

: 2411


Kayıt tarihi

: 01/04/08




---
Bu forumun müsaadesi var:
Bu forumdaki mesajlara cevap
veremezsiniz