1
sayfadaki
1
sayfası •
Paylaş
•

KATHRYN GRAYSON
http://www.kathryngrayson.com/
http://www.imdb.com/name/nm0337113/
http://film.virtual-history.com/person.php?personid=2313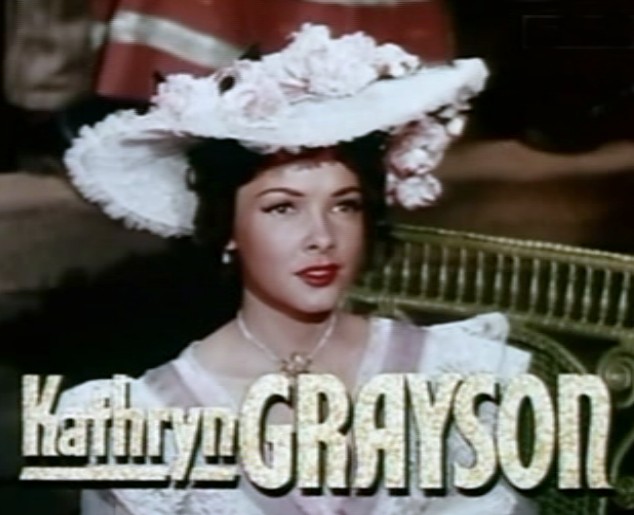 Kathryn Grayson (February 9, 1922 – February 17, 2010 was an American actress and operatic soprano singer.
Trained as an opera singer from the age of twelve, Grayson was contracted to MGM and established a career in films from the early 1940s. Most of her films were musicals and after several supporting roles, she was given lead roles in such films as Show Boat (1951) and Kiss Me Kate (1953). She was paired with Howard Keel and Mario Lanza in some of her films.
When movie musicals fell out of favor with film audiences, she progressed to theatre work, and appeared in several musicals, including the highly successful Camelot from 1962 until 1964. During the 1960s, she performed in several operas, including La bohème, Madama Butterfly, Orpheus in the Underworld and La traviata.

Life and career
Background
She was born Zelma Kathryn Elisabeth Hedrick in Winston-Salem, North Carolina. The Hedrick family later moved to St. Louis, Missouri, where she was discovered singing on the empty stage of the St. Louis Municipal Opera House by a janitor, who introduced her to Frances Marshall of the Chicago Civic Opera, who gave the twelve-year-old girl voice lessons.
Career
with Mario Lanza in The Toast of New Orleans (1950)
Her first film appearance was in Andy Hardy's Private Secretary (1941) as Andy Hardy's secretary Kathryn Land. Though she started out as MGM's answer to Deanna Durbin in films such as Seven Sweethearts (1942) and Anchors Aweigh (1945), she became a top star in Thousands Cheer, Anchors Aweigh and Two Sisters from Boston, and in the film versions of the Broadway hit Kiss Me Kate (1953). In this film, she teamed up with Howard Keel, with whom she had starred earlier in the 1951 Technicolor remake of Show Boat, and in 1952's Lovely to Look At, a 1952 Technicolor version of Roberta. She and Keel also appeared together in a highly successful cabaret act in the 1960s. She also appeared in a duo of films with tenor Mario Lanza, That Midnight Kiss (1949) and The Toast of New Orleans (1950).
Grayson appeared on television occasionally. Her first TV appearances were in the 1950s, and she received an Emmy nomination in 1956 for her performance in the General Electric Theater episode Shadow on the Heart with John Ericson. More recently, she appeared in several episodes of Angela Lansbury's series Murder, She Wrote in the late 1980s.
[edit] Stage career
With the end of MGM's great era of musicals, so ended Grayson's film career. She was on stage in numerous stage musicals such as Show Boat, Rosalinda, Kiss Me, Kate, Naughty Marietta, and The Merry Widow, for which she was nominated for Chicago's Sarah Siddons Award. This led to her as a replacement for Julie Andrews on Broadway in 1962 in Camelot, scoring a great success as Queen Guenevere, before going on to star in the National tour for over sixteen months, after which she left the show due to health problems. During her period with the Camelot tour, all box-office records were broken and she gained uniformly excellent notices. Grayson had a lifelong dream of being an opera star, and she appeared in a number of operas in the 1960s, such as La bohème, Madama Butterfly, Orpheus in the Underworld and La traviata. Her dramatic and comedy stage roles included Night Watch, Noises Off, Love Letters and Something's Afoot as Dottie Otterling.
Grayson supervised the Voice and Choral Studies Program at the Idaho State University.
Personal life
In Hollywood she married twice, first to the actor John Shelton and then to the actor/singer Johnnie Johnston. She has one daughter, Patricia Kathryn, born October 7, 1948.
Grayson died of natural causes at her home in Los Angeles, California, on February 17, 2010. She was 88 years old
By BOB THOMAS, Associated Press Writer Bob Thomas, Associated Press Writer – 31 mins ago
LOS ANGELES – Kathryn Grayson, whose beauty and lilting soprano voice brightened such popular MGM musicals of the 1940s and '50s as "Anchors Aweigh," "Show Boat" and "Kiss Me Kate," has died. She was 88.
Grayson died Wednesday at her Los Angeles home, the actress' longtime secretary and companion, Sally Sherman, told The Associated Press.
"She just went to sleep and didn't wake up," Sherman said Thursday.
Grayson's youthful ambition was to sing opera, but she wasn't able to accomplish that dream until after her movie career ended. While still a teenager, she was placed under contract at MGM at a time when the studio was assembling a stable of musical talent that would dominate the era of great musicals.
"I thought they were wasting their time and money," Grayson recalled of her first days at the studio. "I even told (studio boss) Louis B. Mayer that. He said he knew a lot more than a 16-year-old girl who is and who isn't good material for pictures.
"He offered a deal: I would make a screen test, and if the studio liked the test, I would shut up forever. If not, I would go.
"It was the longest test in motion picture history. They spent hundreds of thousands of dollars; it was almost a two-reeler .... The studio liked it. I told Mr. Mayer I didn't like it. He went home with a heart attack."
Concerned, Grayson agreed to stay, and she turned down an offer to sing "Lucia" at the Metropolitan Opera. She later learned that Mayer had two ploys to persuade recalcitrant actors: to cry or to claim a heart attack.
Like Lana Turner, Esther Williams, Donna Reed and other MGM newcomers, Grayson was given a tryout as Mickey Rooney's sweetheart in the studio's popular Andy Hardy film series. She played the title role in "Andy Hardy's Private Secretary" and sang Strauss's "Voices of Spring." Mayer was convinced that he had a future star.
She was cast in three minor films, including a musical with Abbot and Costello, then played Gene Kelly's girlfriend in a wartime revue that included major MGM stars, "Thousands Cheer."
"Anchors Aweigh," a 1945 hit with Kelly and Frank Sinatra, confirmed her star status. Her bell-like soprano made her the ideal co-star with Hollywood's full-voiced male singers in operettas and other musicals. She made three films with Howard Keel, two with Mario Lanza, one with Gordon MacRae.
Other musicals included "Two Sisters from Boston," "Ziegfeld Follies," "Till the Clouds Roll By," "That Midnight Kiss," "The Toast of New Orleans," "Lovely to Look At," "The Desert Song" and "So This Is Love."
Normally she was the most congenial of actresses during filming, but she did have one public flare-up with the temperamental Lanza. He lit the fire when he told an interviewer: "I'll always have a soft spot in my heart for Kathryn because she was in my first two pictures."
She took offense because she believed as an established MGM star, they were her pictures. She told an interviewer she objected to Lanza's behavior on the set, especially his vulgar language.
Her last film, "The Vagabond King" in 1956, soured her on movies. She was scheduled to be reunited with Lanza, but he pulled one of his characteristic no-shows. An unknown Oreste Kirkpop (billed only as Oreste), was a last-minute substitution. "He couldn't speak English, so the director, Mike Curtiz, told me to speak his lines. `But I'm not Francois Villon,' I said. `It doesn't matter,' said Mike." Oreste's lines were dubbed.
"It never should have been made," she told an interviewer. "(Composer) Rudolf Friml was so upset about it that he told Paramount he was going out of town for the weekend. He went to Hong Kong."
Grayson was born Zelma Kathryn Hedrick on Feb. 9, 1922, in Winston-Salem, N.C. Her father was a building contractor and real estate agent. Because of his business, the family moved frequently, eventually settling in St. Louis. Her parents recognized her gifted voice and arranged an audition before opera star Frances Marshall. She encouraged the girl to continue her music lessons.
The family then moved to Los Angeles so Kathryn could have more professional training. She came to the attention of Mayer, who had been searching for a lovely young soprano to rival Universal's sensational Deanna Durbin (Durbin had been under contract to MGM, but she was dropped in favor of Judy Garland).
After her movie career ended with "The Vagabond King," Grayson remained active, finally realizing her long-held ambition to sing opera. She also starred in stage productions of "The Merry Widow," "Rosalinda," Naughty Marietta," and "Camelot." She and Howard Keel toured extensively in "Man of La Mancha" and appeared together in Las Vegas. She did concerts in Australia and appeared in a one-woman show of film clips and reminiscences.
She married and divorced MGM contract players John Shelton (1940-1946) and Johnny Johnston (1947-1951). The marriage to Johnston produced her only child, Patricia Towers.
She never wed again after her second marriage, and in a 1988 interview she said she had no intention of writing a memoir because it wouldn't be the "kiss and tell" kind the publishers wanted.
"I'm a Pollyanna," she confessed. "I had to stop writing because I love everybody and I was saying everyone was beautiful. I just happen to think people are pretty wonderful."
She is survived by her daughter and several grandchildren and great-grandchildren.
Sherman said no funeral service is planned.

---
Bu forumun müsaadesi var:
Bu forumdaki mesajlara cevap
veremezsiniz