1
sayfadaki
1
sayfası •
Paylaş
•

BRANFORD MARSALIS
http://www.branfordmarsalis.com/branford/intro.cfm
http://www.imdb.com/name/nm0550364/
http://mediaplayer.wgbh.org/?xml=specials/jazz_conversations/jazz_2006_09_07_marsalis_branford.xml&resize=1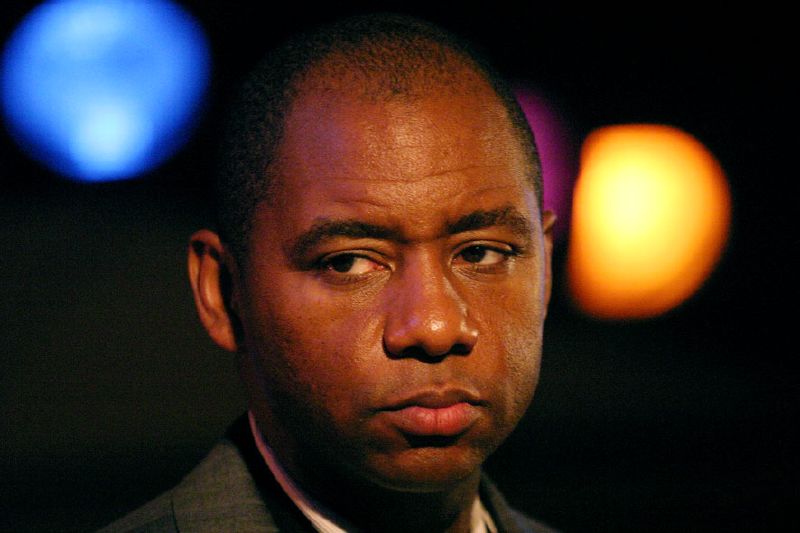 Background information
Birth name: Branford Marsalis
Born: August 26, 1960 (1960-08-26) (age 49)
Origin: Breaux Bridge, Louisiana, U.S.
Genres. Jazz
Post-bop
Instruments: Saxophone
Associated acts Wynton Marsalis
Delfeayo Marsalis
Jason Marsalis
Ellis Marsalis
Joey Calderazzo
Eric Revis
Jeff "Tain" Watts
Kenny Kirkland
DJ Premier, Sting, The Tonight Show Band, Kevin Eubanks
Anna Maria Jopek
Branford Marsalis (born August 26, 1960), is an American saxophonist, composer and bandleader. While primarily known for his work in jazz as the leader of the Branford Marsalis Quartet, he also performs frequently as a soloist with classical ensembles and has led the group Buckshot Le Fonque.
Biography
Marsalis was born in Breaux Bridge, Louisiana. His brothers Jason Marsalis, Wynton Marsalis, and Delfeayo Marsalis, and father Ellis Marsalis, Jr. are also jazz musicians.
In the summer of 1980, while still a Berklee College of Music student, Marsalis toured Europe playing alto and baritone saxophone in a large ensemble led by drummer Art Blakey. Other big band experience with Lionel Hampton and Clark Terry followed over the next year, and by the end of 1981 Marsalis, on alto saxophone, had joined his brother Wynton in Blakey's Jazz Messengers. Other performances with his brother, including a 1981 Japanese tour with Herbie Hancock, led to the formation of his brother Wynton's first quintet, where Marsalis shifted his emphasis to soprano and tenor saxophones. He continued to work with Wynton until 1985, a period that also saw the release of his own first recording, Scenes in the City, as well as guest appearances with other artists including Miles Davis and Dizzy Gillespie.
While Marsalis would release a second Buckshot LeFonque recording in 1997, his primary focus since 1996 has been on his own quartet, classical performance and education. With original member Watts still on drums, bassist Eric Revis replaced Hurst in 1997, while pianist Joey Calderazzo became a member after Kirkland's death the following year. The Branford Marsalis Quartet has toured and recorded extensively, receiving a Grammy in 2001 for its album Contemporary Jazz. After a two-decade association with Columbia Records, where he served as Creative Consultant and producer for jazz recordings between 1997 and 2001, Marsalis founded his own Marsalis Music label in 2002. With Marsalis as the label's primary producer, Marsalis Music has issued audio and video discs that feature Marsalis' quartet, the instrumental music of Harry Connick, Jr., new artists Miguel Zenón and Doug Wamble, and (under the Honors Series logo) veterans Alvin Batiste, Michael Carvin, Jimmy Cobb and Bob French. Claudia Acuña has also been signed by the label, with a disc forthcoming.
Marsalis placed greater emphasis on classical music since the 2001 release of his album Creation. Performances with symphony orchestras and chamber ensembles worldwide have become a significant part of his itinerary, with his most intense period of classical playing scheduled for October and November 2008, when Marsalis tours the United States with Philarmonia Brasileira.
Marsalis has also become involved in education at the university level, with appointments at Michigan State (1996-2000), San Francisco State (2000-2002) and North Carolina Central University (2005-present). After Hurricane Katrina devastated New Orleans in 2005, Marsalis and Harry Connick, Jr. created the concept of a Musicians' Village in the city's Upper Ninth Ward, with the Ellis Marsalis Center for Music as the Village's centerpiece. This project, undertaken by New Orleans Area Habitat for Humanity with Marsalis' and Connick's active participation, has proven to be one of the most successful recovery efforts in the region, and has already provided dozens of musicians of modest means with the opportunity to own decent, affordable housing.
Other appearances
Featured as saxophonist on "Fight the Power" (1989) by Public Enemy.
Wait Wait... Don't Tell Me! Guest on the "Not my Job" section of the show. On this performance he claimed the saxophone was the sexiest instrument, then insults the accordion. In a later episode of the show, "Weird Al" Yankovic stands up for the accordion; later guest Yo-Yo Ma claimed the saxophone was in fact the sexiest.
Interviewed on Space Ghost Coast to Coast November 11, 1994 Episode 11: "Gum Disease". Although the Coast to Coast crew said, "He was the most pleasant, and well mannered guest we had ever interviewed." He didn't sign a release for merchandising rights, so the episode couldn't be on the Space Ghost Coast to Coast Volume One DVD.
Marsalis was featured in Shanice's 1992 hit "I Love Your Smile". In the second half of the song, he has a solo and Shanice says "Blow, Branford, Blow."
He played the role of Lester in the movie Throw Momma from the Train (1987) and the role of Jordam in Spike Lee's 1988 musical-drama film School Daze.
Cameo as a repair man who asks Hillary on a date in the episode "Stop Will! In the Name of Love" on "The Fresh Prince of Bel-Air" (1994).
Interviews with Marsalis are featured prominently in the documentary Before the Music Dies (2006).
From 1992 - 1995 Branford was the leader of the Tonight Show Band, on The Tonight Show with Jay Leno. Initially he declined the offer but later reconsidered and accepted the position. He was succeeded as band leader by guitarist Kevin Eubanks.
Branford was a guest judge on the final episode of Top Chef (Season 5) which took place in New Orleans, Louisiana.
On April 28 and 29, 2009 Branford played with The Dead (The remaining members of the Grateful Dead)at the IZOD Center in East Rutherford, New Jersey, rekindling a relationship started when he performed with them at a legendary set at Nassau Coliseum March 29, 1990 during which, according to Dead aficionados, one of the greatest renditions of "Dark Star" (song), was performed.
Discography
As leader
2009 Metamorphosen
2006 Braggtown
2004 A Love Supreme Live - (DVD/CD)
2004 Eternal
2003 Romare Bearden Revealed - CD Issued in Conjunction with The Art of Romare Bearden (American painter)
2002 Footsteps of our Fathers - Branford again revisits the works of past masters, interpreting the tunes from his own angle
2001 Creation - some classical music rearranged for saxophone and orchestra
2000 Contemporary Jazz - Grammy Winner in category Best Jazz Instrumental Album, Individual or Group
1999 Requiem - recorded days before the death of and dedicated to pianist Kenny Kirkland
1997 Music Evolution - the second Buckshot LeFonque project
1996 The Dark Keys
1996 Loved Ones - a duet with his father Ellis Marsalis (piano)
1994 Buckshot LeFonque
1993 Bloomington - live recording
1992 Sneakers - soundtrack to the movie
1992 I Heard You Twice The First Time - Branford's quartet pairs up with some Jazz and Blues greats (including B.B.King, John Lee Hooker, Rip Tip Johnson) for a romp through the history of African-American music. Grammy Winner in category Best Jazz Instrumental Performance, Individual Or Group
1991 The Beautyful Ones Are Not Yet Born - with guests Wynton Marsalis (trumpet) and Courtney Pine (tenor saxophone)
1990 Crazy People Music
1990 Mo' Better Blues - soundtrack to the movie
1989 Do The Right Thing - music composed and conducted by Bill Lee
1989 Trio Jeepy - an album of standards featuring Milt Hinton (bass) and Jeff Watts (drums)
1988 Random Abstract
1987 Renaissance - on "The Peacocks": Herbie Hancock – Piano, Buster Williams - Bass
1986 Romances for Saxophone - some little pieces of classical evergreens
1985 Royal Garden Blues
1984 Scenes In The City
As sideman
2009 Your Songs - Harry Connick, Jr.
2007 ID - Anna Maria Jopek. Branford plays on the track 3 - Zrób, co możesz (Do What You Can) and on track 11 - Niepojęte i ulotne (Incomprehensible & Elusive)
2007 Marsalis Music Honors Series: Bob French (2007) - Bob French
2006 Intersections (1985-2005) - Bruce Hornsby
2005 Occasion : Connick on Piano, Volume 2 - A duo album with Harry Connick, Jr.
2003 The Marsalis Family: A Jazz Celebration - A showing for four brothers- Branford, Delfeayo Marsalis, Jason Marsalis, Wynton Marsalis, and their father, Ellis Marsalis
2003 Little Worlds - Béla Fleck and the Flecktones
1999 Brand New Day - Sting
1996 Mercury Falling - Sting
1996 Live Art - Béla Fleck and the Flecktones
1995 Joe Cool's Blues - Ellis & Wynton Marsalis. Branford plays on the track "Little Birdie"
1995 Hot House - Bruce Hornsby
1995 Tales from the Acoustic Planet - Béla Fleck
1994 "With the Tenors of Our Time" - Roy Hargrove. On track 3, "Valse Hot."
1994 Rob Wasserman: Trios With Bruce Hornsby on "White-Wheeled Limousine"
1994 JLW - Joe Louis Walker. On track 4 Inner City Man.
1993 It's Got to Be Funky - Horace Silver
1993 Jazzmatazz, Vol. 1 - Guru. Features on track four, "Transit Ride" along with Zachary Breaux.
1993 Harbor Lights - Bruce Hornsby Grammy Winner for song, "Rainbow's Cadillac"
1993 Three Flew Over the Cuckoo's Nest - Béla Fleck and the Flecktones
1992 Pontius Pilate's Decision - Delfeayo Marsalis
1991 Karma - Robin Eubanks. On track 7 The Yearning and track 10 Remember When
1990 The Soul Cages - Sting
1990 Live It Up - Crosby, Stills & Nash. Branford plays on tracks 5 Yours And Mine and on track 9 Arrows
1990 You Won't Forget Me - Shirley Horn. Branford appears on the track "It Had to be You"
1990 Without a Net - Grateful Dead. Branford plays on "Eyes of the World" (live album)
1990 We Are In Love - Harry Connick, Jr.
1987 ...Nothing Like the Sun - Sting
1986 Bring on the Night - Sting (live album)
1986 Break Every Rule - Tina Turner. Branford plays on the track "Paradise Is Here"
1985 Dream of the Blue Turtles - Sting
1985 Opening Night - Kevin Eubanks
1985 Black Codes (From the Underground) - Wynton Marsalis
1984 Hot House Flowers - Wynton Marsalis
1983 Think of One - Wynton Marsalis
1982 Wynton Marsalis - Wynton Marsalis
1982 Keystone 3 - Art Blakey & The Jazz Messengers
Admin




Mesaj Sayısı

: 2411


Kayıt tarihi

: 01/04/08




---
Bu forumun müsaadesi var:
Bu forumdaki mesajlara cevap
veremezsiniz