1
sayfadaki
1
sayfası •
Paylaş
•

LENNIE TRISTANO
http://www.lennietristano.com/
Leonard Joseph Tristano (19 March 1919 - 18 November 1978) was a jazz pianist and composer. He performed in the cool jazz, bebop, post bop and avant-garde jazz genres.
He remains a somewhat overlooked figure in jazz history, but his enormous originality and dazzling work as an improviser have long been appreciated by knowledgeable jazz fans; in addition, his work as a jazz educator meant that he has exerted a substantial influence on jazz through figures such as Lee Konitz and Bill Evans.
Life
Tristano was born in Chicago into an Italian immigrant family from Aversa. He was blind from infancy and studied piano and music theory from pre-teen years, graduating from his home town's American Conservatory of Music in 1943.
Tristano's interest in jazz inspired a move to New York City in 1946. His advanced grasp of harmony pushed his music beyond even the complexities of the contemporary bebop movement, though Tristano was always explicit about acknowledging his enormous debt to Charlie Parker and Bud Powell. (Other key ingredients in his style were Nat King Cole and Art Tatum, influences most audible in his early drummerless trio recordings.) Though he and his followers remained at something of a slant to mainstream bebop, Tristano did on occasion play and record with bebop's preeminent figures such as Dizzy Gillespie and Charlie Parker. Often the "Tristano school" has been contrasted with bebop, however, by being labelled "cool jazz", though this risks lumping his music in with unrelated styles like the West Coast cool jazz of the 1950s.
Recordings
Among Tristano's most important earlier recordings was a 1949 sextet session with his students, saxophone players Lee Konitz and Warne Marsh. After recording a number of conventionally structured compositions, Tristano had the group record "Intuition" and "Digression." Both pieces were completely improvised, with no prearranged melody, harmony or rhythm. These two songs are often cited among the first examples of free jazz or free improvisation.
His 1953 recording Descent into the Maelstrom is especially significant: an experiment in overdubbing which in its harsh atonality anticipates the much later work of players like Cecil Taylor and Borah Bergman (who has specifically mentioned the piece as an important influence on his work).
Tristano released two important albums on Atlantic Records, which remain his best-known work. Lennie Tristano, from 1955, is famous for including innovative experiments with overdubbing ("Requiem" and "Turkish Mambo") and altered tape-speed ("Line Up" and "East 32nd"); the second side is a straightforward club gig in the company of Lee Konitz. "Requiem," a tribute to the late Charlie Parker, is notable for its deep blues feeling – a style not usually associated with Tristano. However, perhaps the most significant work lies in the composition "Line Up", a spiralling, unbroken, melodically futuristic improvisation based on the changes to All of Me that beggars description, clocking in at an astounding 3:30. The New Tristano (1962) remains a landmark in solo jazz piano: though on this occasion no overdubbing was used, the music is just as densely conceived, especially the classic "G Minor Complex," an improvisation on the changes of "You'd Be So Nice to Come Home To." Tristano's mimicking of a jazz bassist's accompaniment with his left hand on these recordings is distinctive and often imitated; the combination of this line with the dazzling line-spinning of his right hand also gives the music a contrapuntal flavour explicitly paying homage to Bach.
Tristano's distrust of jazz record labels and increasingly infrequent public performances meant that his recordings are comparatively scarce, and many of them are concert recordings of very variable fidelity. Some of his live performances were recorded and have been released, including those from the Half Note Club in New York from the 1950s, and concerts in Europe from the 1960s. He was one of the first musicians to start his own record label, Jazz Records, which is still in existence and is run by his daughter, the drummer Carol Tristano. The label Inner City released a compilation of various Tristano recordings, Descent into the Maelstrom.
Education
By the mid-1950s, Tristano focused his energies more on music education. He can be regarded as one of the first jazz teachers to teach jazz in a structured way, beginning in the late 1940s and continuing to his death in 1978.
Influence
His innovative tutelage has inspired an eclectic group of artists: Charles Mingus, Billy Joel, Bill Russo, Connie Crothers, Lenny Popkin, Sal Mosca, Liz Gorrill, Herbie Hancock, Lee Konitz, Warne Marsh, Sheila Jordan, Bill Evans, Billy Bauer, Fran Canisius, Betty Scott, Jeff Morton, Willie Dennis, Jerry Tilitz, Don Ferrara, Ronnie Ball, Peter Ind, Jimmy Halperin, Billy Lester, Alan Broadbent, Mark Turner, rock guitarist Joe Satriani, Keith Emerson, and even Franciscan priest/rapper Fr. Stan Fortuna.
A book by bassist Peter Ind, Jazz Visions: Lennie Tristano and His Legacy, was released in October 2005. The book documents and discusses Tristano's contributions to jazz music.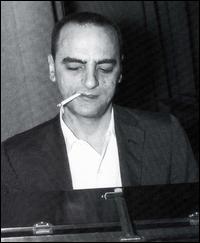 facebooktwitterskypedevamı...Oy ver!The Metronome All-Stars 1949 & 1951 Recording Sessions
(from the original album 'THE METRONOME ALL-STAR BANDS')

The Metronome All-Stars 1949
1) Overtime (Rugolo)
2) Victory Ball (Tristano)

Personnel: Dizzy Gillespie, Miles Davis, Fats Navarro (tp), Kai Winding, J. J. Johnson (tb), Buddy DeFranco (cl), Charlie Parker (as), Charlie Ventura (ts), Ernie Caceres (bs), Lennie Tristano (p), Billy Bauer (g), Eddie Safranski (b), Shelly Manne (ds)

The Metronome All-Stars 1951
3) Early Spring (Burns)
4) Local 802 Blues (Shearing)

Personnel: Miles Davis (tp), Kai Winding (tb), John LaPorta (cl), Lee Konitz (as), Stan Getz (ts), Serge Chaloff (bs), George Shearing (p), Billy Bauer (g), Eddie Safranski (b), Max Roach (ds), Terry Gibbs (vbs)
Kaynak:
http://www.cazci.com/?p=30
Batı bölgesindeki caz (West Coast Jazz), artık giderek cool cazla birlikte anılmaya başlamıştı. Gazeteciler ve yorumcular diğer yapılan müziklere pek değer vermemişti ve 1950'lerde batı bölgesinin müziği cool caz olmuştu…
Dönemin Önde Gelen İsimleri
Dönemin önde gelen isimlerinden Lennie Tristano piyanist, besteci ve orkestra şefi olarak bop tarzına alternatif bir modern caz müziği yaratmıştır. O zamanlarda bop'a alternatif olan en önemli müzik onunkidir. Tristano'nun yetişirken etkilendiği kişiler Art Tatum ve Lester Young olmuştur. Etkilendiği bir diğer müzisyen de Johann Sebastian Bach'tır. Öğrencilerine Young'ın eserlerine çalışmaları gerektiğini söylediği gibi, Bach'ın da eserlerini çalışmalarını istemiştir. Tristano'nun kendine özgü özellikleri arasında Tatum'un zor ve etkileyici piyano sololarını başarıyla çalabilmesi de vardır. Öte yandan swing ve Milt Buckner zamanında ortaya çıkan kilitli el tekniğini de çok iyi kullanmıştır. Tristano ve ekibi, Ornette Coleman ve Cecil Taylor'dan çok önceleri Free Jazz denen tarzın da temellerini atmışlardır.
Tristano müzik kariyerinde çok fazla kayıt yapmamıştır (toplam 7 albüm). Satışları da çok olmadığı için albümleri belli kolleksiyoncularda bulunmaktadır. Kendisi caz dünyasındaki etkisini eğitmen olarak hissettirmiştir. Belki de bundan ötürü, bir çok caz müzisyeni onun müziğini yeterli seviyede görmüyordu; yahut Tristano'nun müziğinin bilincinde değillerdi. Tristano müziğiyle, Bill Evans ve Cecil Taylor'u etkilemeyi başarmıştır. Bu yüzden etkisi dolaylı da olsa Herbie Hancock, Chick Korea ve Keith Jarret'a kadar ulaşmıştır.
1940'lı yıllarda Tristano'nun öğrencileri arasında alto saksofon sanatçısı Lee Konitz ve tenor saksafon sanatçısı Warne Marsh öne çıkan isimlerdendir
1919-1978 yılları arasında yaşamış piyanist, tam adı Leonard Joseph Tristano.
Ekşi sözlük yorumları
Öyle pek de çok bilinmediğini düşündüğüm, 50li yıllatın swing tarzı ama yine de nefis sololarını atmış, triosu ile standartları yorumlayan bi piyanist. Oscar Peterson tadında görüyorum konseptini-ama Oscar baba cok daha ses getiren işler yapmış ve ömrü daha uzun sürmüş anladığım kadarıyla..
Lee Konitz faktörü onun muziğinde ve yaratıcılığında etkendir. Orijinallik Lee babadan (sax) gelmekte, onu izleyip yanında cçalarak gereğini yapan Lennie ise parsayı toplamaktadır kendi adına. Hatta bir parça 'baskasının buluşlarından credit koparmak' durumu ... Caz tarihinde böyle de anılsa, unutulmayan bir tarzı da vardır piyanoda.
(billythetheorist, 15.03.2003 05:16)
Warne Marsh, Lee Konitz, Billy Bauer, Arnold fFshkin ve Denzil Best'ten oluşan altılısı ile doldurduğu Crosscurrents albümünde kendi besteleri olan Intuition ve Digression ile free jazz'ın ilk örneklerini vermiş piyanisttir.
(jazzlord, 26.04.2003 21:31)
Sosyomat
Bir caz efsanesidir. Charlie Parker'ın Bird' ünde olduğu gibi "Hadi gelin bi oturalım enstrumanların başına bakalım ne çıkacak" diyerekten, isminden de anlaşıldığı üzere sezgilerine güvenerek ortaya çıkardıkları Intuition adlı bir eseri vardır. Bir çoğunun Miles Davis'le veya Dave Brubeck'le özleştirdiği cool cazın bana göre en iyi temsilcisidir. Hatta bir adaya düşsem yanıma alacağım 3 - 4 dört müzisyen arasındadır. Fakat ne varki kayıtları kolay bulunmaz.
(Intuition)

---
Bu forumun müsaadesi var:
Bu forumdaki mesajlara cevap
veremezsiniz