1
sayfadaki
1
sayfası •
Paylaş
•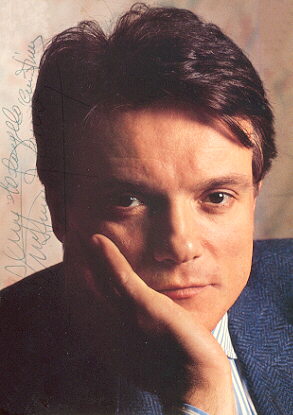 Massimo Ranieri (born Giovanni Calone, May 3, 1951), is an Italian pop singer, film and stage actor.
He was born in Naples (at Santa Lucia), the fourth of eight children in the family. When he was 10, young Giovanni would sing at restaurants, wedding receptions, etc. He was discovered by a music producer about 4 years later and was flown to New York to record an EP under the name of Gianni Rock.
He recorded 4 songs in 1964: Tanti auguri signora, Se mi aspetti stasera, Non chiudere la porta, and La Prima Volta. Unfortunately, none of the records were successful, due to the fact that young Gianni's voice was changing. Two years later, he would later re-emerge under his new stage name, Massimo Ranieri.In 1966, he made his tv debut singing "Bene Mio". A year later, he made another tv appearance singing, "Pietà per chi ti ama". In 1968, he recorded 2 more songs: "Da Bambino", Ma L'amore cos'e" and "Preghiera". But it wasn't until 1969, when he really became successful and became a teen idol making all the young girls scream for him, when he sang "O Sole Mio" on live tv. Soon, in most every tv appearance he made, you could hear the girls screaming in the background. That same year, he had a string of hits: "Rita", "Se bruciasse la citta", "Quando l'amore diventa poesia", "Il mio amore resta sempre" and "Zingara". In 1970, "Vent'anni", "Sogno d'amore", "Sei l'amore mio", "Aranjuez Amore Mio", "Candida". During that year, Massimo decided to venture into acting.
His screen debut, Metello received rave reviews by critics, and he even won an award for portraying the title character. He co-starred with Anna Magnani in La Sciantosa, later that year. In 1971, "Adagio Veneziano", "Via del Conservatorio", "Io e Te". He represented Italy in the 1971 Eurovision Song Contest in Dublin, Ireland, where he placed 5th with the song, "L'Amore E' Un Attimo." During that year, Massimo became a father with the birth of his only child, Cristiana. In 1972, "Ti Ruberei", "O Surdato 'nnamurato", "Erba di Casa Mia". In 1973, "Amo Ancora Lei". He returned to the Eurovision Song Contest that year in Luxembourg to represent Italy with "Chi sarà con te", where he placed 13th. And in 1974, "Te Voglio Bene Assaie", "Immagina", "Per Una Donna". During that year, he filmed Salvo D'Acquisto, where he portrayed a Carabinieri policeman who was executed by the Nazis during World War II.
When his singing career started to decline in 1975, Massimo took a 13-year hiatus to focus on his acting career. But, in 1988, he made a comeback with the song, "Perdere L'Amore", which won him the Sanremo Festival that year. In 1997, he made another comeback with "Ti parlero d'amore". During that year, he performed in the stage play, La Liola, where he played the title character. That same year, he did the Italian voiceover for Quasimodo in Disney's "Hunchback of Notre Dame", where he also sang Quasimodo's part as well. On 16 October 2002, Massimo Ranieri was nominated Goodwill Ambassador of the Food and Agriculture Organization of the United Nations (FAO). In 2004, he made his first French movie, a trilogy series called Les Parisiens, where he played a street artist. In 2007, he was in a docu-film called Civico 0, where he played Guilano, a fruit vendor, who becomes homeless after the death of his mother. In 2008, he filmed his latest movie, L'Ultimo Pulcinella. Right now, he is currently on a sold-out concert tour of Italy, which is supposed to last until 2010.
Massimo Ranieri - Chi sarà
Chanson classée N°13 à l'Eurovision 1973

Come al nostro primo appuntamento un anno fa
Oggi aspetto un'altra e tutto si ripeterà
Camminiamo un poco e mentre prendo la sua mano
Il cuore mi domanda piano

Chi sarà con te, forse la sua mano, stringerà la tua
Chi sarà, sarà, magari è emozionato come io con lei
Non parliamo più, io m'avvicino e sfioro le sue labbra
Ma penso a chi sarà con te

Lucide vetrine, specchi per gli innamorati
Cinema da pochi soldi, strade sconosciute
Lei che ti assomiglia un poco e il fuoco si riaccende
Ma un po' di nostalgia mi prende

Chi sarà con te, chi ti stringerà forte come me

Chi sarà, sarà, cosa importa ormai, se l'ho voluto io
Caro amore mio, mentre io ti penso, chi sarà con te



---
Bu forumun müsaadesi var:
Bu forumdaki mesajlara cevap
veremezsiniz