1
sayfadaki
1
sayfası •
Paylaş
•

ANOUSHKA SHANKAR
http://www.anoushkashankar.com/
http://www.imdb.com/name/nm0788154/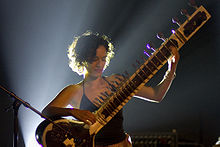 Anoushka Shankar (Hindi: अनुष्का शंकर), born June 9, 1981) is a sitar player and composer in the United States. She is the daughter of Ravi Shankar, Indian sitar player, and Sukanya Rajan, a bank employee. Through her father, she is the half-sister of Grammy Award winner Norah Jones.
Personal life and education
Shankar was born in London and divided her childhood between London and Delhi. As a teenager, she lived in Encinitas, California and attended San Dieguito Academy. A 1999 honors graduate, Shankar decided to pursue a career in music rather than attend college.
Career
Anoushka and Ravi Shankar in concert, 2005Shankar began training on the sitar with her father as a child, gave a public performance at the age of thirteen, and signed her first record contract at 16.
She released her first album, Anoushka, in 1998. Later, in February 2000, Shankar became the first woman to perform at The Ramakrishna Centre in Kolkata. Both Shankar and her half-sister, Norah Jones, were nominated for Grammy awards in 2003.
Shankar, in collaboration with Karsh Kale, released Breathing Under Water on 28 August 2007. It is a mix of classical sitar and electronica beats and melodies. Notable guest vocals include her half-sister, Norah Jones, Sting, and Ravi Shankar who performs a sitar duet with his daughter.
In 2009, Anoushka started writing weekly columns for HT City, the lifestyle supplement of Hindustan Times. These columns appear online on social network Desimartini
Benefit concerts
On 29 November 2002, she performed with her father at the Concert for George held at the Royal Albert Hall in London. It was held in memory of George Harrison and was modeled after Ravi Shankar's benefit concert with Harrison, the 1971 Concert for Bangladesh.
Shankar and Jethro Tull postponed a concert scheduled for 29 November 2008 in Mumbai after the November 2008 Mumbai attacks. They reorganized the performance as A Billion Hands Concert, a benefit performance for victims of the attacks, and held it on 5 December 2008. Shankar commented on this decision stating that: "As a musician, this is how I speak, how I express the anger within me [...] our entire tour has been changed by these events and even though the structure of the concert may remain the same, emotionally perhaps we are saying a lot more."
Awards
British House of Commons Shield, 1998
Woman of the Year (shared with Kareena Kapoor, Ritu Beri, and Rhea Pillai) awarded on International Women's Day 2003
Activism
Shankar is a supporter of animal rights and People for the Ethical Treatment of Animals (PETA). She and her father appeared in a thirty-second public-service announcement against animal suffering. Shankar is a vegan.
Discography
Studio albums
Anoushka (1998)
Anourag (2000)
Rise (2005)
Breathing Under Water (2007)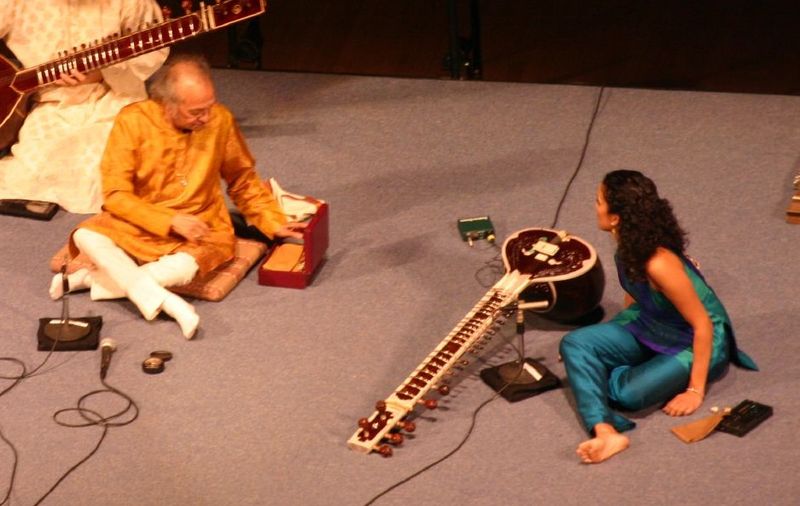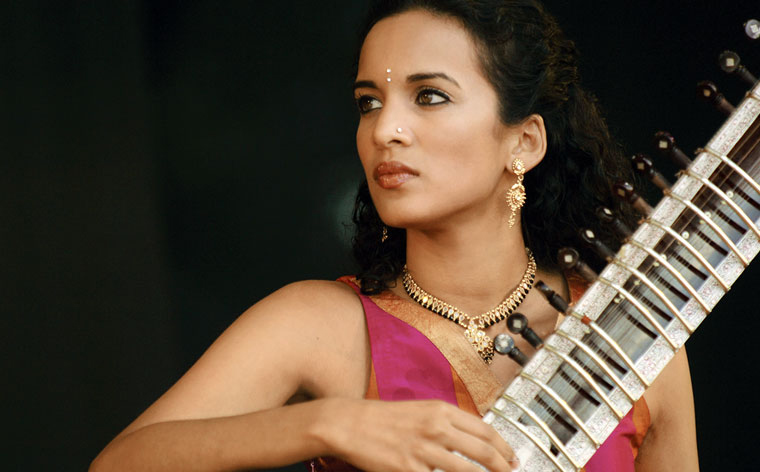 Ravi Shankar's daughter, Anoushka, plays live, at Verbier Festival part of a raga "Mishra Pilu".

Sitar: Anoushka Shankar
Violin: Joshua Bell
Tabla: Tanmoy Bose

Please visit kavitachhibber.com for more interviews and podcasts featuring your favorite Indian artists!

---
Bu forumun müsaadesi var:
Bu forumdaki mesajlara cevap
veremezsiniz