1
sayfadaki
1
sayfası •
Paylaş
•

SARA MONTIEL
http://infomontiel.tripod.com/
http://www.visitingsaramontiel.com/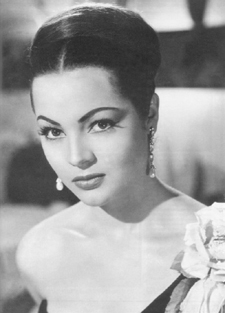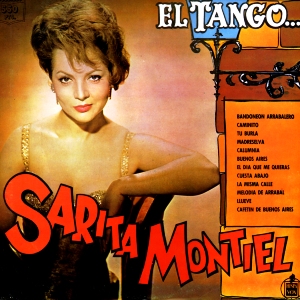 Sara Montiel (also Sarita Montiel or Saritísima) (born March 10, 1928) is a Spanish singer, and actress. She is still a much-loved and internationally known name in the Spanish-speaking movie and music industries.
She was born in Campo de Criptana in the region of Castile-La Mancha in 1928 as María Antonia Abad (complete name María Antonia Alejandra Vicenta Elpidia Isidora Abad Fernández). After her unprecedented international hit in Juan de Orduña's El Último Cuplé in 1957, Montiel achieved the status of mega-star in Europe and Latin America. She was the first woman to distill sex openly in Spanish cinema at a time when even a low cut dress was not acceptable.
Montiel was the most commercially successful Spanish actress during the mid twentieth century in much of the world. Miss Montiel's film "Varietes" was banned in Beijing in 1973. Her films "El Último Cuple" and "La Violetera" netted the highest gross revenues ever recorded for films made in the Spanish speaking movie industry during the 50s and 60s. She also played the role of Antonia, the niece of Don Quixote, in the 1947 Spanish film version of Cervantes's great novel.
She was recently portrayed in the Pedro Almodóvar film Bad Education by a male actor in drag (Gael García Bernal) as the transsexual character Zahara, and a film clip from one of her movies was used as well.
Acting career
Montiel started in movies at 16 in her native Spain where she filmed her first international success playing an Islamic princess in the 1948 film Locura de Amor. Later she conquered Mexico, starring in a dozen films in less than five years. Hollywood came calling afterwards, and she was introduced to US moviegoers in the film Vera Cruz (1954) co-starring with Gary Cooper and Burt Lancaster, and directed by Robert Aldrich. She was offered the standard seven-year contract at Columbia Pictures, which she quickly refused, afraid of Hollywood's typecasting policies for Hispanics. Instead she free-lanced at Warner Bros. with Mario Lanza and Joan Fontaine in Serenade (1956), directed by Anthony Mann, and at RKO in Samuel Fuller's Run of the Arrow (1957), opposite Rod Steiger and Charles Bronson.
In 1974 Montiel announced her retirement from movies but continued performing live, recording and starring on her own variety television shows in Spain.
Personal Information
Montiel was born Maria Antonia Alejandra Abad Fernández on March 10, 1928 in Campo de Criptana in the province of Ciudad Real, Spain. She entered films after winning a beauty and talent contest at age 15. In her first movie she was credited as "Maria Alejandra" a shortened version of her real name. For her next film she changed her name to Sara, after her grandmother, and Montiel after the Montiel fields in the Castile-La Mancha region of her birth. She has been married four times:
Anthony Mann (American, Actor & Film Director) In Beverly Hills, California 1957-1963 (divorced)
José Vicente Ramírez-Olaya (Industrial Attorney) Rome, Italy 1964-1978 (annulled)
José Tous-Barberán (Attorney-Journalist) Palma de Mallorca, Spain 1979-1992 (Tous's death)
This marriage produced two adopted children: Thais (born 1979) Zeus (born 1982)
Antonio Hernández (Cuban Videotape Operator) Madrid, Spain 2002-2005 (divorced)
During the Francisco Franco dictatorship Spanish stars were forbidden to behave in any way that could be perceived at odds with Christian principles and morality, consequently they kept their private lives very private. Montiel was no exception. Pre-marital or out of wedlock relationships were never mentioned and her civil marriage to Anthony Mann was underplayed along with the divorce.
Her 1964 Catholic wedding in Rome was granted great publicity but no one was informed that the marriage only lasted a couple of months. By 1965 the couple had separated and Montiel had started a very secret love affair with Italian actor Giancarlo del Duca (aka Giancarlo Viola) It was all kept under wraps since divorce was illegal in both Italy and Spain.
In 1970 Sara broke up with Giancarlo and started a long-term relationship with José Tous. By the mid '70s censorship in Spain was abolished and the truth began coming out. Montiel requested an annulment of her second marriage and the Catholic Church granted it in 1978. The following year she married Tous in a civil ceremony and the marriage lasted until his death of cancer in 1992. By 1993 Sara was involved again with Giancarlo Viola. In 2002 the couple parted, and Montiel married a much younger man who resided in Cuba, a union that was doomed from the start and ended in divorce in 2004. Soon after, Viola was back in Montiel's life, and they seem committed to each other in spite of the fact that Montiel lives in Madrid and her partner remains in Italy.
In 2000 Montiel published her autobiography "Memories: To Live Is A Pleasure", an instant best seller with ten editions to date. A sequel "Sara and Sex" followed in 2003. In these books Montiel revealed other relationships in her past including one-night stands with writer Ernest Hemingway as well as actor James Dean. She also claimed a long term affair in the 1940s with playwright Miguel Mihura and mentioned that science wizard Severo Ochoa, a Nobel Prize winner, was the true love of her life.
She is currently considered one of the highest paid celebrities in the television talk show circuit in Spain.
Filmography
Te Quiero para Mi - 1944 (credited as "Maria Alejandra")
Empezó en Boda - 1944
Bambu" - 1945
Se Le Fue el Novio - 1945
El Misterioso Viajero del Clipper -1946
Por El Gran premio - 1946
Vidas Confusas - 1947
Confidencia - 1947
Mariona Rebull - 1947
Don Quijote de la Mancha (Don Quixote in the U.S.) - 1947 (released in the U.S. in 1949)
Alhucemas - 1948
Locura de amor (The Mad Queen in the U.S.) - 1949
La Mies es Mucha - 1949
Pequeñeces - 1950
That Man from Tangier -1950 (released in the U.S. 1953)
Furia Roja - 1950 (English version: "Stronghold" with Veronica Lake in the Montiel part)
Cárcel de mujeres - 1951
Ahí viene Martín Corona - 1951
El Enamorado - 1951
Ella, Lucifer y Yo - 1952
Yo Soy Gallo Dondequiera - 1952
Piel Canela - 1953
Porque Ya No Me Quieres - 1953
Se Solicitan Modelos - 1954
Frente Al Pecado De Ayer - 1954
Yo No Creo en Los Hombres - 1954
Vera Cruz - 1954
Donde el círculo termina -1955 (Circle of Death in the U.S.)
Serenade - 1956
Run of the Arrow - 1957
El último cuplé - 1957
La Violetera - 1958
Carmen la de Ronda (The Devil Made a Woman in the U.S. and UK.) - 1958
Mi Último Tango - 1960
Pecado de Amor - 1961
La Bella Lola - 1962
Noches De Casablanca - 1963
Samba - 1964
La Dama de Beirut - 1965
La Mujer Perdida - 1966
Tuset Street - 1967
Esa Mujer - 1969
Varietés - 1971
Cinco Almohadas para una Noche - 1973
Asaltar los Cielos(documental - 1996) As herself.
Sara Una Estrella (documental - 2001) As herself.
Machin, Toda Una Vida (documental -2002) As herself.
A Thousand Clouds of Peace - 2003 (Sara's recording of "Nena" used as theme song)
Bad Education -2004 (features a couple of Sara's songs and film clips)
Discography
Sara Montiel en Mexico
El Último Cuple
La Violetera
Baile con Sara Montiel
Carmen la de Ronda
Besos de Fuego
Mi Último Tango
El Tango
Pecado de Amor
La Bella Lola
Noches De Casablanca
Samba
La Dama de Beirut
Canta Sarita Montiel
Esa Mujer
Sara
Varietés
Sara... Hoy
Saritisima
Anoche con Sara
Purisimo Sara
Sara De Cine
Sara A Flor de Piel
Amados Mios
Todas Las Noches A Las Once
Sara Montiel La Diva
Sara Montiel La Leyenda
Awards
"Gold Medal", 2001, Spain's Academy of the Films and the Arts
The Legion of Honor
Ben Gurion Medal of Valor, 1981
Premio del Sindicato 1957 (Spain's Oscar equivalent) Best female performance for El Último Cuple
Premio del Sindicato 1958 (Spain's Oscar equivalent) Best female performance for La Violetera

---
Bu forumun müsaadesi var:
Bu forumdaki mesajlara cevap
veremezsiniz