1
sayfadaki
1
sayfası •
Paylaş
•

GLENN HERBERT GOULD
http://en.wikipedia.org/wiki/Glenn_Gould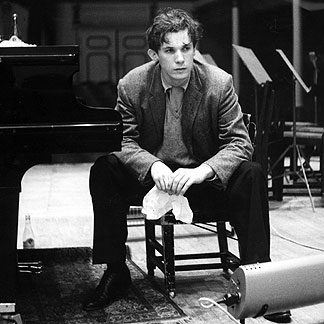 Glenn Herbert Gould (September 25, 1932 – October 4, 1982) was a Canadian pianist who became one of the best-known and most celebrated classical pianists of the twentieth century. He was particularly renowned as an interpreter of the keyboard music of Johann Sebastian Bach. His playing was distinguished by a remarkable technical proficiency and a capacity to articulate the polyphonic texture of Bach's music.
Gould was also well-known for various eccentricities, ranging from his unorthodox musical interpretations and mannerisms at the keyboard, to aspects of his lifestyle and personal behavior. He rejected most of the standard Romantic piano literature and shunned the performance of composers such as Franz Liszt, Robert Schumann and Frédéric Chopin. He abandoned the concert platform at the young age of 31 to concentrate on studio recording and other projects.
Gould was also known as a writer, composer, conductor, and broadcaster. He was a prolific contributor to musical journals, in which he discussed musical theory and outlined his musical philosophy. His career as a composer was less distinguished. His compositional output was minimal and many projects were left unfinished. If he had lived beyond the age of fifty, there is evidence he intended to abandon the piano, and devote the remainder of his career to conducting and other projects. As a broadcaster, Gould was quite prolific, his output ranging from television and radio broadcasts of studio performances to non-musical radio documentaries
''Even as a child Glenn was isolated because he was working like hell to be a great man. He had a tremendous feeling and loving affection for music. . . It was an utter, complete feeling. He knew who he was and where he was going." This clip is taken from Volume 6 of the 16-part retrospective, 'The Glenn Gould Collection'. This volume, entitled 'The Earliest Decade', features interviews as well as performances of Beethoven's Piano Concerto No. 1 in C Major, among others - including, of course, his beloved Bach. Here Gould, along with the Ottawa Philharmonic Orchestra, performs Bach's Concerto in D minor (BWV 1052, I - Allegro).
Same specs as previous video, of Glenn Gould with the Ottawa Philharmonic Orchestra, playing Bach's Concerto in D minor, though this time featuring the adagio.


https://www.dailymotion.com/relevance/search/GLENN+GOULD
Was commissioned by the "Glenn Gould Society" in 1988. The theme is derived from the name "Glenn Gould" in the following way:
G=G, L=La=A, E=E, N=Nothing=rest, N=rest, G=G, O=Do=C, U=Ut=C, L=La=A, D=D.
It is obviously no coincidence that the first notes (g - g") and the final ones match those of the Goldberg Variations. The keen listener will discover near the end of the piece (measure 56) the combination of the "Glenn Gould" theme and the "BACH" (b flat - a - c - b natural) motif. The Fugue on "Glenn Gould" had a beautiful first performance in 1990 by Ulrich Leszke in Heeze (the Netherlands). This is a demo.

---
Bu forumun müsaadesi var:
Bu forumdaki mesajlara cevap
veremezsiniz