1
sayfadaki
1
sayfası •
Paylaş
•

ANDREAS ÖBERG
From Wikipedia, the free encyclopedia
http://www.resonancerecords.org/andreasoberg
http://www.myspace.com/andreasoberg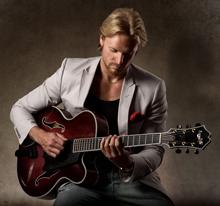 Andreas Öberg, Swedish guitarist
Background information
Birth name Andreas Öberg
Born August 6, 1978 (1978-08-06) (age 30)
Origin Stockholm, Sweden
Genre(s) Jazz
Club
Soul
Occupation(s) Guitarist
Songwriter
Instrument(s) Guitar
Years active 1996 – present
Website Andreas Oberg
Guitar Universe
Quotes on Andreas Öberg:
"Listen to Andreas Oberg, that will learn you!"
Les Paul
"At 28, Andreas Öberg has mastered many styles, always enhanced with youthful, rock-driven vigor." Don Heckman, Los Angeles Times
Biography
Early life
Swedish guitar virtuoso Andreas Öberg was born in Stockholm on August 6, 1978. As a teenage Swedish tennis prodigy, Andreas Oberg had to make a tough decision of whether to continue his sport or pursue his true love, playing guitar. Fortunately, he chose the latter, and his agility and grace on the fret board have made him one of the most fluent young stylists playing today, further attested to in his performances alongside such musicians as Les Paul, Eros Ramazzotti, Barbara Hendricks and Joey DeFrancesco. At 30, he has mastered everything from bebop and swing to bossa nova, Gypsy jazz and fusion, enhanced with youthful, rock-driven vigor. At the age of 18, Andreas already had made a name for himself on the vibrant Swedish music scene. Performing with many of Sweden's top artists, he was also admitted to the Royal Music Academy in Stockholm.
Career
During recent years Andreas successfully has been working with his own projects as well as performing with such diverse artists as: Les Paul, Eros Ramazzotti, Toots Thielemans, Bireli Lagrene, Larry Coryell, Barbara Hendricks, Richard Galliano, John Pisano , Martin Taylor, Stuart Hamm, Danny Gottlieb, Jimmy Rosenberg, Frank Vignola, Bucky Pizzarelli, Howard Alden, Ulf Wakenius, Joey DeFrancesco, Mark Murphy, Stochelo Rosenberg, Angelo Debarre, John Pizzarelli, DJ QBERT, Harvey Mason and Florin Nicolescu just to name a few.
Possessing the rare talent to master many different music styles, Andreas Öberg's obvious energy and brilliant technique constantly impresses listeners all over the world. Frequently appearing and performing on TV & radio shows, Andreas is regurarly also featured in international music and guitar magazines.
Andreas Öberg this far has recorded four solo albums and one DVD. His latest album titled "My Favorite Guitars" was released on Resonance Records, US, on April 8 2008. The album reached nr 22 on th US radio jazz chart.
Awards
Winner of the Audience Prize of Gibson International Guitar Competition in Montreux, Switzerland (2006)
Gevalia Award (2004)
Hagström Guitar Award (2003)
Armstrong Award (2003)
Fasching Jazz Award (2002)
Winner of National Jazz Competition (2002)
Nominations
Nominated for Guitar People's Prize (2004)
Nominated for Guitar People's Prize (2002)
Discography
My Favorite Guitars (2008)
Solo (2006)
Young Jazz Guitarist (2005)
Andreas Invites Yorgui & Ritary (2004)
DVD
Andreas Öberg Live In Concert (2006)
Book
Gypsy Fire (2005) This 60-page instructional book, accompanied by a CD, includes four complete Gypsy style solos of various skill levels, each composed by Andreas Öberg. On the CD Andreas plays all examples both at slow and fast tempos.



Mesaj Sayısı

: 2


Kayıt tarihi

: 18/07/08





Similar topics
---
Bu forumun müsaadesi var:
Bu forumdaki mesajlara cevap
veremezsiniz