1
sayfadaki
1
sayfası •
Paylaş
•

From Wikipedia, the free encyclopedia
http://www.sidneybechet.org/
http://www.redhotjazz.com/bechet.html
http://culturalequity.org/alanlomax/ce_alanlomax_profile_sidney_bechet.jsp
http://www.ifccom.ch/bechet/bechet_accueil.html
SIDNEY BECHET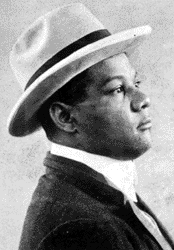 Mugshot of Sidney Bechet
Background information
Birth name Sidney Bechet
Born New Orleans, Louisiana
May 14, 1897(1897-05-14)
Origin New Orleans, Louisiana
Died Paris, France
May 14, 1959 (aged 62)
Genre(s) Classic jazz
Dixieland
Occupation(s) Clarinetist
Saxophonist
Composer
Instrument(s) Clarinet
Saxophone
Associated acts Louis Armstrong
Tommy Ladnier
Sidney Bechet (May 14, 1897 – May 14, 1959) was an American jazz saxophonist, clarinetist, and composer.
He was one of the first important soloists in jazz (beating cornetist and trumpeter Louis Armstrong to the recording studio by several months and later playing duets with Armstrong), and was perhaps the first notable jazz saxophonist of any sort. Forceful delivery, well-constructed improvisations, and a distinctive, wide vibrato characterized Bechet's playing.
Bechet's mercurial temperament hampered his career, however, and not until the late 1940s did he earn wide acclaim.
Biography
Sidney Bechet (pronounced "beh-SHAY") was born in New Orleans. From a young age, Bechet quickly mastered any musical instrument he encountered. Some New Orleanians remembered him as a cornet hot-shot in his youth. At first he decided on the clarinet as his main instrument and Bechet remained one of jazz's greatest clarinetists for decades. The clarinetist Jimmie Noone, who became famous in his own right, took lessons from Bechet when the latter was only thirteen-years old. Despite his prowess on clarinet, Bechet became best remembered as the first great master of the soprano saxophone.
Bechet had experience playing in traveling shows even before he left New Orleans at the age of twenty. Never long content in one place, he alternated using Chicago, New York, and Europe as his base of operations. Bechet was jailed in Paris, France when a female passerby was wounded during a shootout, after serving jail time, Bechet was deported. Ken Burns falsely claimed the initial shootout started when another musician/producer told Bechet that he was playing the wrong chord and Bechet then challenged the man to a duel, when in fact Bechet was essentially ambushed by a musician with whom he did not get along.
He continued recording and touring, although his success was intermittent.
Bechet relocated to France in 1950. He married Elisabeth Ziegler in Antibes, France in 1951. Existentialists in France called him "le dieu".
Shortly before his death in Paris, Bechet dictated his poetic autobiography, Treat It Gentle. He died from lung cancer on his sixty-second birthday.
Career highlights
Bechet successfully composed in jazz, pop-tune, and extended concert work forms. He never learned to read music, he developed his own fingering system, and he never played section parts in a big band or swing-style combo. His recordings often have been reissued.
Some of the highlights of his career include 1923 sides with Louis Armstrong in "Clarence Williams Blue Five"; the 1932, 1940, 1941 "New Orleans Feetwarmers" sides; a 1938 "Tommy Ladnier Orchestra" session ("Weary Blues", "Really the Blues"); a hit 1938 recording of "Summertime"; and various versions of his own composition, "Petite Fleur".
On July 28, 1940, Sidney Bechet made a guest appearance on NBC Radio's The Chamber Music Society of Lower Basin Street show, playing two of his showpieces ( "Shake It and Break It" and "St. Louis Blues") with Henry Levine's dixieland band. Levine invited Bechet into the RCA Victor recording studio (on 24th Street in New York City), where Bechet lent his soprano sax to Levine's traditional arrangement of "Muskrat Ramble." On April 18, 1941, as an early experiment in overdubbing at Victor, Bechet recorded a version of the pop song "Sheik of Araby", playing six different instruments: clarinet, soprano saxophone, tenor saxophone, piano, bass, and drums. A theretofore unissued master of this recording was included in the 1965 LP Bechet of New Orleans, issued by RCA Victor as LPV-510. On the liner notes, George Hoeffer quotes Sidney as follows: "I started by playing The Sheik on piano, and played the drums while listening to the piano. I meant to play all the rhythm instruments, but got all mixed up and grabbed my soprano, then the bass, then the tenor saxophone, and finally finished up with the clarinet."
In 1944, 1946, and 1953 he recorded and performed in concert with Chicago Jazz Pianist and Vibraphonist Max Miller, private recordings which are part of the Max Miller archive and have never been released. These concerts and recordings are covered completely in John Chilton's great book on Bechet.
Bechet was an important influence on alto saxophonist Johnny Hodges, who studied with Bechet as a teenager.
In 1968, Bechet was inducted into the Down Beat Jazz Hall of Fame.
The New York Times music writer Robert Palmer wrote of Bechet that, "by combining the 'cry' of the blues players and the finesse of the Creoles into his 'own way,' Sidney Bechet created a style which moved the emotions even as it dazzled the mind."
Tributes
Renowned blues harmonica player Sugar Blue claims to have taken his name from the Bechet recording "Sugar Blues".
Philip Larkin wrote an ode to Bechet in The Whitsun Weddings.
Bechet is said to have served as a prototype for the saxophonist "Pablo" in the novel Steppenwolf, since it was almost certainly through listening to his playing in Europe in the 1920s that Hermann Hesse became acquainted with the world of jazz music.
Bechet to me was the very epitome of jazz... everything he played in his whole life was completely original. I honestly think he was the most unique man to ever be in this music. — Duke Ellington
In the 1997 documentary Wild Man Blues, filmmaker and clarinet aficionado Woody Allen repeatedly refers to Sidney Bechet. One of his adopted children with Soon-Yi Previn also is named Bechet.
Bechet, portrayed by Jeffrey Wright appeared as a character in two episodes of the television series The Young Indiana Jones Chronicles.
Bechet performs at an underground Paris jazz club in the novel Replay by Ken Grimwood. This appearance is slightly anachronistic, as the scene takes place in 1963 even though Bechet died in 1959.
Bechet was a child prodigy in New Orleans. He was such good clarinet player that he was featured by some of the top bands in the city, when he was still a child. Bechet's style of playing clarinet and soprano sax dominated many of the bands that he played in. He played lead parts that were usually reserved for trumpets and was a master of improvisation. In 1917 he moved to Chicago. In 1919 he started playing with with Marion Cook's Syncopated Orchestra which toured Europe. While overseas he bought a soprano sax and from then on it was his main instrument. Back in the U.S. Bechet made his recording debut in 1923 with Clarence Williams and during the next two years he appeared on several of Williams' records backing up blues singers. and on a classic session with the Clarence Williams Blue Five, featuring Louis Armstrong, whom he had know as a child in New Orleans. He played in an early version of Duke Ellington's Washingtonians, but unfortunately never recorded with them. From 1925 to 1929 Bechet lived and played in Europe, playing in England, France, Germany, and Russia. While living in Paris, Bechet got into a dispute with another musican and a gun fight broke out. Three people were wounded and Sidney spent a year in a French jail as a result of the fracas. He was deported upon release from prison and went to Berlin, Germany. He could not stay in France and he would not get a visa for England so he stayed in Berlin till 1931 then joined the Noble Sissle Orchestra and returned to America. Bechet managed to keep playing during the Thirties, but he also ran an unsuccessful tailor's shop with Tommy Ladnier and made some memorable recordings with the trumpeter under the name of the New Orleans Feetwarmers. In 1938 he had a hit record of "Summertime. In the Forties Bechet worked regularly in New York with Eddie Condon and tried to start a band with Bunk Johnson. Bechet was a popular figure of the Dixieland revival of the late Forties often recording with Mezz Mezzrow. .


On fait d'payer - Sidney Bechet 1955

Just imagine - it is 1955 - you are in Paris - you go into a night club - maybe le Vieux Columbier - maybe the Paris Hilton -and what do you hear - People chatting at tables and at the bar - even a vocalist in front of the band singing - a floor of dancers - but undistinguishable - there is that soprano saxophone sound of the great Sidney Bechet. Indulge!


Sidney Bechet performs at the Cannes Jazz Festival in 1958.


ADD TO FAVORITESshare this videoinvite to groupadd to playlistthis video may offendSpread this videoadd to skypeadd to blog close From jazzgirl1920s 68 views, 0 favorites, 2 ratings Vote!Sidney Bechet Quartet-China Boy-from a concert recorded at Town Hall, New York City. 1946. Sidney Bechet, soprano sax, James P. Johnson, piano, Baby Dodds, drums.


Saint Louis Blues - Sidney Bechet 1952
This is an amazing film recording of Sidney Bechet with clarinettist ANDRE REWELIOTTY ET SON MIMOSA JAZZ BAND in Paris, probably around 1952.
At that time Reweliotty had the following musicians in his band:
Marcel Bornstein (cnt), Jean-Louis Durand (tbn), Yannick Singery (pno), Georges "Zozo" d'Halluin (bs), Michel Pacout (dms).
Of course this a personal opinion, but the one of the most exciting moments in jazz is where Bechet in his soprano sax solo, he plays a total of 6 12-bar blues chorusses, when he hits the fifth chorus ( 4.04 min) and holds a high note for two full chorusses. What is so special of Bechet holding a note so long? It is the pianist's simple accompanyment. Yannick Singery just has that controlled back up (actually throughout most of the tune).
Every time I hear this tune I throw my arms up in the air from sheer excitement. Unfortunately you cannot find pianists any more with that sort of discipline. Quel dommage!

---
Bu forumun müsaadesi var:
Bu forumdaki mesajlara cevap
veremezsiniz