1
sayfadaki
1
sayfası •
Paylaş
•

http://www.vitalysamoshko.com/
Vitaly Samoshko (born 1973, Kharkiv) is a Ukrainian pianist. He settled in Belgium in 2001.
[img]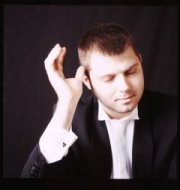 [/img]
His first significant achievement was a 6th prize at the 1992 Sydney International Piano Competition. He was subsequently awarded 2nd prizes at the 1993 Concorso Busoni, the 1996 Concours de Montreal and the 1998 Arthur Rubinstein Competition before winning the 1999 Queen Elisabeth Competition. He has built an international concert career since.
Vitaly Samoshko showed great musical promise at a very young age. At age five he was admitted to the Special Music School in Kharkiv. As of 1985 he studied with professor Leonid Margarius and later attended the Conservatory of Kharkiv from 1991 to 1996 also with Margarius as professor. Margarius and Samoshko continued their collaboration in Imola, Italy at the Accademia Pianistica "Incontri col Maestro".
Vitaly Samoshko has won major prizes at international piano competitions including the 1993
F. Busoni Competition (2nd prize), the 1995 Senigallia International Piano Competition (2nd prize), the
1996 Concours International de Piano de Montréal (2nd prize) and the 1998 A. Rubinstein Piano Master
Competition (2nd prize). In 1999 he took first prize at the piano 1999 Queen Elisabeth International
Music Competition of Belgium. Since then he has firmly established his solo career and has performed
in over 25 countries on stages like the Tonhalle in Zurich, the Théâtre du Châtelet in Paris, the
Metropolitan Museum and the Steinway Hall in New York, the Concertgebouw in Amsterdam, the
Beethovenhalle in Bonn as well as the Yokohama Minato Mirai Hall, Okayama Symphony Hall and
Kyoto Concert Hall in Japan, the Singel in Antwerp, the Concertgebouw in Bruges, de Bijloke in
Ghent and the Palais des Beaux-Arts in Brussels.
Samoshko has performed at major festivals such as the Klavier Festival Ruhr in Germany, the Festival
de Montpellier Radio France and Festival de Besançon in France, the Festival Música Romântica in
Switzerland, the Yokohama International Piano Festival in Japan, the Savannah Onstage Festival in the
United States, the Festival International de Lanaudière in Canada, the Festival d'Echternach and the
Bourglinster Festival in Luxembourg, the Chopin Piano Festival in Poland as well as the Festival of
Flanders, Festival d'Aulne and Festival de Wallonie in Belgium.
He has played with world-class orchestras including the Tokyo Philharmonic, the New Japan
Philharmonic, Orchestre Symphonique de Montréal, Orchestre Philharmonique du Luxembourg,
Orchestre National de Belgique, Orchestre Philharmonique de Liège, Symfonieorkest Vlaanderen,
Orchester der Beethovenhalle, the St. Petersburg State Symphony and Orchestre National de Lille.
Samoshko has collaborated with acclaimed conductors such as Charles Dutoit, Edvard Tchivzhel,
Marc Soustrot, Gilbert Varga, Mendi Rodan, Georges Octors, Kazufumi Yamashita, David Shallon,
Arthur Fagen, Otaka Tadaaki, Louis Langrée, Paul Daniel and David Angus.
He has recorded a number of broadcasts for Radio Suisse Romande in Geneva, Westdeutscher
Rundfunk in Cologne and "Musique 3" in Brussels. As well, he has recorded with various labels
and TV stations.
In 2001 Vitaly Samoshko made Belgium his home. Two years later he recorded a double CD with the
new label Lineair Art Transfer, which featured works by Schubert, Schumann, Scriabin and Prokofiev
(LAT 2003-01). In a solemn broadcasting the Classic Radio Klara (VRT) awarded him with the 'Best
international CD 2005' for his second album, Piano Studies Scriabin (LAT 2005-02). In the fall of that
year he was appointed guest professor at the Conservatory of Ghent and is regularly invited to give
master classes at conservatories and festivals. He also joined a new chamber ensemble called Trio
Sonnetto with violinist Leonid Kerbel and cellist Ilia Laporev.
Vitaly Samoshko has established himself as a remarkable soloist. His performances demonstrate a
highly developed musical personality, both in concert and on CD. With the CD 'Les Etudes-Tableaux'
by Rachmaninov (LAT 2006-03) released in 2006, Vitaly Samoshko completed a cornerstone triptych.
Admin




Mesaj Sayısı

: 2411


Kayıt tarihi

: 01/04/08




---
Bu forumun müsaadesi var:
Bu forumdaki mesajlara cevap
veremezsiniz