1
sayfadaki
1
sayfası •
Paylaş
•

[img]
[/img]
[img]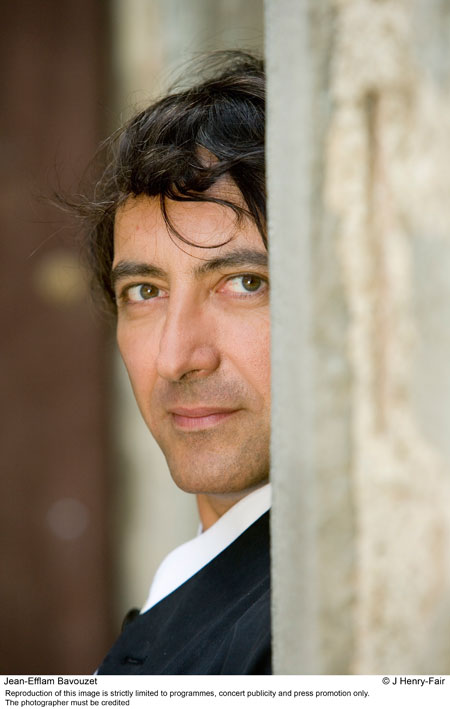 [/img]
Parlak ve karizmatik Fransız virtüöz piyanist Jean -Efflam Bavouzet'in yıldızı hızla yükselmekte, uluslararası orketralar, konser salonları ve kurumlar tarafından talebi hızla artmaktadır. Önemli müzik merkezlerine katılımları hem basını, hem izleyenlerini etkilemiştir. Klasik müzik izleyicisi ve eleştirmenleri tarafından "karizmatik, şiirsel ve hiper dinamik" olarak nitelendirilen Jean-Efflam Bavouzet, New York Times tarafından "klasik müziğin büyük skalalardaki icracısı" olarak tanımlanıyor.
Chicago Senfoni Orkestrası'nın efsanevi şefi Sir Georg Solti'nin son keşfi olarak ünlenen Jean-Efflam Bavouzet, Solti'nin ölümünden sonra Paris Orkestrası konserlerini, Pierre Boulez yönetiminde sürdürerek ününü pekiştirdi.
Orkestra performanslarını, başlıcaları arasında Boston Symphony, London Philharmonic, Berliner Sinfonie, Hong Kong Philharmonic, Sinfonia Varsovia, Orchestre National de France'ın da bulunduğu dünyanın en ünlü ve büyük orkestraları ile gerçekleştiriyor.
Bavouzet'in repertuarının temel eserlerini, Bartok, Beethoven ve Prokofiev konçertoları oluşturuyor. Bu ünlü bestecilerin yanı sıra Ravel ve çağdaş bestecilerden Boulez, Ligeti, Messiaen, Stockhausen'ın eserleri de repertuarında yer alıyor.
Jean çokmerken yıllarda piyanonun başına geçti. Gençlik yıllarında ender rastlanan teknik yeteneği ve sanatsal derinliği (hayalgücü) ortaya çıkmış, bu sayede dünyanın en önemli üç piyano öğretmeni ile ileri teknikler üzerine yoğun çalışma şansı bulmuştur.
Paris Konservatuarının efsanevi hocası Pierre Sancan'ın en son öğrencisi olmuş, daha sonra Alexander Edelman ve Salzburgda Dimitri Bashkirov ile çalışmıştır. 1986 yılında Köln Uluslararsı Yarışmasında ilk ödülünü almış, üç yıl sonra da Van Cliburn kapsamında Steven de Groste oda müziği ödülünü almıştır. Yarışma jürisi ödülünü verirken onun çalışındaki olağanüstü akıcılık, sanatsal hayalgücü, renk aralığı ve parlaklığı vurgulamıştır.
Son zamanlarda Pierre Boulez, Charles Dutoit, Marek Janowski, Michel Plasson, Kent Nagano, David Atherton ve Andrew Litton gibi dünyanın önde gelen şeflerinin listesinde yer almaktadır.
Debussy'nin tüm piyano çalışmalarını topladığı albümlerin üçüncüsü, BBC Music dergisi tarafından "Yılın Enstrümantal Albümü" ünvanına aday gösterilen İstanbul Resitalleri sanatçısı Jean-Efflam Bavouzet, güçlü rakibi Murray Perahia'yı alt ederek bu önemli ünvanı da kazandı. Dün (7 Nisan) Londra'da yapılan törende "Yılın Enstrümantal Albümü" şiltini alan Bavouzet, törenin hemen ardından Çin'de kazandığı "Classical Elites Beijing - Instrumental Recital of the Year" ödülünü almak üzere Pekin'e hareket etti.
BBC Music 2009 Ödülleri - Dijital Dergi (FLASH)
BBC Music 2009 Ödülleri - Web Sayfaları
İstanbul Resitalleri ilk sezonunun ilk konserini vermek üzere 2007 yılında Türkiye'ye gelen Jean-Efflam Bavouzet , TİM'de sahneye çıkmış, İstanbul klasik müzik izleyicisi tarafından çok beğenilmişti.O günden bu günlere bir çok müzik dergisi tarafından çok çeşitli ödüllerle başarılarını kanıtlayan Bavouzet, Debussy albümleri ile başarıdan başarıya koşuyor.
Jean Efflam Bavouzet, İstanbul Resitalleri 2009-2010 sezonunda İstanbul izleyicisi ile tekrar buluşacak.
At the personal invitation of Sir Georg Solti, he was engaged to play with the Orchestre de Paris, winning outstanding critical acclaim. At the same time he began an intensive programme of recitals, winning particular popularity in the United States and Canada. His US career began with the Young Concert Artists management in 1986, since when his appearances at New York's 92nd Street "Y" and Washington's Kennedy Centre have received particular accolades.
Jean-Efflam Bavouzet has made a very strong impact on the extremely demanding audiences and critics of Russia. He was the first non-Russian artist to be invited to perform at the Sarov Festival in the 'forbidden city', and he is a frequent guest at the Sakharov Festival in Ninzi Novgorod, where he will perform the entire Prokofiev Piano Concerti in November 1999. He will repeat this programme with the Orchestre de Paris in October 2000.
The qualities in Jean-Efflam Bavouzet's playing which have especially struck his audiences and the press are the striking combination of opposites, from powerful dramatic temperament to intense controlled stillness. His brilliant virtuosity and yet expressive poetry have strongly impressed in music by composers as diverse as Liszt, Bartok, Beethoven, Prokofiev, Haydn, Chopin, Debussy, Schumann and Ravel. Le Monde's chief music critic Alain Lompech has written "Bavouzet is probably the finest French pianist today".
The recording industry soon signed Jean-Efflam Bavouzet for projects which were to win major awards. A Schumann recital and a Haydn recital were both voted the Best Recording of the Year by Le Monde. The recital of pieces by Haydn also won him the "Choc" award, one of the major international recording prizes. His recording of Bartok's First Piano/Violin Sonata, with Laurent Korcia, has also brought him the "Choc" Monde de la Musique award and the highest rating in Classica. He recently made the world premiere recording of the complete Ohana Etudes, shortly to be released, and he has also recently recorded Debussy's Etudes and a Chopin recital for Pony Canyon Classics in Japan. This spring (1999) he starts recording for ECM/Polygram with the complete piano solo works of Ravel.
Jean-Efflam Bavouzet married Andrea Nemecz in 1989. They have two daughters.
*****
French pianist Jean-Efflam Bavouzet combines a rare
elegance and clarity in his playing with deep and thoughtful
musicality. His insatiable enthusiasm and artistic curiosity
has led him to explore a repertoire ranging from Haydn,
Beethoven, Bartok and Prokofiev to contemporary works by
composers such as Bruno Mantovani and Jörg Widmann. As
well as performing, he has also recently completed a
transcription for two pianos of Debussy's famous dance
poem Jeux; which is to be published by Durand with a
foreword by Pierre Boulez.
Bavouzet has maintained a close relationship with Boulez
ever since their first appearance together with the Orchestre
de Paris in 1998. They have just appeared together at the
BBC Proms with the BBC Symphony Orchestra performing
Janacek's Capriccio. Recent engagements have included
appearances with the Orchestre Philharmonique de Radio France under Vladimir Ashkenazy,
Messiaen's Turangalila Symphony with the Deutsches Sinfonie Orchester Berlin and Ingo
Metzmacher, a tour with the Deutsche Radio Philharmonie Saarbrücken, as well as concerts
with the Ensemble Orchestral de Paris and the National Orchestra in Dublin. He has given
acclaimed recitals at the Bath and Hay Festivals in May 2008.
Bavouzet's upcoming dates include a performance of Bartok's Piano Concerto No 1 with the
Orchestre National de France and Daniele Gatti, as well as Messiaen's Turangalila
Symphony with Marc Albrecht and the Orchestre Symphonique de Strasbourg. He will
perform with the Orchestre National de Lille, the Stavanger Symphony under Steven Sloane
as well as with the National Orchestra of Taiwan. In March 2009 he will perform all five
Prokofiev concerti with the Warsaw Philharmonic under Antoni Wit. He will give a recital within
the International Piano Series at the Queen Elizabeth Hall in October 2008. Mr Bavouzet is a
regular at London's Wigmore Hall – where he will next appear within the London Pianoforte
Series in March 2010 – as well as at the La Roque d'Antheron Festival in France, where he
will perform a complete Debussy cycle in August 2009. He will perform the complete
Beethoven Sonatas in the Great Hall of the Forbidden City in Beijing throughout the 2008/09
season. Further ahead, he will appear with the Cleveland Orchestra and Vladimir Ashkenazy,
the Orchestre Philharmonique de Radio France, and the Bergen Philharmonic. In spring
2010, he will return to the Orchestre National de Lille to give the world premiere of a new
piano concerto by Bruno Mantovani.
An exclusive recording artist for Chandos, Jean-Efflam Bavouzet is currently midway through
a recording project of Debussy's Complete Works for Solo Piano. The second instalment has
been nominated for a Gramophone Award, while the first volume has won the Choc de
l'année 2007 in the Monde de la musique magazine. Previous recordings include the
complete works for solo piano by Ravel as well as a CD with works by Liszt on MDG. On
Harmonic Records, Bavouzet's Haydn recordings feature on the list of Le Monde de la
Musique's '150 best ever piano recordings'.
A former student of Pierre Sancan at the Paris Conservatoire and Alexander Edelman, Jean-
Efflam Bavouzet was invited by Sir George Solti to give his debut with the Orchestre de Paris
in 1995; Bavouzet is considered as the Maestro's last discovery. In 1986 Bavouzet took the
first prize in the International Beethoven Competition in Cologne. He has been awarded the
Steven de Groote Chamber Music Prize at the Van Cliburn Competition in 1989, and is a
Professor for Life in the Piano Department of the Hochschule für Musik in Detmold, Germany.
The brilliant and charismatic French pianist Jean-Efflam Bavouzet is rapidly gaining high acclaim for his virtuosity and artistry and is in much demand by international orchestras, conductors and concert halls. His recent appearances in major musical centres have created a powerful impact amongst audiences and press alike.
Admin




Mesaj Sayısı

: 2411


Kayıt tarihi

: 01/04/08




---
Bu forumun müsaadesi var:
Bu forumdaki mesajlara cevap
veremezsiniz