1
sayfadaki
1
sayfası •
Paylaş
•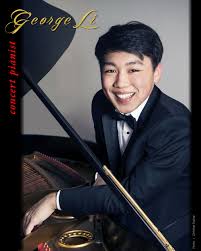 George Li (黎卓宇)
Birth name George Li
Born August 24, 1995 (age 20)
Origin Massachusetts, USA
Genres Classical
Occupation(s) Pianist
Instruments Piano
Years active 2004-present
George Li (Chinese: 黎卓宇; pinyin: Lí zhuōyǔ) (born August 24, 1995) is a Chinese American pianist.
http://www.georgelipianist.com/
https://www.youtube.com/user/Pianoloverok
George Li was born on August 24, 1995, in Boston, Massachusetts, to parents from the People's Republic of China.
Career[edit]
Li has been performing publicly since the age of nine. He has been gaining attention as a significant recitalist, a chamber musician, and a soloist with orchestra. At the age of eleven, he performed at New York City's Carnegie Hall. The performance was featured in the new TV series produced by NPR, From the Top.He also performed on the Martha Stewart Show two weeks later. Li has also performed at the Rose Garden in the White House for the President Barack Obama and German Chancellor Angela Merkel.
Li's piano professors are Russell Sherman and Ms. Wha Kyung Byun.
Li has been renowned as a frequent performer of piano concertos with many prestigious orchestras. Among the concertos he has performed include Haydn Piano Concerto No. 11, Saint Saens Piano Concerto No. 2, Beethoven Piano Concerto No. 1, Beethoven Piano Concerto No. 4, Mendelssohn Piano Concerto No. 1, Mozart Piano Concerto No. 21, Schumann Piano Concerto in A minor, Chopin Piano Concerto No. 1, and Rachmaninoff Piano Concerto No. 2. These orchestras include the Cleveland Orchestra (Jahja Ling conductor); Xiamen Philharmonic (China; Tao Lin conductor), Symphony Pro Musica (Mark Churchill conductor), Simon Bolivar Youth Symphony Orchestra of Venezuela (Venezuela; Sarah Ioannides conductor), Boston Philharmonic Orchestra (Benjamin Zander, conductor), Brooklyn Philharmonic (Arkady Leytush conductor),Spartanburg Philharmonic Orchestra (Sarah Ioannides conductor),Miami Symphony Orchestra (Eduardo Marturet conductor), Waltham Symphony Orchestra (Patrick Botti conductor), Nordic Chamber Orchestra Sweden (Christian Lindberg conductor), Princeton Symphony Orchestra (Benjamin Zander, conductor),Albany Symphony Orchestra (David Alan Miller Conductor), Lexington Symphony Orchestra (Jonathan McPhee, conductor), Orchestra "I Solisti di Perugia" (Spoleto, Italy), Southern Arizona Symphony Orchestra (Linus Lerner, conductor), Rdigewood Symphony Orchestra (Arkady Leytush conductor) and the Youth Philharmonic Orchestra of New England Concervatory (Benjamin Zander, conductor).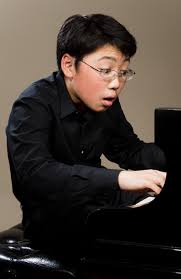 Li was awarded the first prizes in the Massachusetts Music Teachers Association state competitions at the age of 6 and 7. In 2005, Li won second prizes in both the Virginia Waring International Piano Competition and the Cincinnati World Piano Competition at the age of nine. In 2008, Li won the second prize in the Gina Bachauer International Piano Junior Artist Competition. In 2010, Li has won the first prize in the Cooper International Piano Competition Li has also won the first prize in the Young Concert Artists International Auditions.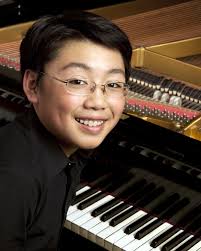 On June 7, 2011, Li performed for President Barack Obama and Michelle Obama, German Chancellor Dr. Angela Merkel and her husband Dr. Joachim Sauer at a state dinner in the White House Rose Garden. On June 23, 2011, Li was selected to be one of the two recipients of the 2012 Gilmore Young Artist Award. He is currently the youngest recipient of the award.
On July 1, 2015, George Li won 2nd prize, tied with Lukas Geniušas in the XV International Tchaikovsky Competition.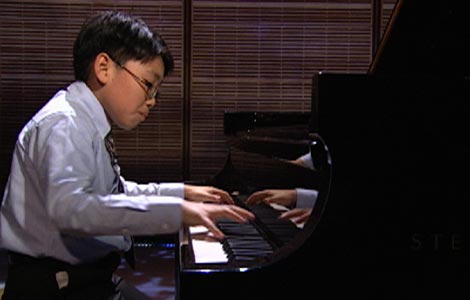 Life
Li resides in Lexington, Massachusetts. He graduated from Walnut Hill School and the New England Conservatory Preparatory School, where he studies with Wha Kyung Byun. Li's previous piano teachers include Dorothy Shi (杨镜钏) and Yin Chengzong (殷承宗).[25]
Li is currently an undergraduate/masters student in the dual degree program at Harvard University and the New England Conservatory.
Admin




Mesaj Sayısı

: 2411


Kayıt tarihi

: 01/04/08




---
Bu forumun müsaadesi var:
Bu forumdaki mesajlara cevap
veremezsiniz