1
sayfadaki
1
sayfası •
Paylaş
•

MARIANELA NUNEZ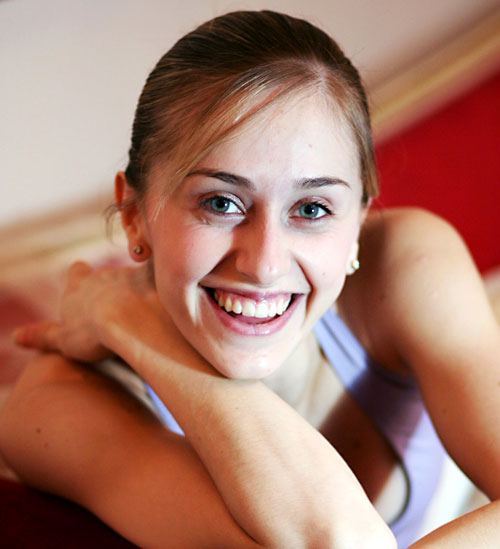 Marianela Núñez (born in San Martín, Buenos Aires 1982) is an Argentine dancer. She is a principal dancer with the Royal Ballet, London.
Biography
Núñez was born in Buenos Aires, Argentina. She started dance lessons at the age of three, and at eight was admitted to the Instituto Superior de Arte of the Teatro Colón in Buenos Aires where she studied until she was invited to join the corps de ballet of the Company at the age of 14. She was selected to take part in a tour of Argentina as a Soloist with the Ballet Clasico de la Habama, Cuba. In 1997 Maximiliano Guerra chose her as his partner to dance with him in Uruguay, Spain, Italy and at the World Ballet Festival of Japan. She was then invited to tour with the ballet company of Teatro Colón in Europe and the US as a guest ballerina.
In September 1997 she joined the Graduate Course at The Royal Ballet School and at the end of the year danced the leading female role in Kenneth MacMillan's Soirée Musicale at Dame Ninette de Valois' 100th Birthday Gala as well as the title role in Raymonda Act III and the Third Shadow solo in La Bayadère at the School's performances. She joined The Royal Ballet at the start of the 1998/99 Season, aged 16 and was promoted to First Soloist in 2001 and made a Principal in September 2002.
Since joining the Company she has danced roles in Kenneth MacMillan's Concerto, Romeo and Juliet, Mitzi Caspar and Princess Louise in Mayerling, Elite Syncopations, Lescaut's Mistress in Manon, Frederick Ashton's Cinderella, La Fille mal gardée, Monotones I, Les Rendezvous, Dante Sonata , La Valse, Ondine, Daphnis and Chloë and Isabel Fitton in Macmillan's Enigma Variations.
Other roles include the Pas de trois in Rudolf Nureyev's production of Raymonda Act III, Nijinska's Les Biches, a Nymph in Nijinsky's L'Aprés-Midi D'un Faune, Swanilda and Aurora in Ninette de Valois' production of Coppélia, the Black Queen in Checkmate, Myrtha and Pas de six in Peter Wright's Giselle, the Pas de deux from Petipa's Diana and Acteon at the White Night Gala (July 2000), Odette/Odile in Anthony Dowell's production of Swan Lake, the Sugar Plum Fairy in Sir Peter Wright's production of The Nutcracker, , Ashley Page's This House Will Burn., the 1st Pas de trois in Balanchine's Agon, Kitri in Nureyev's production of Don Quixote, Olga in John Cranko's Onegin, the lead couple with Inaki Urlezaga in Stephen Baynes' Beyond Bach, Antony Tudor's The Leaves Are Fading, Nikiya and Gamzatti in Natalia Makarova's production of La Bayadère, the Fairy of Vitality, Lilac Fairy and Aurora in her production of The Sleeping Beauty, Nacho Duato's Por Vos Muero, William Forsythe's In the middle, somewhat elevated, Jiří Kylián's Sinfonietta, L'Hiver in David Bintley's Les Saisons, Polyhimnia in Balanchine's Apollo, Tchaikovsky Pas de deux and Choleric in his The Four Temperaments, the Lilac Fairy and Aurora in the Monica Mason and Christopher Newton production of The Sleeping Beauty, the Queen of Fire in Christopher Wheeldon's Fire variation in Homage to the Queen, the Solo Girl in Alastair Marriott's Tanglewood, Glen Tetley's Voluntaries, Johan Kobborg's production of Napoli Divertissements and the female role in Diamonds as part of Balanchine's Jewels.
She created roles in two works on the 1999 Dance Bites tour: William Tuckett's Love's Fool and Mark Baldwin's Towards Poetry and she created a role in Matthew Hart's Acheron's Dream for the New Works in the Linbury Studio Theatre (2000), Javier De Frutos' The Misty Frontier (2001). In 2003 she created the role of La Grêle in David Bintley's Les Saisons, Christopher Wheeldon's DGV (Danse à grande vitesse) (2006) and the Stripper in Will Tuckett's The Seven Deadly Sins (2007).
Television appearances include the BBC broadcast of Daphnis and Chloë and La Fille mal gardée on BBC2 in February 2005. She also made her debut dancing the Pas de deux from Le Corsaire for 'A Curtain Call for Aid' Asian Tsunami benefit performance, broadcast in December 2006.
She has been credited with a refined sense of style, and of displaying a unique understanding of the choreographer Frederick Ashton's style. Marianela Núñez won the prestigious Richard Sherrington Award for Best Female Dancer 2005. In 2006 Núñez performed several times in the latest Royal Ballet production of Sleeping Beauty, both as the Lilac Fairy and as Aurora. Critics were impressed by the warmth of her Lilac Fairy. Her Aurora was said to be among the Royal Ballet's finest since 1946 with "the phrasing of an angel" In July 2006 at Sadler's Wells Theatre, London, in "Acosta and Friends", Núñez partnered Carlos Acosta in the demanding Diana and Acteon pas de deux. This, for many, was the highlight of the show. In January 2007 Núñez was nominated for a Laurence Olivier Award for her performances in The Royal Ballet's Chroma and The Sleeping Beauty at the Royal Opera House and in Carlos Acosta's programme at Sadler's Wells. In early 2007 Núñez once again took the lead in Swan Lake, of her performance one leading critic commented "every gesture sings, every step is luminous with emotion. The result is sublime".
In July 2007 Núñez performed The Dying Swan at The Grand Opera House, York. She had been especially selected for this difficult piece by Marguerite Porter because of the simplicity and purity of her style.
She made her London debut as Juliet in MacMillan's Romeo and Juliet in May 2008.
The Royal Ballet opened the 2008/2009 season on Saturday October 4 with Núñez cast as Odette/Odile in Swan Lake. Due to the injury of other principals, Núñez also danced Odette /Odile at the next two performances, Monday and Tuesday, October 6 and 7, to high acclaim.
Giannandrea Poesio writes on her Swan Lake : "Her approach to one of the most difficult parts of the 19th-century repertoire is simply exemplary, and I have no doubt that her incandescent and technically flawless interpretation is destined to be long remembered in history, along with those of other unique artists."
In December 2008, she performed as Gamzatti in La Bayadère alongside Roberto Bolle as Solor and Svetlana Zakharova as Nikiya at La Scala, Milan.
In January 2010 following her performances as Aurora in Sleeping Beauty for the Royal Ballet, the highly respected veteran critic Clement Crisp, among other accolades, described Núñez as " vastly intelligent as a performer ".
Personal Life
Núñez fell in love with fellow dancer and frequent partner Thiago Soares after he joined the company in 2002. After four years together, the couple became engaged in December 2006 after he proposed to her on stage after the curtain call of a performance of The Sleeping Beauty in front of the whole company. It has been reported that they are planning a three-day wedding ceremony in three different places when their schedule can permit them to set a date: one in London for friends, one in Rio de Janeiro for Thiago's family and one in Buenos Aires for Núñez's family.
Repertoire
Kitri - Don Quixote
Swanilda - Coppelia
Princess Aurora and the Lilac Fairy - The Sleeping Beauty
Sugar Plum Fairy - The Nutcracker
Gamzatti and Nikiya - La Bayadere
Olga - Onegin
Sylvia - Sylvia
Lise - La Fille Mal Gardee
Odette/Odile - Swan Lake
Juliet - Romeo and Juliet
Giselle and Myrtha - Giselle
Diana and Actaeon pas de deux, Le Corsaire pas de deux, Tchaikovsky pas de deux, Winter Dreams pas de deux
Roles in Monotones I, Agon, Les Rendezvous, La Valse, Diamonds, Tzigane and works by Balanchine, Forsythe, Tetley, Page, Tudor, Kylián, Wheeldon and Tuckett.
She created roles in DGV (danse à grande vitesse) and The Seven Deadly Sins.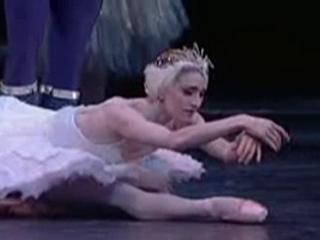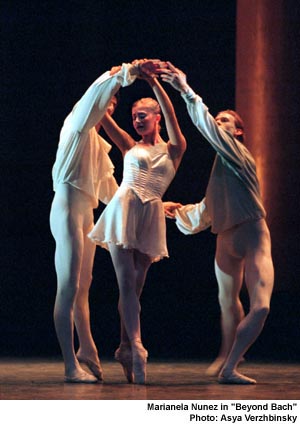 Admin




Mesaj Sayısı

: 2411


Kayıt tarihi

: 01/04/08




---
Bu forumun müsaadesi var:
Bu forumdaki mesajlara cevap
verebilirsiniz